Steelers at Bengals Betting Odds and Game Preview, NFL Week 1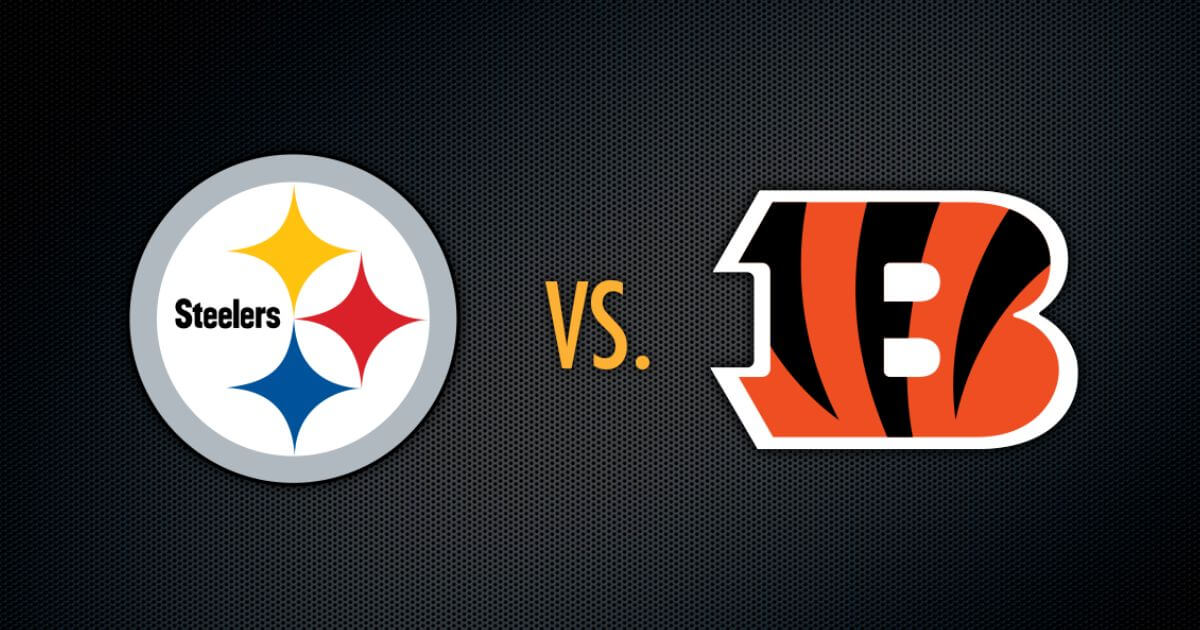 Here is our Steelers at Bengals Betting preview, including wagering odds for this NFL AFC North Week 1 clash.
The Steelers will be making the trip to Paul Brown Stadium to play the Bengals on September 11 on what is going to be the opening game of both team's schedules for the upcoming NFL regular season.
Needless to say, the roles have been switched between these two rival teams.
The Bengals are playing their best football since the 1988 season, the last time they made it to the Super Bowl.
And the Steelers are just not the powerhouse they've been for a long time.
In fact, they are in a rebuilding process for the first time in twenty years.
Steelers at Bengals Betting Odds
Here are the Steelers at Bengals Betting odds, brought to you by YouWager.lv:
| TEAM | MONEYLINE | SPREAD | TOTAL |
| --- | --- | --- | --- |
| PITTSBURGH STEELERS | +220 | +6.5 -110 | O 44.5 -110 |
| CINCINNATI BENGALS | -270 | -6.5 -110 | U 44.5 -110 |
It's no surprise at all to see Cincinnati as the big favorite here.
And, as you can see, the Bengals are -6.5 favorites to get the victory at home. This means that for you to win a spread bet on Cincy, the Bengals must win by 7 points or more.
On the other hand, the Steelers are +6.5 underdogs, and that means that Pittsburgh can even lose the game, but for no more than 7 points, and you can still cash in on a spread bet on the Steelers.
When it comes to the money line, the Steelers are +220, and that means that you can win $220 for each $100 you get to risk.
And, if you bet the Bengals, the favorites, on the money line, you will need to risk $270 for each $100 you want to earn.
The total for this game has been set at 44.5. So, you can bet on the combined score for both teams at the end of the game to go over or under 44.5 total points.
Read our Week 1 preview for Bills at Rams.

Steelers at Bengals Betting Preview
Now it's time for our Steelers at Bengals Betting preview.
After losing eleven straight games to the Steelers, the tables have turned for the Bengals as they have won 3 straight to Pittsburgh.
This includes a smashing 41-10 win from last season.
Bengals Preview
Cincinnati football fans are having the time of their lives now that they have a great franchise quarterback in Joe Burrow.
And that means that when it comes to leading QB1s, The Bengals definitely have the edge this time as right now it's not even clear who is going to be the starter for the Steelers.
Cincy is a huge favorite this time vs the Steelers. Not only because they have won their latest meetings; but also because they are the more talented squad.
Now, it's important to recall that Burrow underwent an appendectomy back in July. And the team is hoping that by giving him the full preseason off, he will be fully recovered by the time Week 1 arrives.
Rear our Week 1 preview for Patriots at Dolphins.
Steelers Preview
Despite having a number of deficiencies, the Steelers managed to make it to the postseason with a 9-7-1 record.
And Pittsburgh was able to do this with Big Roethlisberger really playing like a vet who is about to retire.
Now that Big Ben is officially gone, it's time for a new QB1 to take charge in Pittsburgh.
And that is going to be a clear battle between rookie Kenny Pickett and Mitch Trubisky, who was brought precisely because of Big Ben's retirement.
And, even though none of these two quarterbacks is a top candidate for QB1 of the year, the reality is that either is a slight upgrade from Big Ben's football from last season.
Let's also not forget about RB Najee Harris, who had a more than a promising rookie season, and this can clearly be his breakout year.
With names such as Mikah Fitzpatrick, TJ Watt, and Cam Heyward, the area where Pittsburgh seems to be stronger is defense.
In fact, if everybody is able to remain healthy during the regular season, the Steelers' defense will definitely end up ranking in the league's top 10.
Check out our preview for the Week 1 game between Eagles and Lions.
Steelers at Bengals Betting Tips
Here are some Steelers at Bengals Betting tips to help you make the best decisions when getting action on this particular Week 1 game:
The Steelers are just starting to try to put together a decent offensive lineup. And they are playing their Week 1 game in a very hostile environment. So, chances are that they will have a hard time trying to win this one.
Last year, Cincy was able to cover the spread in more than half of their total games, finishing with a 10-7-0 ATS record.
Last season, when the Bengals were home favorites, they were able to cover 44%.
The Bengals have just one ATS victory as a -6.5 favorite or greater last season.
In fifteen games last season, Cincy and its rival were able to combine for more than 44.5 points.
The average point total for the Bengals last season was 46.0, with 1.5 extra points the total for this game.
Pittsburgh finished last year with an 8-9-0 ATS (against the spread) record.
As a 6.5 dog or greater, the Steelers had 2 victories ATS last season.
Out of their seventeen games last year for the Steelers, 6 of those hit the over.
7 of the total games where Pittsburgh performed last year finished with over 44.5 points.
Thank you for reading our Steelers at Bengals Betting preview, best of luck with your action on this one!