49ers at Bears Betting Odds and Game Preview, NFL Week 1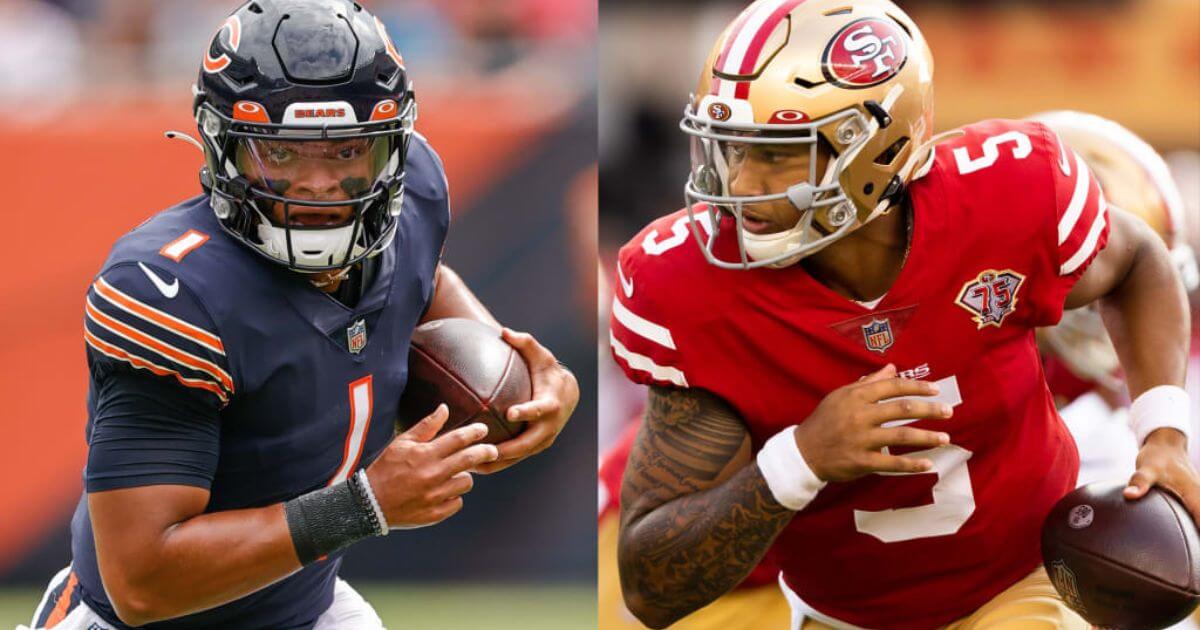 Here is our 49ers at Bears Betting preview and odds for this NFL week 1 clash.
The Trey Lance era is officially starting in San Francisco. And Lance's first real test will come against another quarterback that is also still proving himself to be worthy of the starter position in Justin Fields.
Last season, the Niners fell just a single game short of playing the Super Bowl. But they blew a ten-point lead in the second half and ended up losing 20-17 to the eventual champs the Rams.
49ers at Bears Betting Odds
These are the 49ers at Bears Betting Odds, brought to you by YouWager.lv:
| TEAM | MONEYLINE | SPREAD | TOTAL |
| --- | --- | --- | --- |
| SAN FRANCISCO 49ERS | -284 | -7 -110 | O 42 -110 |
| CHICAGO BEARS | +244 | +7 -110 | U 42 -110 |
The Spread
As you can see, the 49ers are huge -7 favorites to get the road victory at Soldier Field. If you place a bet on San Francisco, the Niners must win for more than 7 points. If they win but by less than 7 points, you lose your bet.
When it comes to Chicago, they are the home underdogs at +7. That means that the Bears can even lose the game by less than 7 points and you can still win your bet. If they lose by more than 7, you lose your bet.
Money Line
On the money line, a $284 wager on San Fran can get you an extra $100 for a total return of $384.
When it comes to the home team, a $100 bet on Chicago can get you an extra $244 for a total return of $344.
Total
The total for this game has been set at 42. This means that you can bet on the combined score of both teams at the end of the game to be under or over 42.
Check out our Patriots at Dolphins betting Week 1 betting preview.
49ers Offseason
The offseason wasn't easy for San Francisco, including Deebo Samuel asking to leave the team.
Thankfully for 49ers fans, the team was able to dissuade Samuel and he's staying in San Fran after signing a 3-year deal during training camp.
The Niners still have Jimmy G on their roster, but chances are that Garoppolo won't make it to the regular season wearing a 49ers jersey as Lance will be the starter.
And there are a couple of teams out there that are in need of a better starter than what they currently have.
When it comes to Lance, he is in for a treat as he will count on a ton of attacking weapons, including Samuel, Trey Sermon, Elijah Mitchell, and of course George Kittle.

Bears Offseason
After going 34-31 in 4 seasons and a 6-11 record last season, the Bears finally fired Matt Nagy and cleaned the house during the offseason.
Former Indy defensive coordinator Matt Eberflus is taking over for Nagy as head coach.
Eberflus is the 5th coach for Chicago in eleven seasons.
Read our Bills at Rams Week 1 betting preview.
49ers at Bears Betting Preview
With a team that almost made it to the most important game of the season last year and a new young, eager starting quarterback, the Niners are definitely favorites.
And they are big favorites over a team with huge question marks on both sides of the field.
The focus of the Bears and Eberflus will definitely be on defense, especially when it comes to covering Deebo Samuel.
This of course is easier said than done.
Now, the running game for Chicago is strong, including great running backs such as Khalil Herbert and David Montgomery.
On the negative side, Justin Fields lost one of his most powerful offensive weapons in WR Allen Robinson.
And, although Chicago managed to acquire N'Keal Harry from the Pats, he is just not as good or reliable as vet Robinson.
This is particularly true after Harry injured his ankle in the offseason, and now he can even miss this Week 1 opener.
Now, there is always a Week 1 upset that gets everybody scratching their heads about how and why it happened.
But this one is likely not going to be it.
Yes, this is going to be a battle between two rookie quarterbacks, but Trey Lance has a better team backing him up.
This includes a powerful defensive lineup that features a guy such as Nick Bosa, who is a seasoned game-wrecker.
And, if we consider that the Bears allowed 58 sacks in 17 games for most in the league last season, Lance definitely has the edge over Fields in this battle.
49ers at Bears Betting Tips
Last but not least, we have these 49ers at Bears Betting tips to take the best decision when getting your action on this game:
The Niners were 5-4 versus the spread in games on the road last season, and this includes a victory over Chicago at Soldier Field in October 2021.
The Bears were 4-4 versus the spread when playing at home last season.
Chicago has managed to win 3 of their previous 4 opening games at home. But they are 2-2 ATS in those particular games.
The 49ers have won their opening game on the road for 3 seasons in a row. And they covered the spread in 2 of those particular games. They only failed to cover a 9.5 spread versus the Lions in 2021 after finishing with a 41-33 victory.
Thank you for reading our 49ers at Bears Betting preview, best of luck with your Week 1 action!