Eagles at Lions Betting Odds and Game Preview, NFL Week 1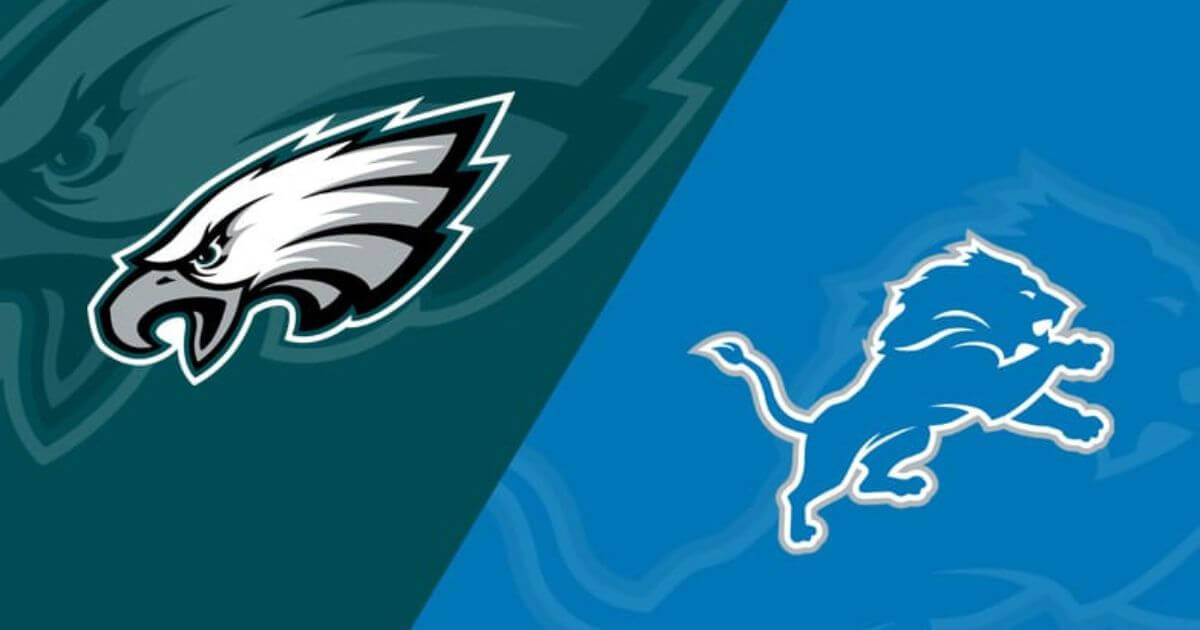 Here is our Eagles at Lions Betting preview, including current betting odds for the game.
After making it to the playoffs last year by winning 6 of their last 8, Philly finally fell to the Bucs in the Wild Card Round.
That being said, the Eagles are entering this season with a lot of hope.
On the other hand, the Lions finished with a 365-day victory drought by defeating the Vikings in December 2021. Detroit finished last season with a 3-11-1 record.
Eagles at Lions Betting Odds
Here are the Eagles at Lions Betting Odds, brought to you by YouWager.lv:
| TEAM | MONEYLINE | SPREAD | TOTAL |
| --- | --- | --- | --- |
| PHILADELPHIA EAGLES | -210 | -4 -110 | O 46.5 -110 |
| DETROIT LIONS | +175 | +4 -110 | U 46.5 -110 |
As you can see in the odds above, the Eagles are -4 road favorites to get the victory over the Lions at Ford Field.
That being said, it is important to recall that despite the fact that Detroit won only 3 games last season, they managed to cover the spread 11-6.
The Lions, on paper, is a better team than they were last season, so even though they are the dogs for this game, they can still cover.
When it comes to the total, the Over has hit in the previous 8 games between these two NFL franchises.
Check out the game preview for Bills at Rams Week 1.
How to Bet the Game
Now in this Eagles at Lions Betting preview, let's see how to bet the game with the options above:
As you can see, the Eagles are listed as -4, this is what is known as the spread.
And, if you select this wagering line, then Philly will need to win by more than 4 points for you to cash in.
This is because, in the eyes of the oddsmakers, they are the ones with the most chances of winning the game.
The Lions, on the other hand, is listed as +4 on the spread.
That means that they can even lose the game by less than 4 points, and you can still win your wager.
The spread is a fascinating way to bet on sports, and if you haven't given it a try just yet, we definitely recommend you to do so!
Now, when it comes to the money line, the Eagles are listed as -210 favorites.
And that means that you need to risk $210 for each $100 you want to win.
If you make a bet on the Lions, you can get more profits for less risked cash.
In this particular case, the Lions are listed as +175 underdogs.
And that means that you can make an outstanding $175 per each $100 you get to risk.
Now let's analyze the total for the game:
In this case, the total is set at 46.5. And that means that you can bet on both teams' combined score at the end of the game to be under or over 46.5.
Read our preview for the Week 1 clash between Dolphins and Patriots.

Eagles at Lions Betting: Roster Adjustments
Let's continue this Eagles at Lions Betting preview with info on the offseason adjustments for both teams' rosters.
Both squads have a lot of different expectations when it comes to their goals for the 2022 campaign.
And both also made some roster adjustments that could make this Week 1 clash very exciting.
Eagles Roster Adjustments
Philly managed to trade for WR A.J. Brown (from Titans) during the offseason.
And he will be joining an offense that is led by the likes of DeVonta Smith, Dallas Goedert, and of course Jalen Hurts.
Lions Roster Adjustments
The Lions also made some moves during the offseason.
They added wideout Jameson Williams, plus they also incorporated DJ Chark to their roster.
Chark is joining Jared Goff's already impressive arsenal, which includes TJ Hockenson, D'Andre Swift, and Amon-Ra St.Brown.
And of course, second overall pick Aidan Hutchinson.
Eagles at Lions Betting: Game Preview
Now it's time for our Eagles at Lions Betting game preview!
Hurts was impressive last season, especially during the late stretch.
But then he went on to struggle versus Tom Brady and the Buccaneers.
And there are many reasons for that, particularly because he was flying out of his pocket frequently instead of letting specific plays develop a bit more.
If Hurts wants to avoid missing key passing opportunities, he will need to be extra focused and avoid excessive mistakes.
Most of all, he needs to improve his ability to see when his weapons get open without getting tackled in the process.
The Lions, of course, will do whatever it is in their hands to avoid this from happening; and that is a task that will be particularly developed by Hutchinson.
Let's put it this way: there is a reason why Detroit focused on acquiring Hutchinson with their number two overall NFL Draft pick.
And the reason is that Detroit finished last season as the team with the second-most points given in the NFC.
Philadelphia, on the other hand, finished with the 6th-fewest yards permitted in the NFC.
And with a great defensive lineup already in place, chances are that it will be the Eagles that will remain in control for most of the game.
So, if the Lions want to have a shot at getting the victory, they will need to also focus on their own defense while trying to create as many open spots for Goff as possible.
The questions are:
Can Jalen Hurts step forward and make a statement in Week 1?
Or will Hutchinson do his work and stop the Eagles' offensive threats on their way to a home team victory?
Thank you for reading our Eagles at Lions Betting preview, best of luck with your future action!