Bills at Rams Betting Odds and Game Preview, NFL Week 1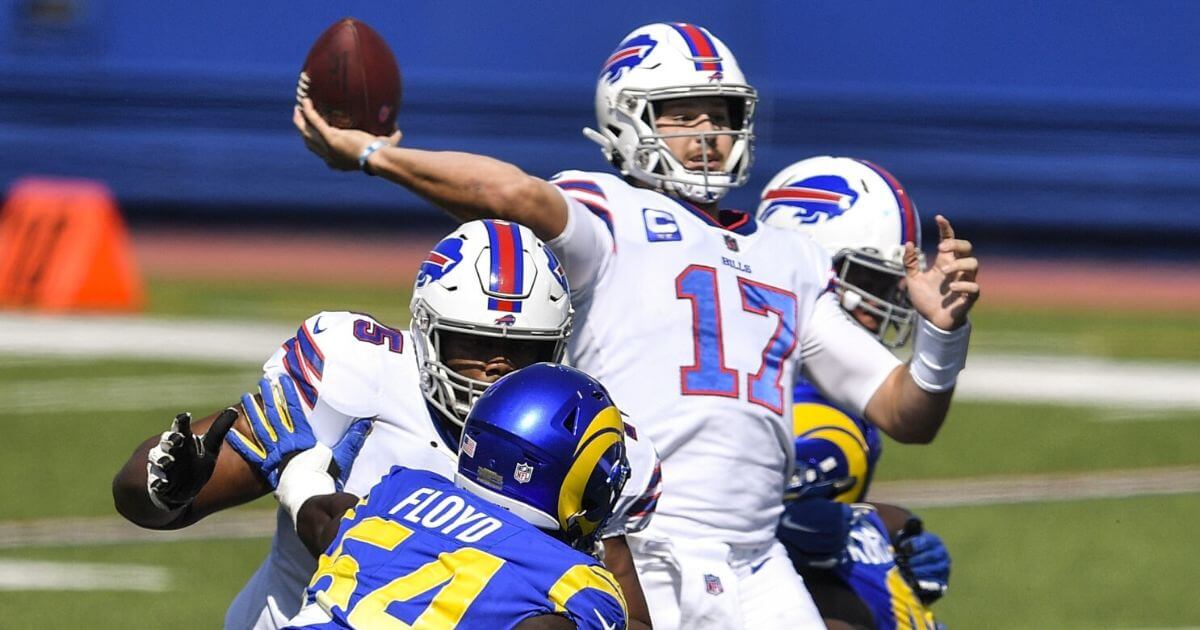 Here is our Bills at Rams Betting preview and odds for the game.
As usual, the opening game of the NFL regular season features a team that managed to make a deep run in the postseason vs the current Super Bowl champs.
This year is no different as the Bills are visiting SoFi Stadium to face the Rams on September 8, 2022.
Bills at Rams Betting Odds
Here are the Bills at Rams Betting Odds, brought to you by YouWager.lv:
| TEAM | MONEYLINE | SPREAD | TOTAL |
| --- | --- | --- | --- |
| BUFFALO BILLS | -135 | -2.5 -110 | O 52 -110 |
| LOS ANGELES RAMS | +115 | +2.5 -110 | U 52 -110 |
As you can see, the Bills are -2 favorites to take their first victory of the season on the road.
If you place a bet on Buffalo, then the Bills must win by 2 points or more for you to collect profits.
If Buffalo wins but for less than two points, you lose your bet.
The Rams, on the other hand, are +2 home underdogs. This means that LA can even lose the game by less than two points and you can still win your bet.
If LA loses but for more than 2 points, you will lose your wager on the Rams.
When it comes to the total, the over/under is set at 52. So, you can bet that the score of both teams combined at the end of the game is going to be under 52 points or over 52 points.
Check out our preview and odds for the Week 1 Patriots at Dolphins game.
Bills at Rams Betting Preview
Now let's continue with the Bills at Rams Betting preview!
A while ago, the line for this game was set at Pick Em, but oddsmakers quickly refreshed those numbers after the news of Mathew Stafford's elbow problems.
But, everyone at the Rams organization was downplaying the talks about Stafford's elbow during the weekend.
This includes Stafford himself, who mentioned this after Saturday's team practice: "I don't know if you guys were watching, I felt like I could make any throw I wanted today."
There is still some time left before this game takes place, and by the time the game starts, Stafford's elbow situation can be just one more training camp story.
That being said, the markets are indeed reacting.
And, we all well know that the NFL is a quarterback-driven league.
So, with Stafford hurrying to get back in top shape before a game versus the top prospect to get the MVP, chances are that the Rams, even though they are playing at home, will struggle against Buffalo.

Bills at Rams Betting: NFL Futures
Now in our Bills at Rams Betting article, let's talk about NFL Futures.
When it comes to the futures market, the Bills are the current favorites to win Super Bowl LVII at +600 while the Rams are +1000.
Buffalo is also favorites to win the AFC conference at +325, while the Rams are +450 to win the NFC, just behind the Bucs, and tied with the Packers.
When it comes to divisions, the Bills are again favorites to win the AFC East at -230, while the Rams are also the favorites to win the NFC West at +120.
And guess what?
Not surprisingly, it is Bills QB1 Josh Allen who's the favorite to win the regular season MVP honors at +650.
Stats
Last but not least in our Bills at Rams Betting piece, some significant stats for both teams.
The very last time that Josh Allen faced LA was back in 2020 at Week 3.
Back then, Allen finished with 311 passing yards and 4 passing TDs for a 35-32 late victory.
The following season, the Rams managed to get the Lombardi Trophy.
Last season LA opened up with +2000 odds to win the Super Bowl, and the addition of veteran Matthew Stafford improved those odds to +1400.
Their odds got even better when they managed to trade for Von Miller.
LA went on to defeat Cincinnati 23-20 to crown themselves.
The Bills also had an outstanding season, which ended up with a very contested defeat to the Chiefs, in a game that most classify as the crown jewel of last season's games.
This was a tough blow for Buffalo as this was the second straight season that they fell to Kansas City.
Head To Head
Now it's time to check out the head to head between these two teams since the 1985 season:
Date
Winner
Winner H/A/N
Score
ATS Cover
O/U Result
09/27/20
Buffalo
Home
35-32
Buffalo
-1.5
Over
46.5
10/09/16
Buffalo
Away
30-19
Buffalo
-2.5
Over
41.5
12/09/12
LA Rams
Away
15-12
LA Rams
+3.5
Under
42.5
09/28/08
Buffalo
Away
31-14
Buffalo
-9.5
Over
43.5
11/21/04
Buffalo
Home
37-17
Buffalo Pk
Over
40.0
09/20/98
LA Rams
Away
34-33
LA Rams
+4.5
Over
38.5
12/10/95
Buffalo
Away
45-27
Buffalo
-3.0
Over
40.0
09/06/92
Buffalo
Home
40-7
Buffalo
-11.0
Over
44.5
10/16/89
Buffalo
Home
23-20
Buffalo
+3.5
Over
40.0
Thank you for checking out our Bills at Rams Betting preview, best of luck with your wagering action!