Titans at Chiefs Betting Prediction, Pick, NFL Week 9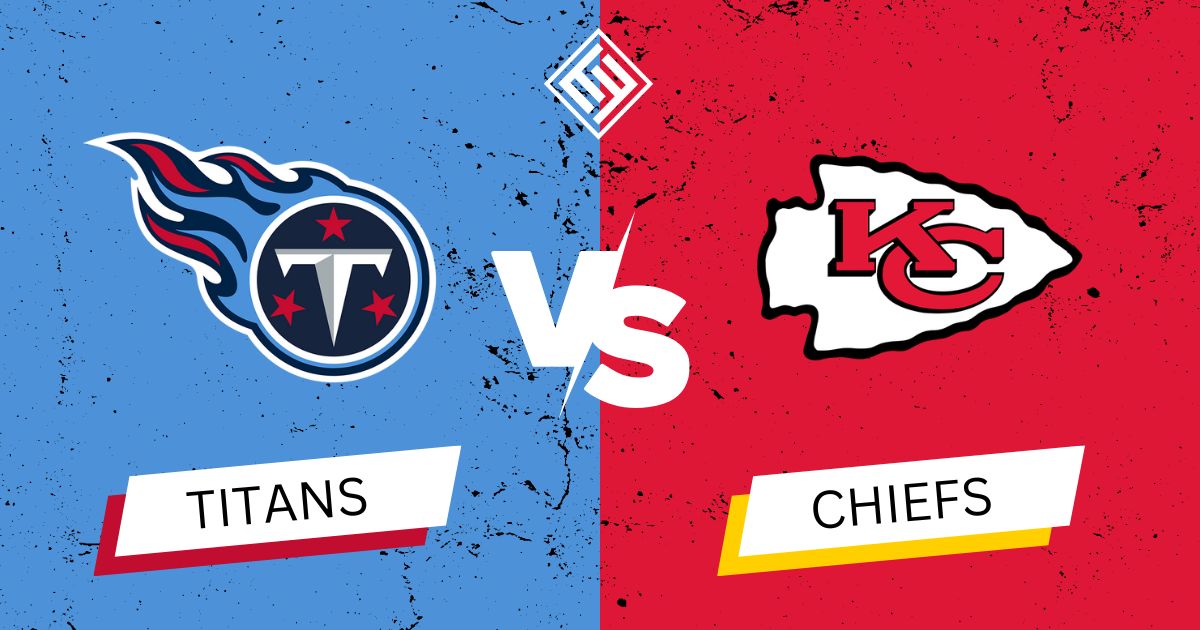 Here is our Titans at Chiefs Betting prediction and pick for this NFL week 9 matchup.
5-2 Tennessee defeated Houston 17-10 on Sunday.
The 5-2 Chiefs were on their bye on week 8 and they remain 5-2 on the year.
These two franchises met for the last time back on October 24, 2021, and the Titans won the game 27-3.
Learn How to Bet on Sports with this simple guide.
Titans at Chiefs Betting Odds
These are the Titans at Chiefs Betting odds, brought to you by YouWager.lv:
Titans +13
Chiefs -13
Total: 46 Over/Under
The Chiefs are -13 spread favorites to defeat the Titans at home.
For you to collect your profits on this particular line, Kansas City must win this game by more than 13 points.
If the Chiefs win the game but by less than 13, you lose your bet.
The Titans are +13 underdogs for this particular matchup. This means that they can even lose the game by less than 13 points, and you can still collect your profits.
If they lose by more than 13, you lose your wager.
Top 10 NFL Quarterbacks 2022 Ranked: Mahomes Tops The List

Titans at Chiefs Betting: Game Preview
It's time for our Titans at Chiefs Betting preview, including an overview of both teams.
Tennessee Relying on Running Game
The Titans are now 5-2 on the year thanks to their week 8 victory over the Texans.
The victory marked their fifth win in a row, and this is tied for the second-longest winning streak in the league.
This is a team that has managed to turn their luck around positively after starting the season 0-2.
That being said, they have defeated a number of mediocre teams during this winning streak, and that means that they are far from proving themselves.
The defense for the Titans was pretty good versus Houston as they managed to hold the Texans to only 3 points for most of the game.
This D-line must definitely step up again this week if they really want to have a shot at defeating Kansas City.
Right now, Tennessee is relying on star running back Derrick Henry, who managed to rush a total of 32 times for 219 yards and two touchdowns in the victory over Houston.
Derrick now has a total of 755 rushing yards and seven touchdowns in seven games.
Needless to say, Henry is the core of Tennessee's offensive line.
In his NFL debut, quarterback Malik Willis managed to go 6 for 10 for 55 yards and a single interception.
It is clear factor that he requires to adjust to the league's standards.
Ryan Tannehill will be a game-day decision, so it's likely that Willis will be the starter once again.
NFL Top 10 Wide Receivers: Davante Adams Tops List
Kansas City Fighting for AFC's Top Spot
Next in our Titans at Chiefs Betting preview, let's talk about the Chiefs.
This team enjoyed their bye during week 8 and they are currently 5-2 on the year.
The Chiefs are definitely one of the best teams in the league right now, and now they have their focus on this particular matchup versus the AFC's top seed from last season.
The biggest letdown for this team in teams of their performance came versus the Colts, and they will likely be trying to avoid falling in the same errors versus another AFC South franchise the Titans.
Stopping Henry will be the key for the Chiefs, who currently have the ninth-worst defense in the league versus the run.
They must be prepared for what Henry is going to throw at them.
While Kansas City's D-line will focus on Henry, the offensive line shouldn't have a problem moving the ball around the field.
The Titans are currently ranked ninth-best in points allowed per game, and their defense is improving with each passing week.
With that said, Patrick Mahomes is having a terrific season and he is never intimidated by rival defensive lines.
Wide receiver JuJu Smith-Schuster is enjoying a pretty good first pro season with Kansas City with 34 catches for 494 yards and two touchdowns in seven games.
Titans at Chiefs Betting Pick
it's a surprise that the Chiefs have a 1-5 record versus Tennessee since 2014.
The performance of the Titans will be linked to who will actually be their starter.
That being said, the Chiefs will focus on Henry to avoid rushing touchdowns.
And it's likely that the Titans will have a tough time throwing deep shots down the field.
We believe the Chiefs will win this one, but we are not sure if they can cover the spread if Tannehill starts.
Titans at Chiefs Betting Pick: Chiefs ML