Ravens at Saints Betting Prediction, Pick, NFL Week 9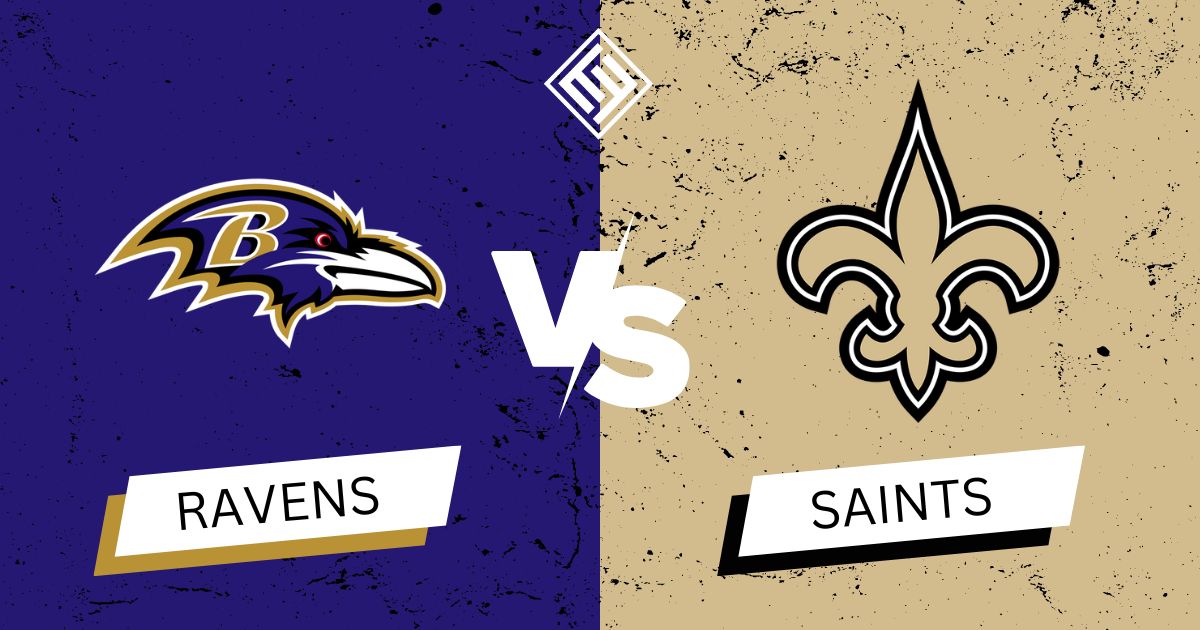 Here is our Ravens at Saints Betting prediction, including our pick for this NFL week 9 matchup.
5-3 Baltimore defeated the Bucs 27-22 on week 8.
3-5 NOLA managed to fully dominate the Raiders, getting a valuable 24-0 victory.
The last time these two teams met was on October 21, 2018, with the Saints getting a 24-23 win.
Learn How to Bet on Sports with this simple guide.
Ravens at Saints Betting Odds
These are the Ravens at Saints Betting odds, brought to you by YouWager.lv:
Ravens -2.5
Saints +2.5
Total: 47 Over/Under
The Ravens are -2.5 spread favorites to get the victory on the road over the Saints in New Orleans.
This means that Baltimore must win the game by more than 2.5 points for you to cash in on this particular line.
If they win by less than 2.5 points, you lose your bet.
The Saints are the +2.5 underdogs, and this means that they can even lose the game by less than 2.5 points, and you can still win your bet.
If they lose by more than 2.5 points, you lose your wager.
When it comes to the total, it has been set at 47, and this means that you can place a bet on the combined score of the two teams at the end of the game to be higher or lower than 47 total points.
NFL Top 10 Wide Receivers: Davante Adams Tops List

Ravens at Saints Betting: Game Preview
It's time for our Ravens at Saints Betting preview, including an overview of both teams.
Baltimore Leading AFC North
Now in this Ravens at Saints Betting preview, let's talk about Baltimore.
The Ravens managed to improve to 5-3 on the year with a 22-17 victory over the Bucs on Thursday Night Football.
This is a team that now sits alone at the top of the AFC North.
Last season, they started 8-3 before they lost six games in a row to finish the year 8-9.
Baltimore is definitely trying to avoid a similar collapse at the end of their season.
The good thing is that the Ravens currently have no teams on what is left of their schedule with a winning record.
In fact, what remains of their schedule is extremely soft, which gives this team a great shot at winning their division.
And Baltimore is looking to capitalize on their current success even more as they traded for superstar linebacker Roquan Smith from the Bears.
Needless to say, Smith is expected to elevate this defense a lot more.
Indeed, this trade was a huge victory for Baltimore.
Top 10 NFL Quarterbacks 2022 Ranked: Mahomes Tops The List
NOLA Fighting to Stay Afloat
Next in this Ravens at Saints Betting preview, let's talk about New Orleans.
The Saints gave the Raiders a very hard time on Sunday and embarrass them by leaving them scoreless and scoring 24 points against them, allowing New Orleans to improve to 3-5 on the year.
Jaimes Winston was available again but NOLA opted to continue with backup quarterback Andy Dalton as he is at the center of the Saints' offensive resurgence.
Dalton managed to finish the game 22 for 30 for 229 yards and two touchdowns which equals a 117.2 passer rating.
On the year, Dalton has managed to throw to a 95.1 passer rating, managing to complete 65% of his passes, and he is expected to start versus the Ravens.
Dalton's performance was strong, but it was actually running back Alvin Kamara who made the difference on week 8.
Kamara managed to finish the game with 158 total yards and 3 touchdowns.
Additionally, NOLA's D-line was also phenomenal as they were able to completely shut down the Las Vegas offensive line.
They were able to hold Josh Jacobs to a low 43 yards and no touchdowns.
Davante Adams was also shut down as he finished the game with a single catch for three yards.
Ravens at Saints Betting Pick
Last but not least, our Ravens at Saints Betting pick:
It's not easy to pick a winner here.
After their performance versus the Raiders on week 8, it's difficult to pick against the Saints, particularly when they are playing at home.
With that said, a lot of people will favor NOLA because of their good performance versus Las Vegas.
Out of the two, the Ravens are the best team, and a defensive line that has been revitalized with the addition of Roquan Smith will be difficult to overcome.
We are taking the Ravens to win on the road.
Ravens at Saints Betting pick: Ravens -2.5