Rams at Buccaneers Betting Prediction, Pick, NFL Week 9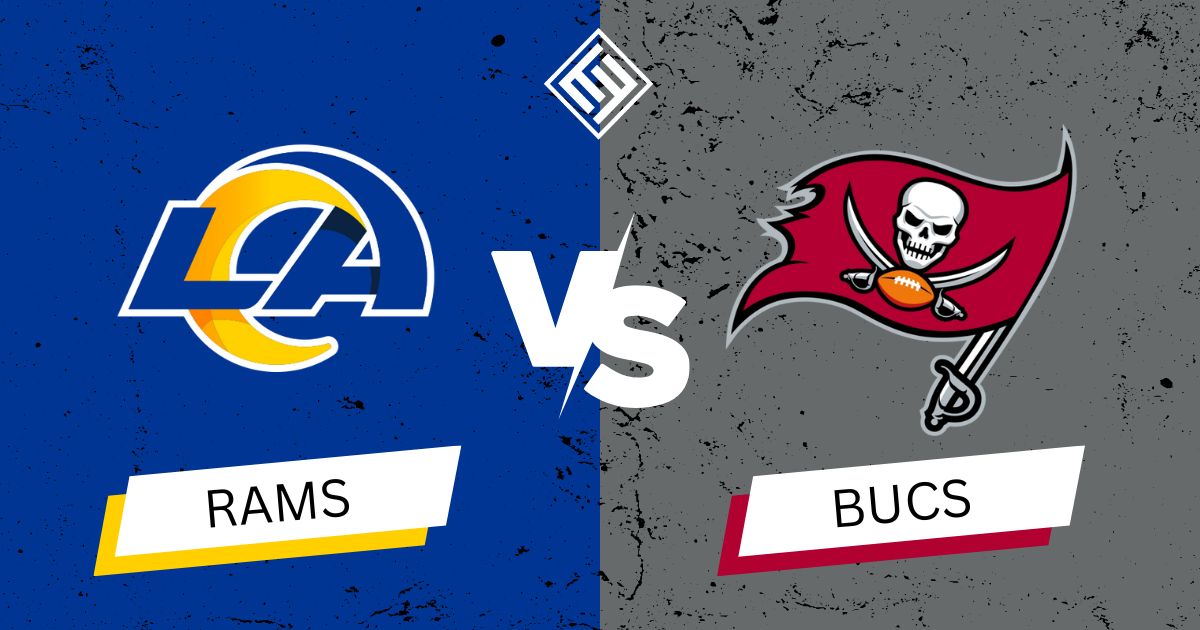 Here is our Rams at Buccaneers Betting prediction and pick for this NFL week 9 matchup.
3-4 LA got defeated by the Niners 31-14 on Sunday.
3-5 Bucs' efforts versus Baltimore weren't enough and they lost 27-22.
The very last time these two played each other was in the playoffs on January 23, with the Rams getting the 30-27 win.
Learn How to Bet on Sports with this simple guide.
Rams at Buccaneers Betting Odds
These are the Rams at Buccaneers Betting odds, brought to you by YouWager.lv:
Rams +3
Buccaneers -3
Total 42.5 Over/Under
The Bucs are -3 spread favorites to get the victory at home over the Rams. For you to cash in on this line, Tampa Bay must win the game by more than 3 points or you lose the wager.
The Rams are +3 underdogs, and this means that LA can even lose the game by less than 3 points and you can still cash in on this line.
If LA loses by more than 3 points, you lose your bet.
When it comes to the total, it has been set at 42.5 for this particular game, and this means that you can make a bet on the combined score of these two teams at the end of the game to be higher or lower than the 42.5 total points.
NFL Top 10 Wide Receivers: Davante Adams Tops List

Rams at Buccaneers Betting: Game Preview
It's time for our Rams at Buccaneers Betting preview, including an overview of both teams.
Los Angeles Continues to Fail
Now in our Rams at Buccaneers Betting preview, let's talk about the Rams.
LA lost their eighth game in a row versus San Francisco, and this loss marked the fourth season in a row that the Rams are not able to defeat their in-state rivals.
It was also a bad 31-14 loss, and this was despite them playing at home.
In their two defeats versus the 49ers this current season, LA got outscored 55-23.
Starter Matthew Stafford went 22 for 33 for 187 yards and a single touchdown in the latest loss.
Rushing was also pretty bad for the Rams as the team totaled 27 attempts for 56 yards, which equals 2.7 ypc.
This is an offense that is regressing, and the D-line is also struggling a lot.
In their week 8 loss, Jimmy Garoppolo was able to go 21 for 25 for 235 yards and two touchdowns, which equals to 132.5 passer rating, which is Garoppolo's best mark of the year so far.
The Rams' running game is also suffering, and they truly look less and less like the Super Bowl championship team from last season.
Now LA actually looks like a team that will be quite lucky to even make it to the playoffs.
Needless to say, this is a must-win for the Rams.
Top 10 NFL Quarterbacks 2022 Ranked: Mahomes Tops The List
Tampa Bay Saved by Poor Division
Next in this Rams at Buccaneers Betting preview, let's talk about the Bucs.
Tampa Bay is now 3-5 after losing to the Ravens on Thursday Night Footba…
Just like LA, the Buccaneers are not performing as expected, with Tom Brady going 26 for 44 for 325 yards and a single touchdown in the loss to Baltimore.
Running back Leonard Fournette managed to rush a total of nine times for only 24 and is currently averaging 2.7 ypc.
The Bucs are required to improve their offensive plans moving forward.
The only thing that is keeping this team with playoff hopes despite being 3-5 is the fact that the NFC South is very weak.
When it comes to defense, the Bucs are like a rollercoaster.
They have not been torn apart since the fourth week of action versus the Chiefs, but their performances since then have not been very good.
Right now this team is on a three-game losing streak, and during this time, they have been outscored 68-43, giving up a little more than 23 PPG. But, they have also been scoring low, with a little over fourteen points per game.
There are a lot of questions about how far this team will actually go this season, particularly because of their current roster and a 45-year-old quarterback that is dealing with personal problems that seem to be affecting his performances.
Rams at Buccaneers Betting Pick
Last but not least, we have our Rams at Buccaneers Betting pick:
These two teams really need this win, because a loss for either will drop them below .500, while a victory will help them to start moving in the right direction.
Both have offensive lines that seem to be struggling, and both also have strong D-lines.
A difference maker for the Rams can be wide receiver Cooper Kupp, but even if he gets to play, it's hard to see the Rams being successful versus the Bucs' defensive line on the road.
This is likely to be a close one, and we are taking the Buccaneers.
Rams at Buccaneers Betting Pick: Buccaneers -3