Seahawks at Cardinals Betting Prediction, Pick, NFL Week 9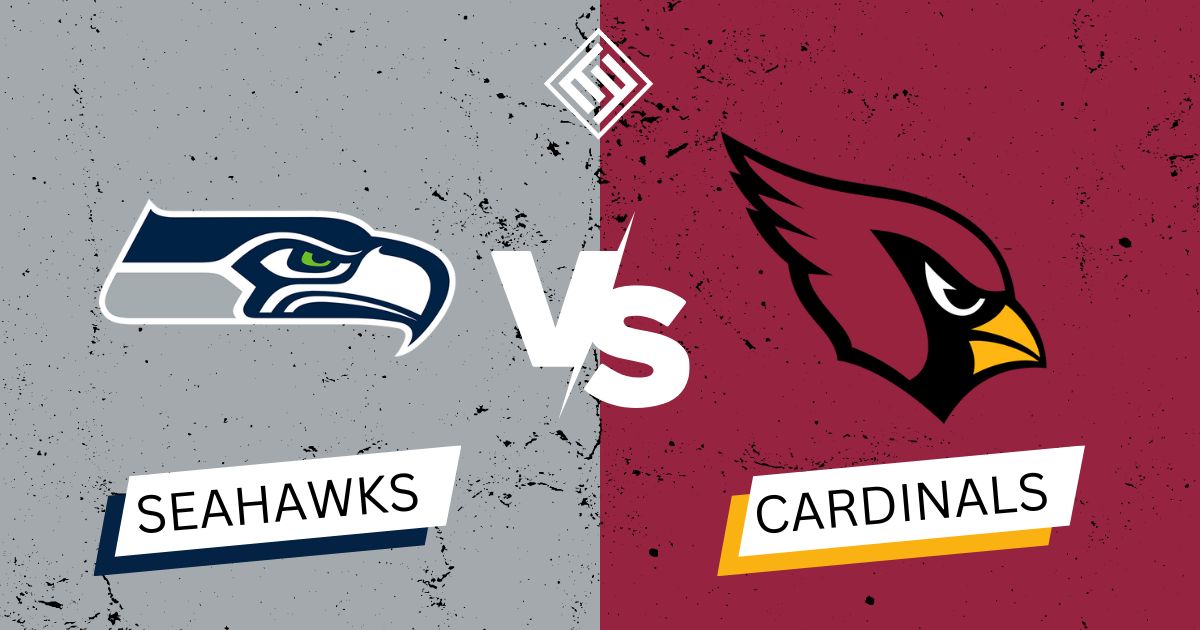 Here is our Seahawks at Cardinals Betting prediction and pick for this NFL week 9 matchup.
5-3 Seattle defeated the Giants on week 8 27-13.
The 3-5 Cardinals lost what was a very close game to Minnesota on Sunday by 34-26.
The very last time these two franchises met was a couple of weeks ago on week 6 with the Seahawks getting the 19-9 victory.
Learn How to Bet on Sports with this simple guide.
Seahawks at Cardinals Betting Odds
These are the Seahawks at Cardinals Betting odds, brought to you by YouWager.lv:
Seahawks +2
Cardinals -2
Total: 49 Over/Under
The Cardinals are -2 spread favorites to get this victory at home. This means that Arizona must win the game by more than 2 points for you to collect profits on this spread wager.
When it comes to the Seahawks, they are +2 underdogs, and this means that you can even lose the game by less than 2 points and you can still win your bet.
If the Seahawks lose the game by more than 2 points, you lose your wager.
The total for this game has been set at 49, and this means that you can make a bet on the combined score for this game to be lower or higher than 49 points.

Top 10 NFL Quarterbacks 2022 Ranked: Mahomes Tops The List
Seahawks at Cardinals Betting: Game Preview
It's time for our Seahawks at Cardinals Betting preview with an overview of both teams.
Seattle on Fire with Geno Smith
Now in this Seahawks at Cardinals Betting preview, let's talk about the Seahawks.
Seattle right now is a team that is completely on fire with the help of starting quarterback Geno Smith.
Seattle managed to improve to 5-3 after defeating the Giants on Sunday, allowing them to remain as the sole leaders of the NFC West.
The Giants' defense is a proficient one, but Smith continues to impress and had a great performance versus New York, finishing 23 for 34 for 212 yards and two touchdowns.
Right now Geno Smith is currently ranking fourth overall in the league in QBR, just behind Tua Tagovailoa, Josh Allen, and Patrick Mahomes.
Running back Kenneth Walker didn't perform very well as he finished this game by rushing seventeen times for only 35 yards, but he finally managed to break loose and scored the victory touchdown.
When it comes to their D-line, Seattle was also impressive in week 8 as they prevented a Giants-depleted offense from creating actual momentum.
They were also favored by a couple of fumbles by Richie James, and this was definitely a factor that allowed the Seahawks to clinch the victory.
The game versus Arizona is providing Seattle with another great chance to become the true leaders of their division.
The Seahawks already faced the Cardinals one time this current season, and they won it 19-9. But this time they will be facing wide receiver DeAndre Hopkins, so the test will be tougher.
NFL Top 10 Wide Receivers: Davante Adams Tops List
Arizona Needs Defensive Improvement
Next in this Seahawks at Cardinals Betting preview, let's talk about the Cards.
The Cardinals lost 34-26 to Minnesota back on Sunday, and this defeat dropped their record to 3-5 for the year.
This was the second time in a row that this team allows more than 34 points, which makes things quite difficult for the offensive line.
Wide receiver DeAndre Hopkins was again just phenomenal.
Hopkins finished this game with twelve catches for 159 yards and a single TD.
That being said, the Cardinals were still unable to overcome the Vikings.
Hopkins now counts with 22 catches for 262 yards and a single touchdown in the 2 matchups since he returned to action from suspension.
Needless to say, Hopkins is a player that elevates the Cardinals to a different level.
With this offensive line performing well, all Arizona requires right now is for their D-line to bounce back.
While the offensive line for Seattle is one of the best in the NFL, they were able to score just nineteen points playing at home versus this same team.
If Arizona is able to build on what they did defensively versus Seattle, they have a chance at turning their season around.
On the other hand, a loss will drop them to a very disfavorable 3-6 record.
Seahawks at Cardinals Betting Pick
Last but not least, our Seahawks at Cardinals Betting pick:
The last time these two met, it finished in a very low-scoring game.
This time two powerful offensive lines and two vulnerable D-lines go against each other.
We can expect a lot of points, with the Cardinals having a home-field advantage.
In their previous five, the Seahawks are 4-1 while the Cardinals are 2-3.
We are taking Seattle to win and cover to improve to 2-0 versus Arizona this season.
Seahawks at Cardinals Betting Pick: Seahawks +2