Vikings at Commanders Betting Prediction, Pick, NFL Week 9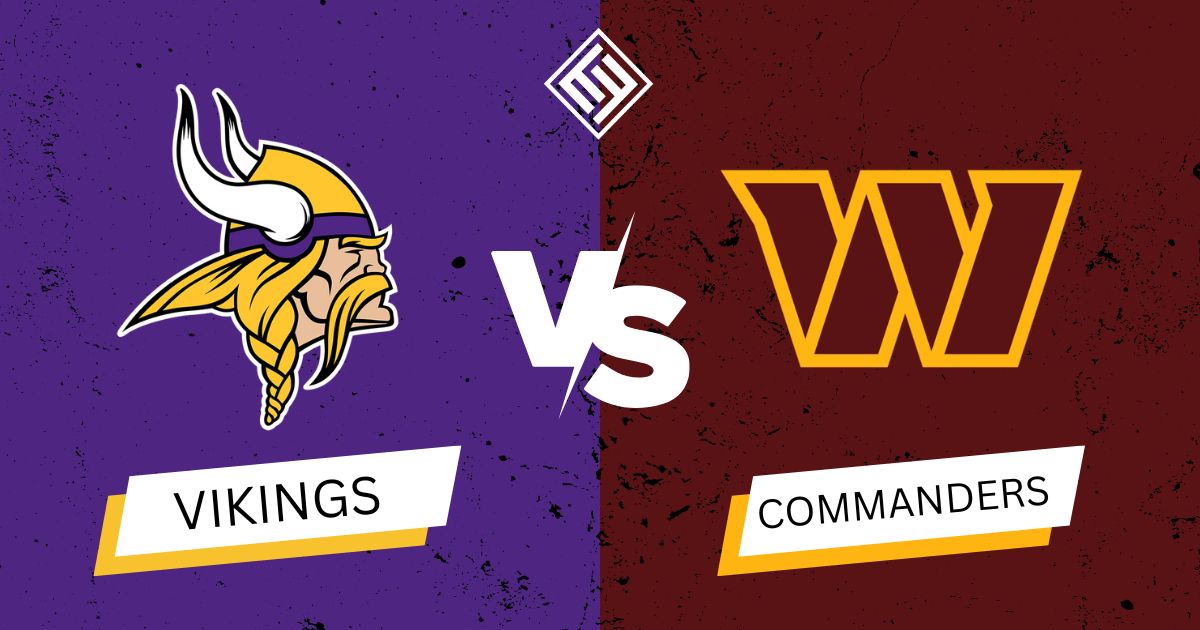 Here is our Vikings at Commanders Betting prediction and pick for this NFL week 9 matchup.
6-1 Minnesota managed to defeat the Cardinals 34-26 in week 8.
The 4-4 Commanders defeated the Colts 17-16 with last-second points.
The last time these two met each other was on October 24, 2019, with the Vikings winning the game 19-9.
Learn How to Bet on Sports with this simple guide.
Vikings at Commanders Betting Odds
These are the Vikings at Commanders Betting odds, brought to you by YouWager.lv:
Vikings -3
Commanders +3
Total: 43.5 Over/Under
The Vikings are 3-point spread favorites to get the victory over the Commanders on the road.
This means that Minnesota must win by more than 3 points for you to cash in on a spread wager on this team.
If they win but by less than 3 points, you lose your wager.
When it comes to the Commanders, they are +3 underdogs for this game, which means that they can even lose the game by less than 3 points and you can still win your bet.
If they lose by more than 3 points, you lose your bet.
When it comes to the total, it has been set at 43.5, which means that you can bet on the combined score of both teams at the end of the game to be higher or lower than 43.5.

Top 10 NFL Quarterbacks 2022 Ranked: Mahomes Tops The List
Vikings at Commanders Betting: Game Preview
It's time for our Vikings at Commanders Betting preview for both squads.
Minnesota Running Away with Division
Now in this Vikings at Commanders Betting preview, let's talk about the Vikings.
Minnesota defeated Arizona 34-26 in week 8 on Sunday.
This victory allowed the team to improve to 6-1 on the year.
Thanks to these positive results, Minnesota now leads the NFC North over Green Bay and Chicago with a 3.5-game lead.
Minnesota currently has a 94% chance of winning their division, and this is the highest advantage for any team in the NFL right now over their divisional rivals.
Wide receiver Justin Jefferson is the star of this team, and he had again another great performance in week 8 as he finished with six catches for 98 yards.
Runningback Dalvin cook was also quite effective as he rushed for 111 yards and a single touchdown.
Indeed, the offensive line for the Vikings has been phenomenal.
That being said, while this is an offense that has been great in non-primetime matchups, their D-line continues to struggle a little bit.
The Vikes allowed 26 points in week 8, and this was the third time in the previous five matchups that they allow 24 points or more.
Versus top rivals, this is just not going to suffice.
The Vikings' D-line has performed just to support their offensive line, allowing them to have five victories so far, but only one of those victories came versus a top team in Miami, and that was the Dolphins playing with their backup quarterback.
NFL Top 10 Wide Receivers: Davante Adams Tops List
Washington Not Done Yet
Next in this Vikings at Commanders Betting preview, let's talk about the Commanders.
The Commanders managed to drive the ball a total of 89 yards in the last 2 minutes of action versus the Colts, allowing them to score the winning touchdown and get a close 17-16 victory.
Washington is now 2-0 with Taylor Heinicke as their starter. Heinicke finished the game with 23 for 31 for 279 yards, a single touchdown, and one interception.
Heinicke was also able to rush the ball a total of six times for 29 yards and a single touchdown, allowing him to lead his team in rushing.
Runningbacks Antonio Gibson and Brian Robinson Jr managed to rush the ball a total of fifteen times for only 39 yards, and they averaged 2.6 yards per carry in the victory.
While the Commanders' offensive line is looking quite competitive under Heinicke compared to the offense under Carson Wentz, their D-line improvements are definitely a big reason why they have managed to win three games in a row.
During those matchups, they were able to outscore their rivals 52-44 and have managed to average only 17 points per game, although they are also allowing under fifteen points per game.
Their D-line is likely to continue to improve as Chase Young is finally returning to the active squad as he dealt with a brutal ACL injury for almost 2 seasons.
Vikings at Commanders Betting Pick
Last but not least we have our Vikings at Commanders Betting pick:
Minnesota is currently on a five-game winning streak and Washington has won 3 in a row.
One of those favorable streaks will end in this matchup.
This is a home game for the Commanders, and this gives them a chance to keep the good times rolling.
Although Washington's defense has been quite solid, the Vikings will prove to be a tougher test than the franchises they have faced during their winning srreak.
The offense for the Vikings should be able to handle the Commanders, allowing them to be 7-1 on the year.
Vikings at Commanders Betting Pick: Vikings -3