Raiders at Jaguars Betting Prediction, Pick, NFL Week 9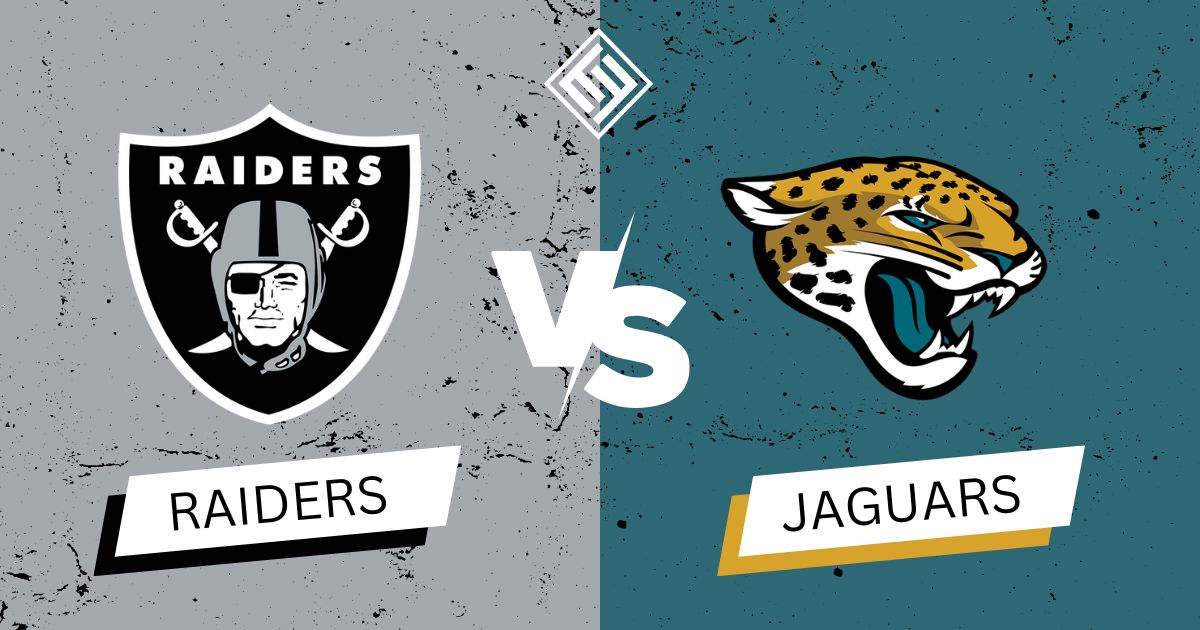 Here is our Raiders at Jaguars Betting prediction, including our pick for this NFL week 9 matchup.
2-5 Las Vegas were defeated 24-0 by NOLA on week 9.
The 2-6 Jaguars were handed a 21-17 loss by the Broncos in London on Sunday.
The last time these two franchises met was on December 15, 2019, Jacksonville got the 20-16 victory.
Learn How to Bet on Sports with this simple guide.
Raiders at Jaguars Betting Odds
These are the Raiders at Jaguars Betting odds, brought to you by YouWager.lv:
Raiders -1.5
Jaguars +1.5
Total: 48 Over/Under
The Raiders are the spread favorites to win this game at -1.5. This means that Las Vegas must win this game by more than 1.5 points for you to collect your profits.
If they win by less than that, you lose your bet.
The Jaguars are the underdogs at +1.5. This means that they can lose the wager by less than 1.5 points and you can still win the bet.
If Jacksonville loses by more than 1.5 points, you lose your bet.
When it comes to the total, it has been set at 48. This means that you can place a wager on the combined score at the end of the game to be higher or lower than 48 points.

Raiders at Jaguars Betting: Game Preview
It's time for our Raiders at Jaguars Betting preview with an overview of both teams.
Las Vegas Continue to Underperform
Now in our Raiders at Jaguars Betting preview it's time to talk about the Raiders.
Las Vegas went scoreless by the Saints as they lost this week 8 matchup by 24-0.
And that was exactly what the Raiders didn't need as they were expected to start turning things around with a softer schedule.
Things didn't go that way, and their offensive line performed really poorly.
Derek Carr, the starter for the Raiders went 15 for 26 for 101 yards and an interception.
Runningback Josh Jacobs managed to rush only ten times for 43 yards, while star wide receiver Davante Adams underperformed with only a single catch for three yards all game.
As poorly as the offensive line performed versus NOLA, the D-line was just plain bad.
They just couldn't figure out running back Alvin Kamara and allowed him to 158 yards and three touchdowns
Quarterback Jameis Winston and wide receiver Michael Thomas were not available for this game, but the Saints still found ways to score easily.
After this brutal defeat to the Saints, the Raiders definitely need to sit down and evaluate their cards for the remaining of the season.
Now the chances for the Raiders to make it to the postseason have dropped to a low 14%, and a defeat this week versus the Jaguars will probably end with any hopes they had.
Needless to say, this is a team that desperate for a victory, and they have their shot versus a team that is also underperforming.
NFL Top 10 Wide Receivers: Davante Adams Tops List
Jacksonville in Complete Free Fall
Next in this Raiders at Jaguars Betting preview, let's talk about the Jags.
Jackson started their season with a victory and everybody was thinking Trevor Lawrence was finally becoming the leader of a good team.
But they have now lost five consecutive games and have dropped to 2-6 for the year.
Despite going against a team that was beatable, the Jaguars still couldn't find a way to win again.
Lawrence finished this game 18 for 31 for 133 yards, a single touchdown, and two interceptions.
The Jags' bright spot during that week 8 game was definitely running back Travis Etienne Jr, who managed to rush 24 times for 156 yards and a single touchdown.
The Jaguars need Lawrence to continue to perform better or they will continue to decline with each passing week.
When it comes to their D-line, the Jags' performance was decent as they hold the Broncos to only 21 points.
That seems proficient, but we have to consider the fact that this was the first time in four weeks of action that the Broncos managed to score more than 20 points.
Another player apart from Etienne who enjoyed a good game was linebacker Travon Walker as he finished with 0.5 sacks, raising his sack total to 2.5 on the season.
If the Jaguars lose this week versus Las Vegas they will fall to 2-7 and they will definitely say goodbye to their playoff hopes.
Top 10 NFL Quarterbacks 2022 Ranked: Mahomes Tops The List
Raiders at Jaguars Betting Prediction & Pick
Last but not least we have our Raiders at Jaguars Betting pick:
Both of these franchises are not playing good football and are likely headed to obtain a high draft pick.
The Jags are playing at home, but there are no indications that their performance will improve.
The Raiders played horribly during week 8, but we all now know how good their offensive line can be when Davante and Josh Jacobs are playing at a high level.
We believe this is the time for the Raiders to start winning again, and they are likely to get the victory in Jacksonville.
Raiders at Jaguars Betting Prediction & Pick: Raiders -1.5