Panthers at Bengals Betting Prediction, Pick, NFL Week 9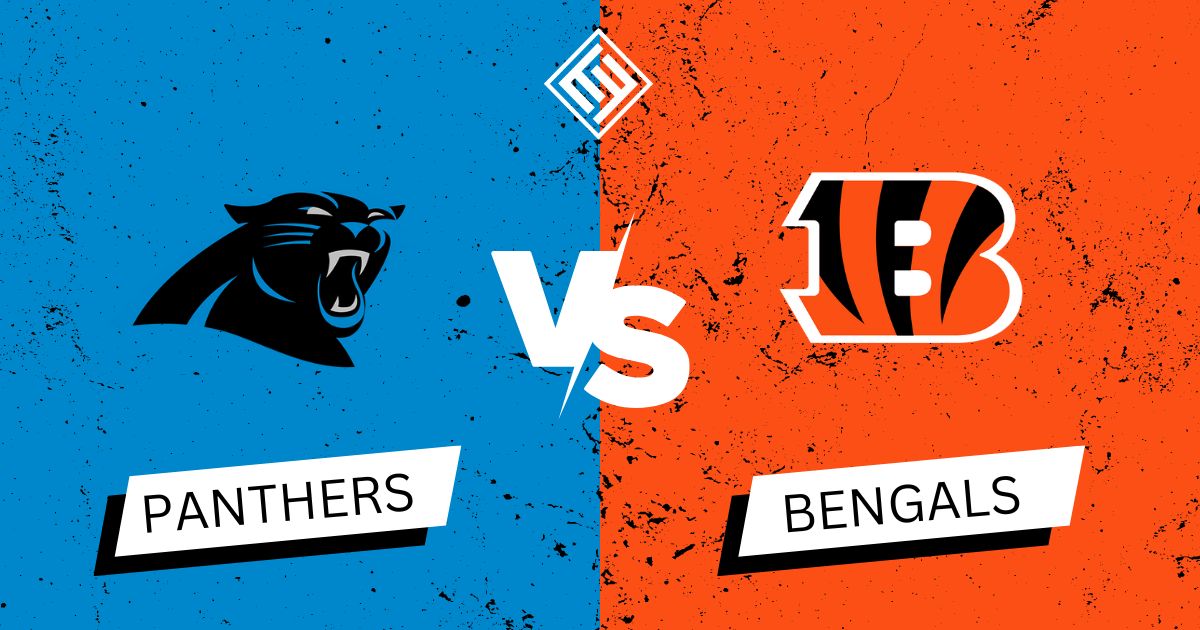 Here is our Panthers at Bengals Betting Prediction and pick for this NFL week 9 matchup.
Carolina (2-6) lost in overtime 37-34 versus the Falcons in week 8.
The Bengals (4-4) underperform versus the Browns in week 8 and lost 32-13.
These two franchises met for the last time on September 23, 2018, in a game where the Panthers acquired a 31-21 victory.
Learn How to Bet on Sports with this simple guide.
Panthers at Bengals Betting Odds
These are the Panthers at Bengals Betting odds, brought to you by YouWager.lv:
Panthers +8.5
Bengals -8.5
Total: 42.5 Over/Under
The Bengals are 8.5-point spread favorites to get the victory at home. This means that Cincinnati must win by more than 9 points for you to collect your profits.
If Cincinnati wins but by less than nine, you lose your bet.
When it comes to the Panthers, they are the underdogs at +8.5. This means that Carolina can even lose the game by less than nine points and you can still collect your profits.
If the Panthers lose the game by more than 9 points, you lose your wager.
READ: Top 10 NFL Wide Receivers.

Panthers at Bengals Betting: Game Preview
It's time for our Panthers at Bengals Betting preview for both teams.
Carolina Outperforming Expectations
Now in this Panthers at Bengals Betting preview, let's talk about the Panthers.
The Panthers are hurt as they gave 110% and still wasn't enough as they lost in OT to the Falcons.
After the team traded wide receiver Robbie Anderson and running back Christian McCaffrey, plus moving Baker Mayfield to the injury list, this team was expected to be the worst in the league.
That was clearly not the case in week 7 when they faced the Bucs as they got the 21-3 win over Tom Brady and Tampa.
They entered the matchup versus Atlanta energized and trying to build on that momentum, but a couple of mistakes cost them the game.
Now, let's talk about PJ Walker. This player has been a nice surprise for the Panthers as in two starts this year, he managed to complete 60% of his passes for 494 yards, three touchdowns, and a single interception.
Walker is definitely a massive improvement over Mayfield, and this has resulted in the resurgence of wide receiver DJ Moore.
The Panthers took the decision of keeping Eddy Piniero following the defeat, and this despite his 2 missed kicks, was the actual cause of the loss.
A victory over the Falcons would have catapulted Carolina to first place in the NFC South.
Instead, they are now sitting in the last place of their division.
READ: Top 10 NFL Quarterbacks for the 2022 season.
Cincinnati Still Very Inconsistent
Next in this Panthers at Bengals Betting preview, let's talk about the Bengals.
The Bengals got a dose of reality when they got defeated by the Browns 32-13 on Monday Night Football.
This was a very embarrassing loss for Cincinnati as the previous week they dominated the Falcons.
Joe Burrow is a quarterback with a great future, but this season has been a rollercoaster for the LSU product.
Burrow threw for 781 yards, six touchdowns, and zero interceptions in weeks 6 and 7, and he went only 25 of 35 for 232 yards, two touchdowns and a single interception in the defeat versus Cleveland.
To add to that, Burrow has been sacked a total of 31 times in just eight matchups this year, and five of those eight took place on Monday.
The Bengals were missing JaMarr Chase on Monday as the player was recovering from a hip injury.
Cincinnati also allowed Cleveland's quarterback Jacoby Brissett to finish the game 17 for 22 for 278 yards and a single touchdown, which equals to a 133.7 passer rating.
Needless to say, this was, by far, the best performance of the year for Brissett.
And, apart from an interception by wide receiver Amari Cooper, Cincinnati was just not able to stop the Browns' offense.
Panthers at Bengals Betting Prediction & Pick
Now it's time for our Panthers at Bengals Betting Prediction & Pick.
This is definitely a tough game to predict. And that's because the Bengals play as 2 different teams, depending on who they are playing.
And the Panthers have not been bad at all as of late.
Carolina also counts on a defensive line that seems to be getting tougher every single day, and this can be a significant factor for a Bengals offense that will be missing his star wide receiver in Chase.
That being said, we know the Bengals are the best team of the two, and they are on a mission to get a victory at home as they want to remain close to Baltimore in the race for the AFC North.
The Bengals get the win, but the Panthers are likely to cover:
Panthers at Bengals Betting Pick: Bengals ML, Panthers +8.5