Dolphins at Lions Betting Prediction and Pick, NFL Week 8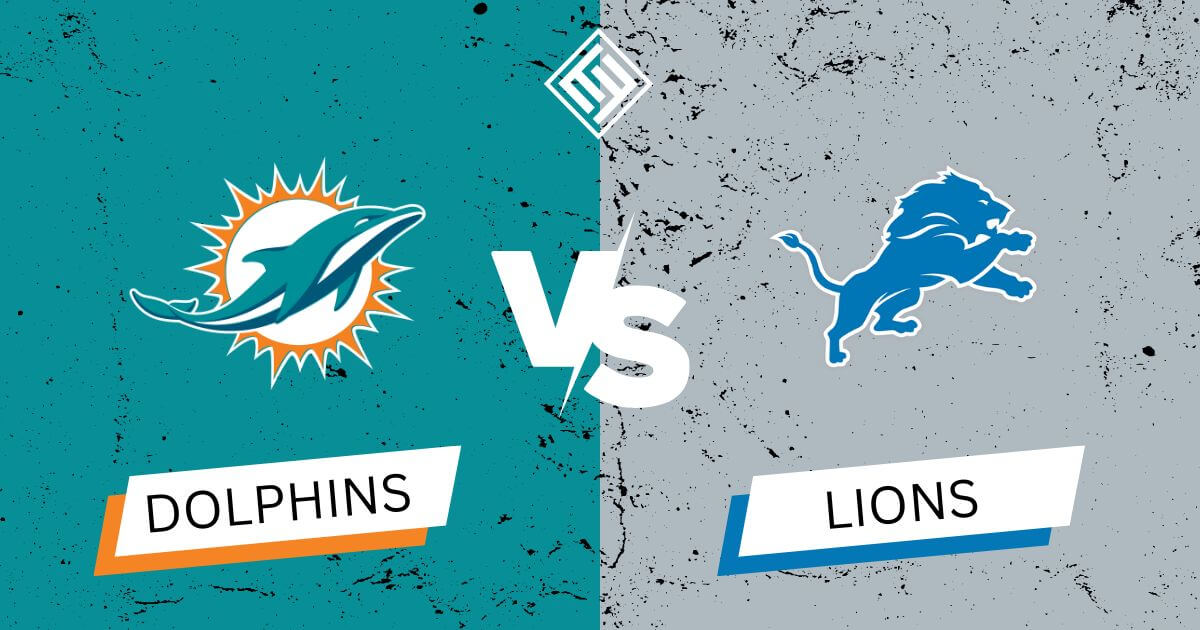 Here is our Dolphins at Lions Betting Prediction and Pick for this NFL week 8 clash.
The Fins defeated Pittsburgh 16-10 in week 7. The Lions got defeated by the Cowboys 24-6.
The last time these two teams met was back on October 21, 2018, with the Lions getting the 32-21 victory.
READ: NFL Top 10 Wide Receivers: Davante Adams Tops List
Dolphins at Lions Betting Odds
Here are the Dolphins at Lions Betting odds, brought to you by YouWager.lv:
Dolphins -3.5
Lions +3.5
Total: 51.5 Over/Under
As you can see, the Dolphins are 3.5-point spread favorites to get the victory on the road.
This means that they need to win the game for more than 4 points for you to collect profits.
If the Fins win, but by less than four points, you lose your wager.
When it comes to the Lions, they are the underdogs for this game at +3.5.
This means that they can even lose the game by no more than 4 points and you can still collect earnings.
If they lose by more than 4 points, you lose the bet.
READ: Top 10 NFL Quarterbacks 2022 Ranked
Dolphins at Lions Betting Game Preview
Now it's time for our Dolphins at Lions Betting preview for both teams.
Dolphins at Lions Betting: Miami Back on Track
Let's start this Dolphins at Lions Betting preview by talking about the Dolphins.
Tua Tagovailoa finally made his return to action from injury on Sunday, and it was a good comeback as he helped Miami to defeat the Steelers 16-10.
The Fins are now 4-0 this season on games where Tua has performed, and 0-3 in the remaining games when he was hurt.
His performance was moderated vs Pittsburgh as he finished the game 21 for 35 for 365 yards and a single touchdown.
Miami didn't have any turnovers in week 7, and that is a big factor in why they got the victory in the end.
When it comes to their red zone offense, there are a few concerns there.
On defense, Miami was able to dominate Pittsburgh.
Kenny Pickett was picked a total of 3 times, keeping the Steelers' production to just ten points.
Tua also contributed to the defense for the Dolphins as he was able to move the ball down the field in a more consistent way.
Running back Raheem Mostert experienced one of his best games yet since he became part of the Dolphins roster during the offseason.
Mostert finished with 109 yards and a single touchdown, making a big impact both on the passing and the running games.
The Fins are realizing that having Tua truly improves their performance across the board, so the team is hoping for Tua to remain healthy.
READ: Highest Paid NFL Players at Every Position, Per Year

Learn How to Bet on Sports with this simple guide.
Dolphins at Lions Betting: Detroit Offense Collapsing
Next in this Dolphins at Lions Betting preview, let's talk about the Lions.
Detroit entered their bye week in week 5 leading the league in points scored with 140 in their first four matchups of the season, which equals 35 PPG.
That being said, the offense never really returned from the bye week as they scored a low six points in the previous two games.
The reversal of scoring 35 points per game to scoring 3 points per game had its consequences as the Lions earned the second-worst point differential in the NFL.
We can also add to that the fact that they currently hold the league's worst record and they might just start focusing on the next NFL Draft as a chance to focus for their season.
The D-line for Detroit was already dealing with some struggles, even when the offensive line for the team was performing great.
Now, both sides of the team are practically collapsing.
Detroit has also allowed more PPG than any other NFL franchise.
This D-line is definitely not expected to perform very well, and that means that it will be the offense that will be required to stay healthy.
Wide receiver Amon-Ra St. Brown left the game with an injury during week 7, but he is expected to return for this game.
DL Aiden Hutchinson was one of this team's brightest spots defensively, with a total of 1.5 sacks in week 7.
Dolphins at Lions Betting Prediction and Pick
Here is our Dolphins at Lions Betting prediction and pick:
As mentioned above, the Fins are undefeated this season with Tua Tagovailoa as their QB1, and are winless without him, so this can pretty much tell you how important he is for the team.
The Lions, on the other hand, is, by far, the worst NFL team since they returned from their bye.
Dolphins at Lions Betting Pick: Dolphins -3.5
Thank you for reading this article on Dolphins at Lions Betting, best of luck with your future action.