Eagles at Texans Betting Prediction, Pick, NFL Week 9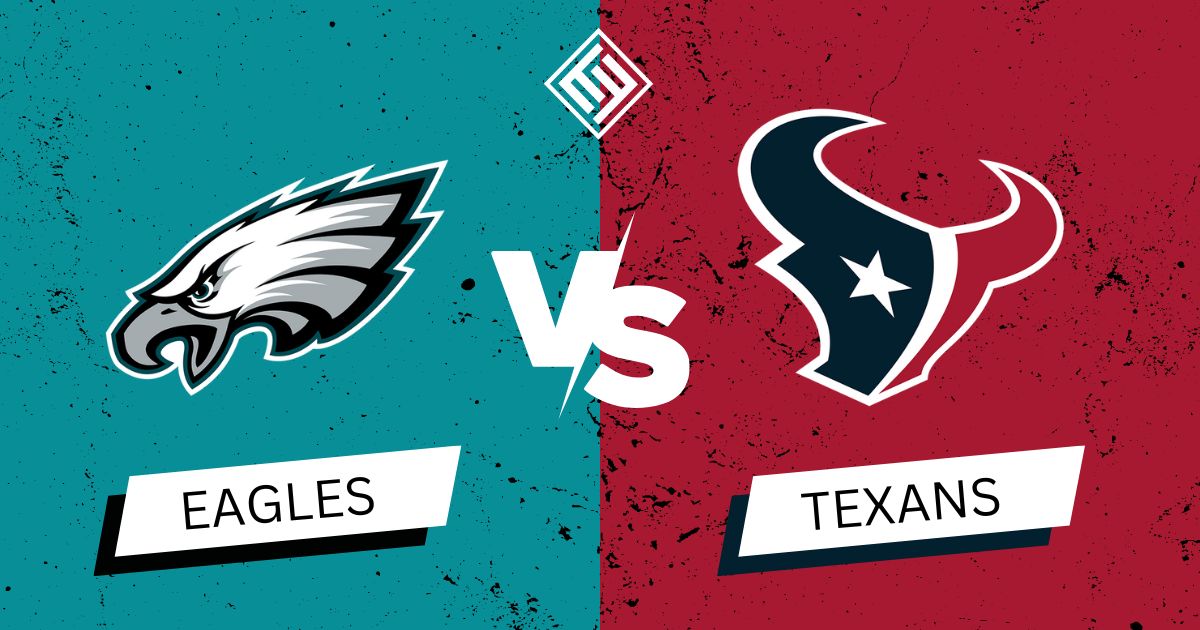 Here is our Eagles at Texans Betting prediction, including our pick for this NFL week 9 clash set for Thursday Night Football.
These two franchises met for the very first time in September 2006, with four meetings since then, and Philadelphia winning them all, plus covering each of those times.
Learn How to Bet on Sports with this simple guide.
Eagles at Texans Betting Odds
These are early Eagles at Texans Betting odds, brought to you by YouWager.lv:
Eagles -13
Texans +13
Total: 44 Over/Under
The Eagles are huge road spread favorites to get the victory when they make the trip to Houston on November 3.
They are set at -13, and this means that the Eagles must win the game by more than 13 points for you to cash in on this particular line.
If Philly wins but by less than thirteen points, then you lose your wager.
The Texans are not doing so well this season as they currently have won just a single game.
So, it is not a big surprise that they are 13-point underdogs.
What this means is that Houston can lose the game by less than 13 points, and you can still collect your profits.
If the team loses the game by more than 13, you lose your bet.
The opening line for this game was Eagles -9.
READ: Top 10 NFL Quarterbacks 2022 Ranked

Eagles at Texans Betting Preview
It's time to talk a little bit about both teams on this Eagles at Texans Betting preview.
Philadelphia Eagles: The Fight To Remain Undefeated
Next in this Eagles at Texans Betting preview, let's talk about Philly.
The Eagles are one of the best teams in the league right now, and most importantly, they are the only ones to remain undefeated at 7-0.
Philly is also 5-1 ATS across the previous six outings.
Bettors have cashed in on the Over in three of the past four matchups.
The Eagles were quite impressive during their game versus the Steelers as they defeated Pitt 22 points, and the team continues to look like a Super Bowl favorite.
The connection between Jalen Hurts and AJ Brown now seems like the perfect one as Hurts connected with Brown for three touchdowns and this is the kind of chemistry that can keep this team running with high expectations.
In fact, Brown actually came up with his best performance yet for Philly as he finished the game with those 3 TDs and 153 yards.
And now most critics of the Eagles trading their first-round pick for Brown are in silence because they can see how this was just a great decision.
Devonta Smith's performance at week 8 wasn't that impressive, but he is still one of the main targets for Hurts, no question.
Defensively, this is also a very impressive team. And they showed this vs Pittsburgh as they forced them to two turnovers, plus QB Kenny Pickett got sacked a total of six times.
Indeed, the game vs the Texans shouldn't present a bigger challenge for Philly than the match vs the Steelers, and we are likely headed for another blowout victory and the chance for this team to remain undefeated after nine weeks of action.
READ: Highest Paid NFL Players
Houston Texans: Trying to Win A Game
Now in this Eagles at Texans Betting preview, let's talk about Houston.
The Texans were able to put up a pretty good show in Week 8, but their efforts weren't enough as they fell to the Titans 17-10.
It was Derrick Henry that did most of the damage as he finished with 219 yards and 2 TDs and handled the Texans an extra defeat they really didn't need.
After they opened 2-0 against the spread, Houston is now 1-3-1 ATS in their previous 5 outings.
On this game, QB Davis Mills finished with one touchdown and went 17 for 29 for 152 yards and a single interception.
Dameon Pierce rushed a total of fifteen times for only 35 yards and averaged 2.3 yards per carry.
The top offensive performance was put up by Brandin Cooks, who finished the game with four catches for 73 yards.
Apart from Cooks, nobody else on the team finished with more than 25 yards.
This is a team that requires a spark in their offensive line if they actually want to have a shot at winning this particular game.
Eagles at Texans Betting Prediction and Pick
Last but not least, it's time for our Eagles at Texans Betting prediction and pick:
The Texans are 0-5 vs Philly all-time. And, when considering this record and knowing how good the Eagles are playing, it's truly difficult to think about Houston grabbing their first victory in their head-to-head vs Philly.
The Eagles shouldn't have a hard time winning this one, and the only obstacle might be Houston's improved defensive line, but that is only to keep the score low, as we can perceive another victory on the horizon for Philadelphia.
Thank you for checking out our Eagles at Texans Betting preview, best of luck with your action on this particular game.