Broncos at Chargers Betting Odds, Game Preview, NFL Week 6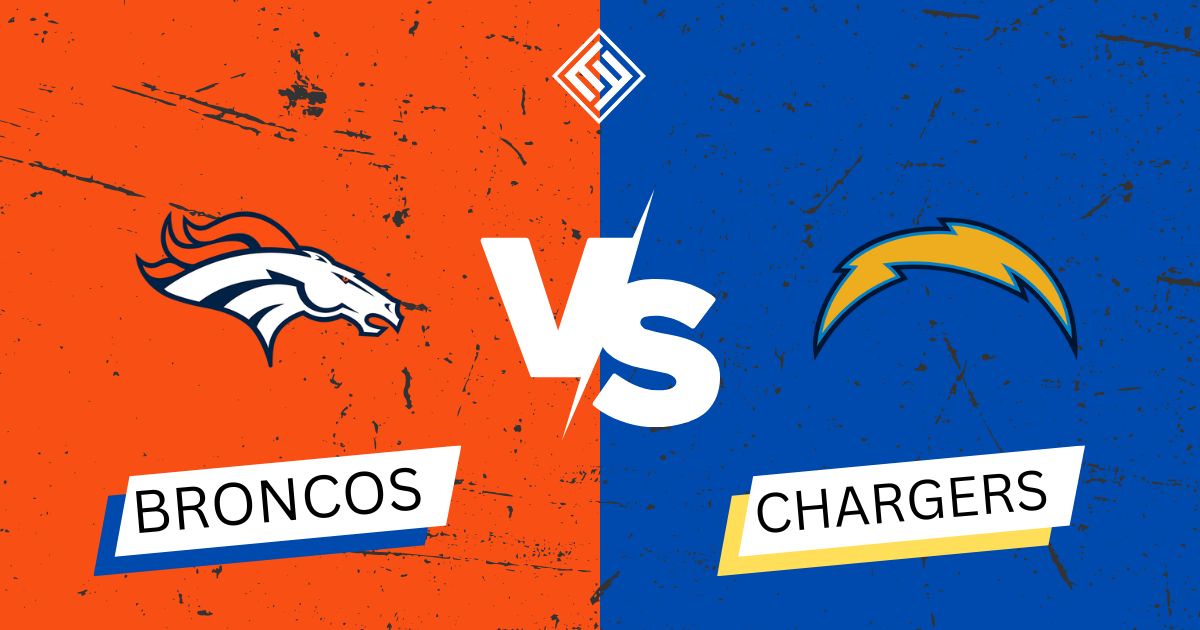 This is our Broncos at Chargers Betting preview, including the latest odds for this Week 6, Monday Night Football clash.
Broncos at Chargers Betting Odds
These are the Broncos at Chargers Betting odds, brought to you by YouWager.lv:
Broncos +4.5
Chargers -4.5
Total: 45.5
As you can see, the Chargers are 4.5-point spread favorites to get the victory at home.
This means that for you to collect any profits, LA must win the game by 4 points or more.
If LA wins but by less than 4 points, you lose your bet.
When it comes to the Broncos, they are the underdogs for this matchup.
And, as +4.5 dogs, this means that Denver can lose the game by less than 4 points, and you can still cash in your bet.
If the Broncos lose the game but by more than 4 points, you lose your bet.
Read our Bills at Chiefs Week 6 betting preview.

Broncos at Chargers Betting Preview
This is our Broncos at Chargers Betting preview.
Denver Broncos
Denver is currently ranked 31st in the league with the ball, averaging 15 PPG.
When it comes to the red zone, the team is dead last in the NFL as they have converted a low 21% of their trips to the red zone.
Russell Wilson
Much has been said about Russell Wilson and his head coach and the current poor offense this team is running.
Versus Indianapolis, Russell was 2-of-15 with 2 picks on ten-plus yards throws.
And those figures truly have people speculating about Wilson's $245 million contract.
Is he worth that much?
Well, it's important to mention that Wilson has been playing with a partially torn lateral muscle in the should he uses to throw.
And head coach Nathaniel Hackett also has a big portion of responsibility.
And this is because Hackett's offensive plays have not been really good.
If this wasn't enough, we can add the fact that the wide receivers for the team currently have the most dropped passes in the league.
It's really bad all around the offensive line.
Learn How to Bet on Sports with this simple guide.
Broncos Defense
But the Broncos' defense is really good.
This team is giving up a low 289 yards per game for third in the league and is allowing 16 PPG, which is 4th in the NFL.
Denver will have to deal with the loss of CB Ronald Darby, who suffered an injury during the Colts game and won't be available for now.
Another Denver player that will be absent for this game is Randy Gregory, a rush specialist who is currently down with a knee injury.
The main guy for Denver will definitely be Bradley Chubb, who finished with 2.5 sacks and 7 tackles versus Indianapolis.
Another player that will be very important for the Broncos' defense will be Baron Browning, who registered six quarterback hits on Matt Ryan vs the Colts.
Here is an article with our favorite betting picks for NFL Week 6.
Los Angeles Chargers
Much different than the Broncos, the Chargers are managing to convert 53.4% of their trips to the red zone.
LA's offensive line includes Keenan Allen and Mike Williams. And it's clear that the target for Denver's defense will be Williams who has 120 and 134 yards respectively in the previous two games.
Now, when it comes to the offense for this team, it's incredible to know that the running game for this game is currently more effective than their passing game.
Versus the Browns, the team registered 466 yards in total, with 228 through the air, and 238 on the ground.
This is quite significant because LA entered the game against Cleveland as the team with the worst rushing attack in the league, with an average of 64.5 yards per game and just 2.7 yards per attempt.
This is also a team that has gone seventeen games in a row without having a 100-yard rushing player and had just a low 2 such efforts since the 2020 season for the fewest in the league in that span.
But this all changed versus Cleveland as Austin Ekeler finished the game with 174 yards on sixteen carries.
So, it is clear that this was positive for the team against the Browns, so you can definitely expect more of it versus Denver.
Broncos at Chargers Betting Prediction
Here is our Broncos at Chargers Betting prediction.
The Broncos are currently 1-4 ATS this season while the Chargers have been paying bettors often this year as they are 4-1 against the spread.
According to the stats, Denver only has a 24.8% chance of getting the victory this time.
The Chargers have suffered a couple of key injuries, but those players are making their return to the team's rotation.
And, with a healthy team, it's likely that the Chargers, averaging 24.4 PPG compared to the Broncos, who are scoring 15 PPG.
The decision on who to bet on is yours, but the data pretty much tells you who has the edge this time around.
Thank you for checking out our Broncos at Chargers Betting preview, best of luck with your action on this particular game.