Vikings at Dolphins Betting Odds, Game Preview, NFL Week 6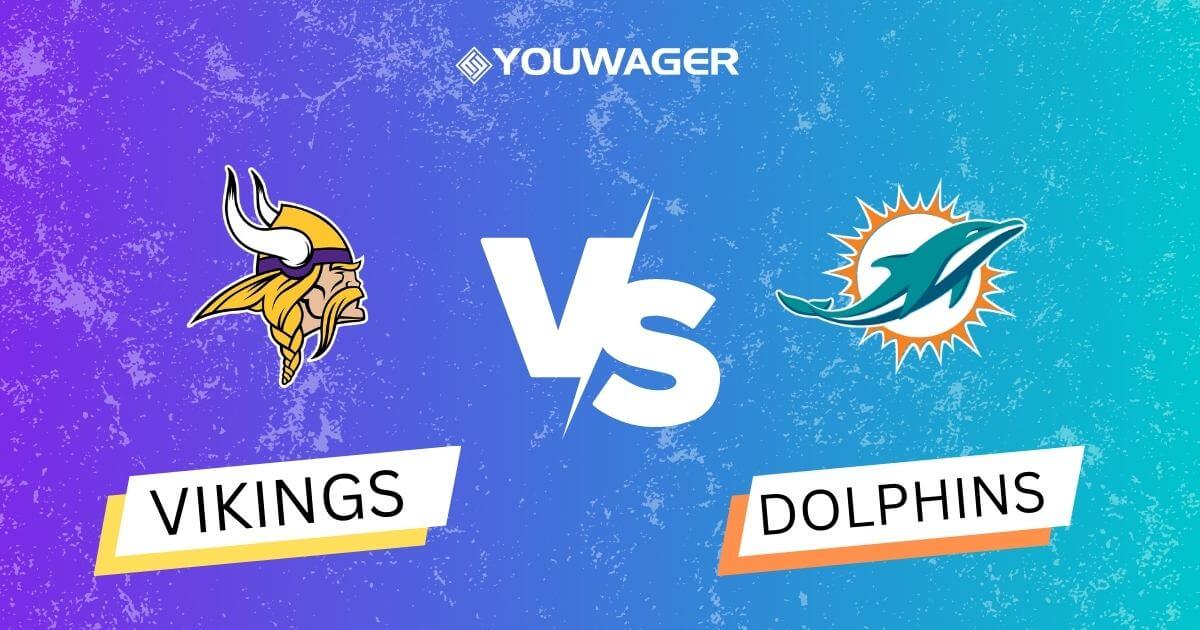 Here is our Vikings at Dolphins Betting preview, including the latest odds for this Week 6 clash between the Vikings and the Dolphins.
Vikings at Dolphins Betting Odds
These are the Vikings at Dolphins Betting odds, brought to you by YouWager.lv:
Vikings -3
Dolphins +3
Total: 45 Over/Under
As you can see, the Vikings are spread road favorites to get the victory over the Dolphins in Miami.
This means that the Vikings must win the game by more than 3 points for you to be able to collect any profits.
If Minnesota wins the game but by less than 3 points, you lose your bet on this team.
If you think Miami, the underdogs for this game, have any chances to sum up an extra victory to their record, then the Fins can even lose the game by less than 3 points and you can still cash in your wager.
If Miami losses the game by more than 3 points, you lose your bet.
Read our FREE Bills at Chiefs betting preview.
Vikings at Dolphins Betting Preview
Here is our Vikings at Dolphins Betting preview.
The Dolphins are the ones that lead the all-time series between these two franchises with a 7-5 record.
Miami has also won 3 of their previous 4 meetings, but it was the Vikings that won the very last game between the two squads with a 41-17 score back in December 2018.
The Vikes had a lot of fun back then as Dalvin Cook and Latavius Murray combined for more than 200 yards.
Learn How to Bet on Sports with this simple guide.
Minnesota Vikings
This is looking like a very positive season for the Vikes as the team is currently sitting alone at the top of the NFC North.
The team is making the trip to Florida with the hopes of grabbing their third victory in a row.
Minnesota is coming from a not-so-easy victory over the Bears in Week 5.
The Vikes dominated the first half by outscoring Chicago 21-3 in the first half.
But then Minnesota's defense took a turn for the worst and allowed 19 unanswered points by Chicago.
Thankfully for Vikings fans, the team managed to regain the lead in the fourth quarter to finally get the victory.
Miami Dolphins
Miami started the season as one of the most promising teams in the league, managing to win 3 straight games.
But soon enough things started going south for the team as Tua Tagovailoa and Teddy Bridgewater both got injured and now the team is trying to avoid a third straight defeat.
The quarterbacking duties for the Fins will now be in the hands of third-string Skylar Thompson.
It's really never an easy task for a backup quarterback to suddenly assume the starter position.
This was clear when Thompson jumped in the field in Week 5 versus the Jets in replacement of Bridgewater, who had to leave the field due to a head injury.
Once Thompson was the quarterback for Miami, New York immediately took advantage of the situation, allowing them to acquire a valuable 40-17 victory at home.
Check out our Cowboys at Eagles preview.
Vikings at Dolphins Betting Trends
Here are some of the most significant Vikings at Dolphins Betting trends to help you make the best choices when getting action on this particular game.
The Vikings have not performed well versus the betting markets. And, despite their positive 4-1 record, they are 1-4 against the spread.
In their most recent game, the Vikings failed to cover as -7 home favorites versus Chicago in Week 5.
The Dolphins, on the other hand, have been able to overperform in relationship to the betting markets as they are currently 10-4 against the spread, dating back to last year.

Vikings at Dolphins Betting Factors
Here are some of the most important Vikings at Dolphins Betting factors.
Can Skylar Thompson be successful in his first NFL career start?
This is the chance for Skylar Thompson to show who he really is, and he knows it.
That's why it's likely that he will be willing to go the extra mile this time as it's definitely in his best interest.
Thompson managed to complete 19of-33 passes for 58%, 166 yards, and a single interception when he took over Bridgewater last week.
And, when we consider the circumstances in which he got the chance to play, it was not the best of performances.
That being said, we have to take these stats with a small grain of salt.
Of course, the great thing for Thompson is that he will have a ton of very proficient weapons available, including Tyreek Hill (currently dealing with a foot injury), and Jaylen Waddle.
All in all, chances are that Thompson will be able to play his part decently.
Fins offense in pass protection
It is really not easy for any quarterback out there to be effective without the proper protection.
And this was clearly the case with Thompson during Week 5.
Despite allowing only 2 sacks, the offensive by Miami surrendered 16 quarterback hits versus the Jets.
It really makes sense that the Fins are the owners of the worse pass-blocking stat entering Week 6.
The Vikings do possess a great pass rush. And, if they are able to get in the fins' backfield, it will be trouble for Miami.
Vikings rush defense
When it comes to the Vikings, their defensive line was very solid versus the Bears in Week 5 as they managed to limit Chicago's running backs Khalil Herbert and David Montgomery to only 31 rushing yards on a total of 16 carries.
It was actually starting quarterback Justin Fields who led DaBears in rushing yards with 47 for 8 carries.
Thompson can be a threat when it comes to rushing touchdowns, but last week he didn't attempt any rushing points in Week 5.
It's likely that the Dolphins will try to score with their rushing game versus the Vikes as they will try to make life easier for Thompson.
Vikings at Dolphins Betting Prediction
Here is our Vikings at Dolphins Betting prediction.
After starting the season 3-0, things are trending in the opposite direction for the Fins.
Although the team will still have a shot at competing for a postseason AFC wild-card berth, to be down to your third-string quarterback just spells trouble.
And this is particularly true when you have to be on the road to play a first-place team.
Indeed, Kirk Cousins and Justin Jefferson seem to be destined to grab another valuable victory that will cement their first place in their division.
Thank you for reading our Vikings at Dolphins Betting preview, best of luck with your action on this particular game.