Saints at Cardinals Betting Odds, Game Preview, NFL Week 7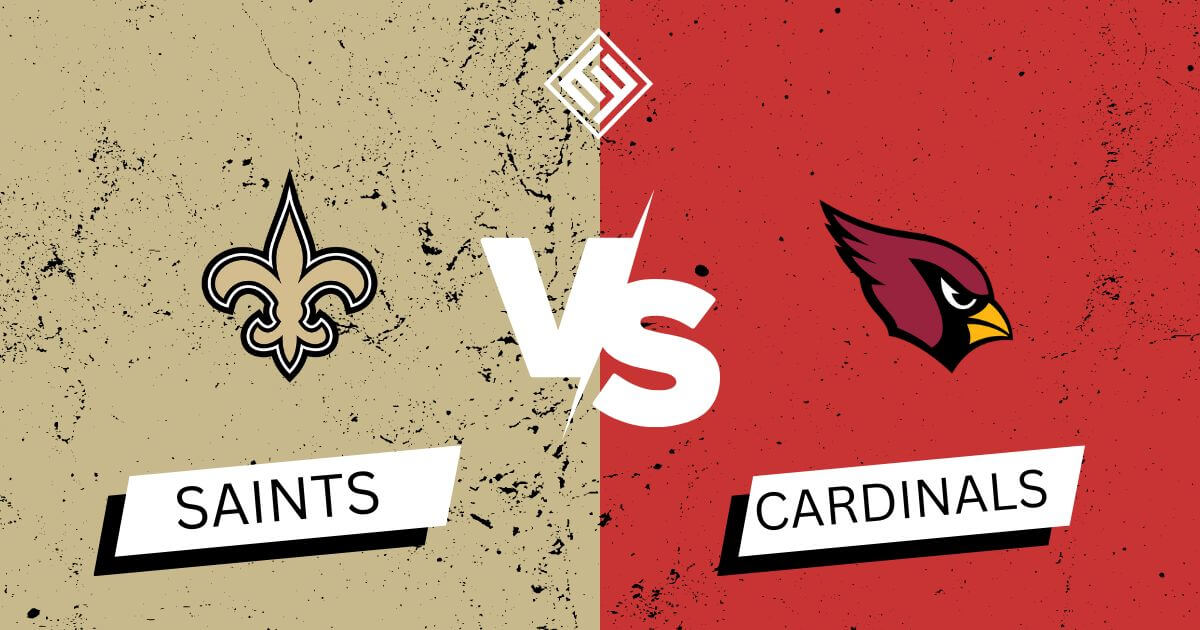 Here is our Saints at Cardinals Betting preview, including the latest odds for this Week 7 clash.
Saints at Cardinals Betting Odds
These are the Saints at Cardinals Betting odds, brought to you by YouWager.lv:
Saints +1.5
Cardinals -1.5
Total: 45 Over/Under
As we can see, the Cardinals are slight spread favorites to take the victory at home.
The Saints, on the other hand, are +1.5 underdogs on their visit to Arizona.
Learn How to Bet on Sports with this simple guide.
Saints at Cardinals Betting Preview
Here is our Saints at Cardinals Betting preview.
Thursday Night Football this time will be featuring an NFC clash between the Saints and the Cardinals at New Orleans.
Both of these teams are currently 2-4 and are definitely looking forward to adding an extra win to that current losing record.
The Cards have lost two in a row while the Saints have dropped 4 of its last 5 matchups.
The great news for the Cardinals is that DeAndre Hopkins is making a return to the active roster after 6 weeks of absence as he was under suspension for violating the NFL's performance-enhancing drug policy.

Arizona Cardinals
Now in our Saints at Cardinals Betting preview, let's talk about the Cardinals.
Kyler Murray is the leader of this offensive line. He is just a great athlete that tends to be quite elusive for rival defensive lines when he starts to run.
What's great about Murray is that he's very good at improvising plays when he is required to do so.
The current starter for Arizona has managed to complete 65% of his passes after 6 weeks of NFL action.
This includes a total of 1463 yards and six TD passes.
Murray is also the leader of his team for rushing yards with a total of 233.
In his last performance, he went 23 of 37 for 222 passing yards with 100 rushing.
Murray will get a lot of help from TD Zach Ertz, who is a great possession target.
He is always proficient in the middle of the field, and currently has 35 receptions for 299 yards and 2 TDs.
Check out our article on the best-paid players in the NFL.
New Orleans Saints
Next in our Saints at Cardinals Betting preview, let's talk about the Saints.
Alvin Kamara has been eclectic when it comes to his diverse talents as a receiver for NOLA.
The 5-time pro-bowler is very precise and possesses a strong vision for catching passes.
Currently, Kamara has 66 carries for 302 yards. He has also caught 17 passes for 139 receiving yards.
He has also managed to record back-to-back matchups of 100+ scrimmage yards.
Another guy that is multi-dimensional when it comes to his different football talents is definitely Taysom Hill.
This is because Hill can often be set as a red-zone ball carrier, and can also throw passes and create rushing TD opportunities for himself.
This means that he is very efficient both as a tight end and as a quarterback.
Back in week 4, Hill proved what he can really do when at his best as he finished the game with 112 rushing yards and an impressive 3 TDs.
We thank you for checking out our article on Saints at Cardinals Betting, we wish you the best of luck with your action on this game.