Bengals at Saints Betting Odds, Game Preview, NFL Week 6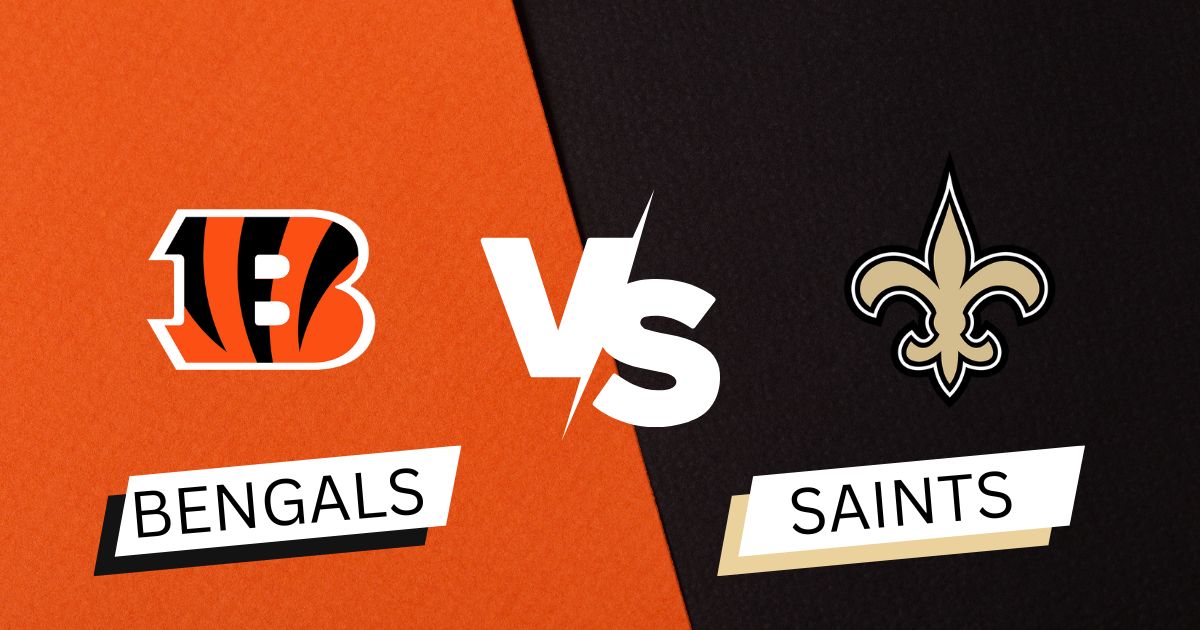 Here is our Bengals at Saints Betting preview, including the latest odds for this Week 6 clash.
Both the Bengals and the Saints are 2-3 so far after 5 weeks of NFL action.
On week 6 we have the Bengals taking the trip to NOLA to play the Saints on Sunday at 1pm.
Bengals at Saints Betting Odds
These are the Bengals at Saints Betting odds, brought to you by YouWager.lv:
Bengals -1.5
Saints +1.5
Total: 43 Over/Under
As you can see, the Bengals are slight spread road favorites to get the victory in New Orleans.
The Saints, on the other hand, are the home underdogs for this game.
This means that oddsmakers are trusting more in an away-from-home victory for Cincinnati than a home win for NOLA.
Check out our Bills at Chiefs Week 6 betting preview.
Bengals at Saints Betting Preview
Here is our Bengals at Saints Betting preview to help you take the best choices when getting action on this particular game.
New Orleans Saints
After getting defeated by the Vikings in London, the Saints returned to grab a 39-32 victory over the Seahawks in Week 5.
And let's just say it: The responsible one or this particular victory was no other than Taysom Hill, who finished the game with an incredible 4 touchdowns.
The Saints' defense is good, and the offensive line is finally showing something, and this is definitely a great sign.
This is the first year in a long time that this team is performing without the help of their all-time quarterback Drew Brees or accomplished head coach Sean Payton.
And, needless to say, it's been a challenging season so far for this team.
Things got worse for New Orleans in Week 2 as Jameis Winston, their starter, went down due to an injury in their loss to the Bucs.
After losing Winston, the team experienced an extra two losses to the Panthers and Vikes before returning to their winning ways as they defeated the seahawks 39-32 in week 5.

Learn How to Bet on Sports with this simple guide.
Cincinnati Bengals
The Bengals arrived at their game versus the Ravens with back-to-back victories.
But their Week 5 clash with Lamar Jackson and Baltimore proved very challenging, and they ended up losing the game with a close 19-17 final score.
The guy who gave the victory to the Ravens was kicker Justin Tucker.
And, it's clear that with just a couple of adjustments by head coach Zack Taylor, the Bengals could be right now on a 3-game winning streak and will be the leaders of their division.
Instead, the Bengals, with 2 victories and 3 losses, are third in the AFC North while the Ravens are leaders with 3 victories and two losses.
Overall, Burrow kind of underperformed versus Baltimore's secondary as he threw for only 217 yards.
And this came after he put up high-caliber numbers like 2021's versus the Dolphins and the Jets.
That being said, the Bengals, with names such as Tee Higgins, Joe Mixon, and Ja'Marr Chase, have enough power to fight for the first spot in the division.
And of course, a victory over the Saints is exactly what they need to make it there.
All in all, there is a lot of hope for this squad.
Here is our Cowboys at Eagles betting preview.
Bengals at Saints Betting Prediction
Here is our Bengals at Saints Betting prediction.
The Saints have not been playing their best football, and if it wasn't for that Tysom Hill, they would have a worse record right now.
With Winston out of the picture, it's time for Andy Dalton to take over the first-string duties.
And if this is the case, it's revenge time for Dalton, who spent 9 seasons as the starter for Cincinnati.
But chances are that Joe Burrow and the Bengals will be a more complete squad overall, allowing them to grab a valuable road victory to help them continue having postseason dreams.
Thank you for taking the time to read our Bengals at Saints Betting preview, best of luck with your action on this particular game.