Joe Mixon Shooting: Incident at Bengals Star's Home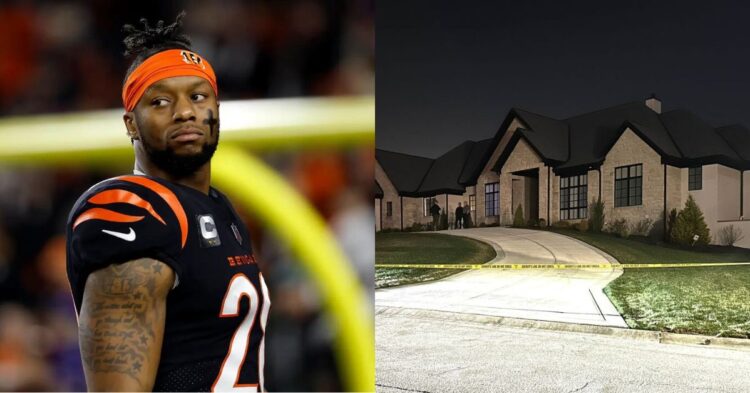 Joe Mixon, a star player for the Cincinnati Bengals, is now said to have been involved in a shooting. This is a very strange event. According to the news, Hamilton County Sheriff's Deputies went to the home of the running back because someone had been shot.
On Tuesday, March 7, early in the morning, gunshots were heard in Ohio's Anderson Township. As soon as the police arrived, a young person with minor injuries was taken to the hospital.
UPDATE: No one has been arrested. One person is in the house. Deputies would not say who that person is. Crime scene tape has been taken down and deputies are leaving @FOX19 pic.twitter.com/ZKLhFNdw9Z

— Chancelor Winn (@ChancelorWinn) March 7, 2023
From what the video shows, police officers were seen banging on Mixon's door and telling him to leave the house. Also, around 1:30 a.m., officers were seen coming into the building. Soon after, around 2 a.m., deputies with supplies for taking notes were seen going inside. Outside Mixon's house at this time, there was crime scene tape and an evidence marker.
Finally, at 3:20 a.m., the police took down the crime scene tape and left the scene without making an arrest. At the moment, details about the situation are being kept secret. Shelonda Mixon, the NFL player's sister, told WLWT news that Joe did not have anything to do with the shooting.
Is Joe Mixon in jail because of the shooting?
Mixon has probably not been arrested, but this is not the first time he has been in trouble with the law. So, the Bengals star was put on arrest warrant earlythis year after he was said to have threatened a woman with a gun in downtown Cincinnati.
A source said that Mixon pointed a gun at a woman on January 21. This was written on the police warrant. From the transcripts that were found, it sounds like Joe told the woman, "You should be hit in the face, I should shoot you, and the police can't catch me."
Surprisingly, a county judge later dropped the charges against Mixon and took back the warrant for his arrest. Most of the time, we don't know if the two things are connected in any way.
Mixon was born in California and went to college at the University of Oklahoma, then was picked up by the Bengals in the 2017 draft. He is in the third year of a four-year deal with the Cincinnati Bengals that pays him $48 million. He has also become an important part of the Bengals team. Last season, he had 814 yards. But Mixon needs to stay out of trouble and stay on the right side of the law if he wants to keep playing well.
Since NBA player Ja Morant was suspended for attacking a 17-year-old boy and showing a gun on Instagram, Mixon would be wise to avoid doing anything similar. Since more information is still needed, do you think Joe Mixon had nothing to do with what happened? What did you think of the warrant for his arrest from before?