World Series Odds 2023 | Futures Betting For All MLB Teams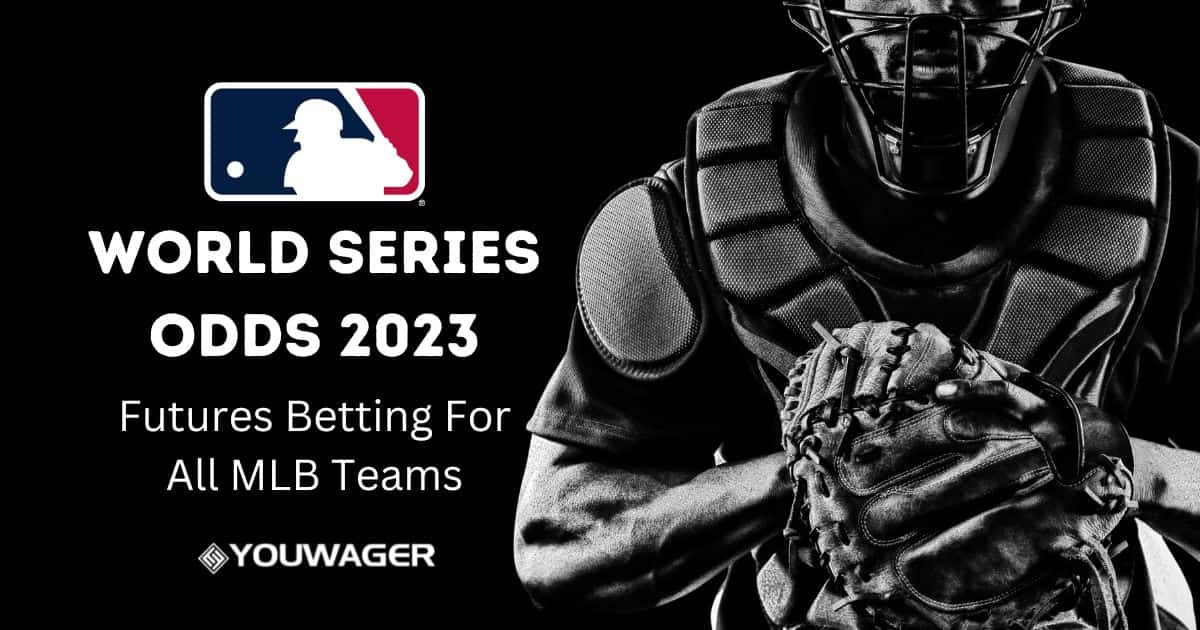 The 2023 Major League Baseball season has begun, and leading online bookmakers such as YouWager.lv have given World Series odds for each baseball team.
The Houston Astros are the +600 favorites to win it all.
The New York Mets, New York Yankees, and Los Angeles Dodgers are among the best teams.
The signings of Trea Turner by the Phillies, Aaron Judge by the Yankees, and Xander Bogaerts by the Padres all affected the odds for the World Series.
All of these clubs have odds of winning the World Series of +1700 or less, therefore all changes are consistent with those odds.
2023 World Series Odds for All MLB Teams
Check out the 2023 World Series odds for each Major League Baseball team:
2023 World Series Odds: HOUSTON ASTROS +600
2023 World Series Odds: HOUSTON ASTROS +600
The defending champions let Justin Verlander go, but they added Jose Abreu to one of the strongest lineups in baseball. They also signed Rafael Montero to an already crowded bullpen.
2023 World Series Odds: NEW YORK YANKEES +725
2023 World Series Odds: NEW YORK YANKEES +725
The Yankees were able to keep Aaron Judge by giving him the largest contract ever, and they were able to keep their bullpen together by re-signing Tommy Kahnle. Then they paid $162 million over six years for Carlos Rodon, making their starting lineup one of the strongest in the league on paper. After signing Rodon, their title odds increased from +900 to +725.
2023 World Series Odds: LOS ANGELES DODGERS +775
2023 World Series Odds: LOS ANGELES DODGERS +775
The Dodgers began the offseason as the favorite to win the World Series for the sixth time in a row. They didn't sign Aaron Judge and allowed Trea Turner and Cody Bellinger leave in free agency, but it didn't affect their expectations much.
2023 World Series Odds: NEW YORK METS +725
2023 World Series Odds: NEW YORK METS +725
Steve Cohen displayed his wealth once more when he signed free agent Carlos Correa to the New York Mets. This is the next big thing after acquiring Justin Verlander and Kodai Senga. New York is completely committed to 2023.
2023 World Series Odds: ATLANTA BRAVES +925
2023 World Series Odds: ATLANTA BRAVES +925
The Braves appeared to be on track to win the NL East and possibly even beat the Astros again, but they ran into a hot Phillies team in the NLDS. Both rookies, Michael Harris and Spencer Strider, are in command of a young corps that could improve as the Braves' superior scouting system unearths more gems.
2023 World Series Odds: SAN DIEGO PADRES +925
2023 World Series Odds: SAN DIEGO PADRES +925
Padres owner Peter Seidler signed Xander Bogaerts to an 11-year, $280 million contract extension that will keep him with the team until he is 41 years old. Fernando Tatis Jr. should be moved to the outfield, and because Juan Soto and Manny Machado are still under contract, San Diego will be able to keep them for another year.
2023 World Series Odds: TORONTO BLUE JAYS +1200
2023 World Series Odds: TORONTO BLUE JAYS +1200
The young Blue Jays are keeping manager John Schneider, whose contract was recently extended. Chris Bassitt, who has the potential to be a top-tier starter, has been added to the roster. Vlad Guerrero Jr. and his teammates are constantly competing for the most runs in MLB.
2023 World Series Odds: PHILADELPHIA PHILLIES +1600
Despite acquiring an outstanding five-tool player in Trea Turner, the Phillies' odds of winning the World Series at YouWager.lv are still +1600. Zach Eflin was released, as were Taijuan Walker and Matt Strahm.
2023 World Series Odds: SEATTLE MARINERS +1500
The Mariners have already completed free-agent trades. Kolten Wong and Teoscar Hernandez, both former Blue Jays players, have joined the team. Luis Castillo signed a long-term deal, and this team is young and improving.
2023 World Series Odds: ST. LOUIS CARDINALS +2200
The Cardinals' additions of Paul Goldschmidt and Nolan Arenado to a team that often has the top defense in the Major Leagues was a home run. Willson Contreras was signed to replace Yadier Molina, who left the organization.
2023 World Series Odds: CHICAGO WHITE SOX +3300
Last season, the White Sox were one of the most disappointing teams in baseball. They sacked manager Tony La Russa and replaced him with Pedro Grifol, the bench coach for the Kansas City Royals.

TAMPA BAY RAYS: +2000
When Tyler Glasnow and Wander Franco return to full strength, the Rays should be back in contention for the top slot. They even handed up a significant amount of money (3 years and $40 million) to acquire Zach Eflin, a true starter.
BOSTON RED SOX: +6600
By signing Kenley Jansen and Chris Martin, Red Sox general manager Chaim Bloom addressed the team's biggest problem. He did this in an attempt to improve the team's bullpen, which was one of the weakest in the league. He didn't pay Xander Bogaerts, instead opting for Masataka Yoshida, a Japanese talent no one had heard of. Bloom's most critical move this winter was to secure Rafael Devers to a long-term contract.
CLEVELAND GUARDIANS: +2500
The Cleveland Guardians had the top bullpen in Major League Baseball (MLB) after the break, and Terry Francona did an excellent job of keeping his arms healthy through two playoff series. Josh Bell, a left-handed hitter, provided the essential power in the order.
SAN FRANCISCO GIANTS: +5000
Even though they did not sign Aaron Judge, they utilized the money they would have spent on him to sign Carlos Correa to a massive 13-year, $350 million contract. They brought in Sean Manaea and Ross Stripling after Carlos Rodon left to try to fill a significant gap.
BALTIMORE ORIOLES: +6600
Even after trading closer Jorge Lopez at the trade deadline, the Orioles remained in contention until the bitter end. They may have surpassed the Boston Red Sox as the weakest team in the American League East.
TEXAS RANGERS: +5000
The Rangers are taking a gamble by spreading Jacob deGrom's salary across five years. Further incentives are included in their agreement with Andrew Heaney, a former first-round pick who hasn't lived up to expectations.
MILWAUKEE BREWERS: +4500
Because the Brewers haven't done anything this offseason, their title chances at YouWager.lv have decreased from +2000 to +4500.
LOS ANGELES ANGELS : +5000
Shohei Ohtani, Mike Trout, and Anthony Rendon are the Angels' current stars. To provide depth, they are bringing in Hunter Renfroe, Gio Urshela, Carlos Estevez, and Tyler Anderson.
MINNESOTA TWINS: +4000
The Twins are progressively building with Byron Buxton as their top talent. Christian Vasquez is a fantastic defensive catcher who they signed when he was available.
CHICAGO CUBS: +8500
Cody Bellinger, the 2019 MVP, will join the Chicago Cubs. This is Theo Epstein's first major signing after a lengthy rebuilding process. The Cubs also added Jameson Taillon to their rotation, which was lacking in quality.
DETROIT TIGERS: +15000
The Tigers finished dead last in runs per game in slugging percentage, while their pitchers had the team's ninth-worst ERA.
MIAMI MARLINS: +10000
Sandy Alcantara, the reigning National League Rookie of the Year, will lead a good starting rotation, but the Marlins couldn't find any offense after the break, posting a.618 OPS.
ARIZONA DIAMONDBACKS: +8000
Despite struggling in 2021, the D'Backs emerged as one of the most unexpected teams in 2022. Nonetheless, they went 29-47 in the tough N.L. West.
KANSAS CITY ROYALS: +20000
Adalberto Mondesi is arguably the Royals' most gifted position player. They avoided arbitration by signing him for the time being, but he might be dealt this summer.
COLORADO ROCKIES: +25000
Last year, the Rockies went 27-54 on the road, and their offense vanished into thin air at Coors Field.
CINCINNATI REDS: +25000
The Reds will start afresh once they reach rock bottom and sell off their most prized assets.
WASHINGTON NATIONALS: +50000
We'll learn out what the Nationals got in trade for Juan Soto once SS C.J. Abrams and OF James Wood start performing, if not sooner.
PITTSBURGH PIRATES: +35000
O'Neil Cruz and Ke'Bryan Hayes are the most interesting players on a Pirates squad that appears destined to finish toward the bottom of the N.L. Central once more.
OAKLAND ATHLETICS: +50000
This club should be moving out of the abandoned Oakland Coliseum and into a new stadium shortly, but if they continue to struggle in the coming years, they may have to relocate to Las Vegas.