Bears at Cowboys Betting Prediction NFL Week 8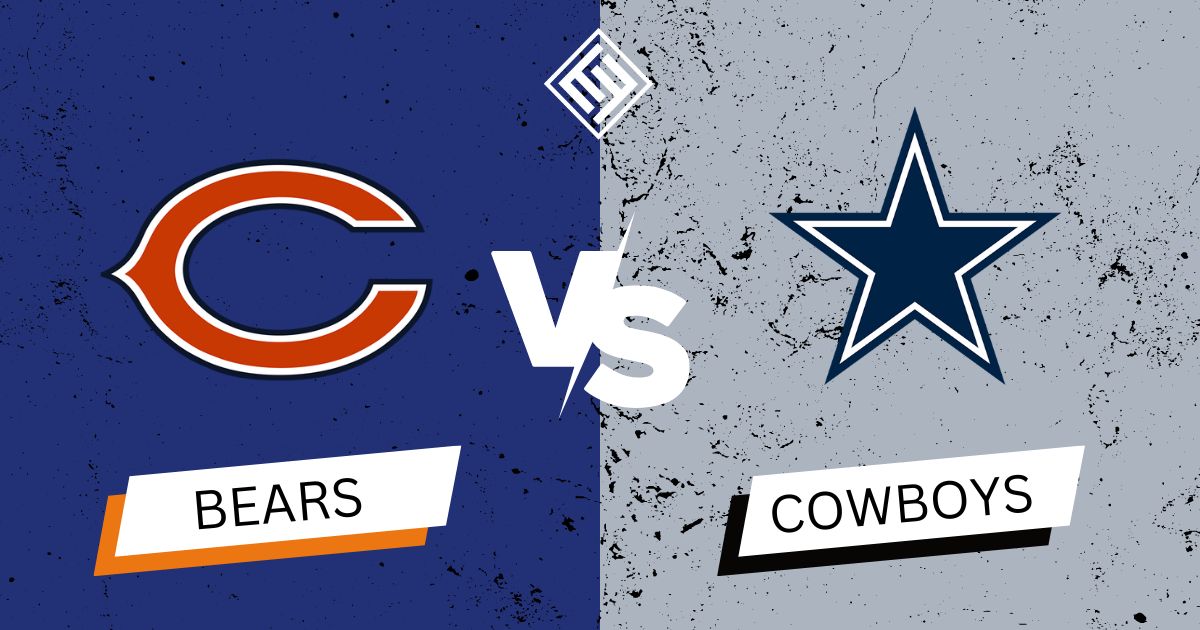 Here is our Bears at Cowboys Betting prediction and pick for this NFL week 8 matchup.
Chicago managed to defeat the Pats 33-14 on MNF.
The Cowboys were able to defeat the Lions 24-6
The last time these two franchises played each other back in December 2019, it was the Bears that took the 31-24 victory.
READ: Top 10 NFL Quarterbacks 2022 Ranked
Bears at Cowboys Betting Odds
Here are the Bears at Cowboys Betting odds, brought to you by YouWager.lv:
Bears +10
Cowboys -10
Total: 42.5 Over/Under
As you can see, the Cowboys are 10-point spread favorites and this means that the team must win by more than 10 points for you to collect your profits.
If they win but by less than 10, you lose your bet.
The Bears, on the other hand, are the underdogs, and this means that they can even lose the game by less than 10 points and you can still cash in on your wager.
When it comes to the total, you can bet on the combined score of both teams at the end of the game to be higher or lower than 42.5 combined points.
READ: Highest Paid NFL Players at Every Position, Per Year

Learn How to Bet on Sports with this simple guide.
Bears at Cowboys Betting: Game Preview
Now it's time for our Bears at Cowboys Betting preview for both teams.
Bears at Cowboys Betting: Chicago Starting to Improve
Now in this Bears at Cowboys Betting preview, let's talk about the Bears.
The Bears shocked the football world when they managed to defeat the Patriots 33-14 on MNF.
The Pats managed to outscore their previous two rivals 67-15, but when they faced the Bears, the team was completely unfazed.
In fact, Chicago acquired a 10-0 lead and just never looked back.
Starter Justin Fields showcased exactly what he is capable of as he finished the game 13 for 21 for 179 yards, one touchdown, and one interception.
He also managed to rush fourteen times for 82 yards and a single touchdown.
That positive performance definitely eased the pressure on Fields' shoulders as his team managed to improve to 3-4.
But despite the improved game by Chicago's QB1, the real key for a Bears victory is definitely going to be their defensive line.
Chicago's D-line managed to intercept mac Jones once and Bailey Zappe two times.
And it really didn't matter what New England was throwing at them, the Bears' defense was always able to stop it.
Now, Fields' performance was not perfect as he also fumbled the ball a total of four times during the victory.
Fortunately, Chicago managed to recover the ball on all four of those occasions.
But, when you consider so many potential turnovers, you can end up with a completely different game.
He definitely needs to play a safer game versus Dallas.
READ: NFL Top 10 Wide Receivers: Davante Adams Tops List
Bears at Cowboys Betting: Dallas Back Dak
Next in this Bears at Cowboys Betting preview, let's talk about the Cowboys.
In what it was his first game after returning from an injury he suffered in the first week of the season, Dak Prescott finished with 19 for 25 for 207 yards and a single touchdown, which is good for a very decent 113.3 passer rating.
Dak looked just awesome during his return to action as he managed to cut the Lions' D-line without a problem, helping his team to a final 24-6 victory.
Running backs Tony Pollard and Ezekiel Elliot managed to combine for 140 yards and two touchdowns on a total of 27 carries.
Pollard managed to average 6.9 yards per carry, to Elliot's 3.8, and this shows that he is definitely the most explosive of the two.
Indeed, the Bears are going to represent a more defining test.
While the run removed some of the pressure from Prescott's shoulder, the true key was Dallas' defense which contained Detroit t only six points.
Linebacker Leighton Esch managed to lead the team with a total of ten tackles while running back Micah Parsons was creating mayhem, as it is usual for him, acquiring his seventh sack of the season.
Cornerback Trevon Diggs also performed great as he managed to grab his third interception of the season while also locking down Detroit's receiving corps.
It's definitely going to be a defensive showdown between these two.
Bears at Cowboys Betting Prediction & Pick
Last but not least we have our Bears at Cowboys Betting Prediction & Pick:
After their convincing victory over the Patriots, Chicago deserves way more credit than they are currently receiving.
With that said, it won't be easy for them to go on the road and face a very dominant Dallas defense.
We expect Micah Parsons and the rest of the Cowboys to come up with a very good home performance and truly challenge a rejuvenated Chicago offense.
Bears at Cowboys Betting Pick: Dallas Cowboys ML
Thank you for checking out our Bears at Cowboys Betting preview, best of luck with your future action!