Ravens at Giants Betting Odds, Game Preview, NFL Week 6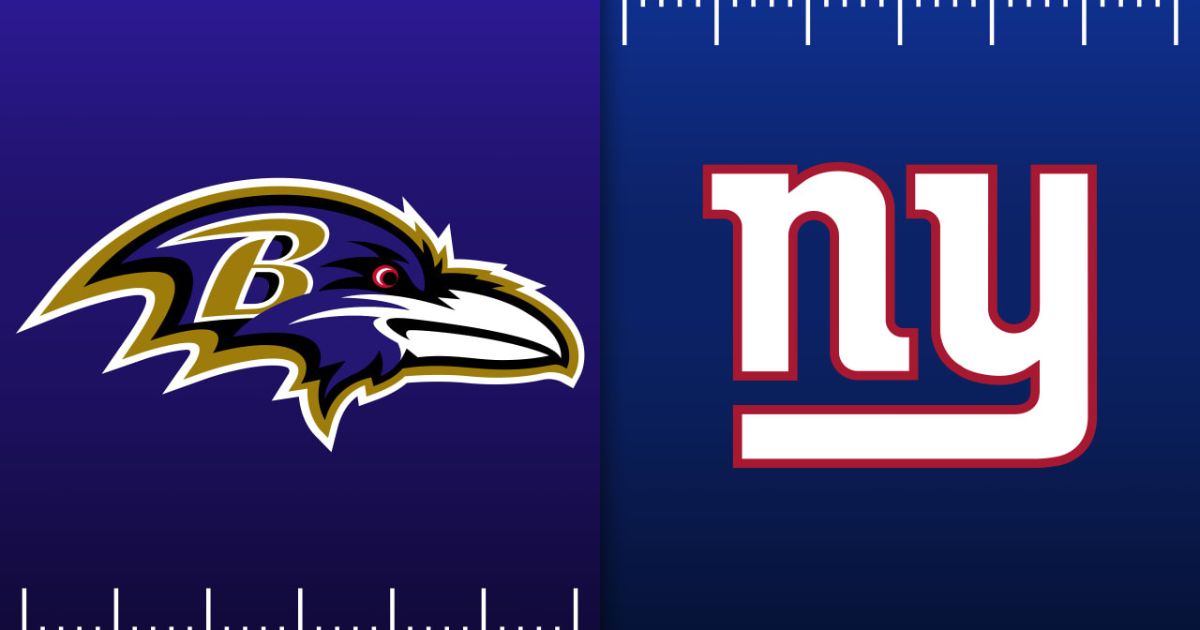 Here is our Ravens at Giants Betting preview for this NFL Week 6 matchup.
Ravens at Giants Betting Odds
These are the Ravens at Giants Betting odds, brought to you by YouWager.lv:
Ravens -5
Giants +5
Total: 45 Over/Under
As you can see, the Ravens are 5-point favorites on the spread to take the victory on the road when they visit New York in Week 6 to play the Giants.
This means that if you place a bet on Baltimore, the team must win by more than five points for you to cash in.
If the Ravens win, but by less than 5 points, you lose your bet.
When it comes to the Giants, their line is +5 as underdogs.
This means that NY can even lose the game by less than five points and you can still win your bet.
If the Giants lose by more than five points, you lose your bet.
Check out these NFL Week 6 FREE Betting Picks.

Ravens at Giants Betting Preview
Here is our Ravens at Giants Betting preview.
The Ravens are coming from a fresh victory over Joe Burrow and the Bengals.
Now the team is heading to East Rutherford in New Jersey to play the Giants, a team that, unbelievably, is currently 4-1 heading to the sixth week of action.
Learn How to Bet on Sports with this simple guide.
Baltimore Ravens
The Ravens haven't had that much luck when it comes to home games lately.
But thankfully for the local fans, and those who went to the stadium last week, Baltimore managed to end with a 5-game losing streak after defeating Cincinnati by just two points.
The Ravens were missing accomplished wide receiver Rashod Bateman as the player is currently recovering from a foot injury.
That being said, the receiving area for Baltimore was in good hands as Lamar Jackson relied on Devin Duvernay (five receptions for 54 yards) and Mark Andrews (8 receptions for 89 yards and a single TD.
When it comes to Lamar, he didn't perform at his best, but he still finished the game with a decent 232 yards, a passing TD, and a single interception.
Indeed, this is going to be the perfect matchup for the Ravens to finally establish their ground game with Lamar and JK Dobbins versus a less-than-proficient NY defense against the run.
The key for the Ravens to leave NY with a victory in their hands will be to have as much control as possible over their running game as this will definitely help them to open their passing game.
In 3 victories so far this year, Baltimore has managed to average 135.3 rushing yards per matchup.
And there is definitely no reason why they can't put up 130 ground yards versus the Giants.
Read our Bills at Chiefs Week 6 betting preview.
New York Giants
The Giants, the underdog for this matchup are after their third win in a row as they are attempting to remain as one of the best teams in the NFC East.
NY managed to pick up a valuable 27-22 comeback versus a good team such as the Packers in London.
In this game, it was Green Bay who acquired an early 10-3 lead during the first quarter.
Aaron Rodgers and the Packers continue to perform well during the second quarter, and they ended up heading to halftime with a valuable 20-10 lead.
That being said, the Giants took over after the half and managed to outscore the Packers 17-2 and ended up getting the valuable win.
Overall, the Giants currently possess one of the best scoring defenses in the NFL this current season.
But they continue to allow 131.6 rushing yards per matchup, and you can definitely expect the Ravens to exploit this weakness as much as possible when these two teams face off on Sunday.
The Giants have been relying on the services of Saquon Barkley lately, but it's likely that Baltimore will focus on Barkley to force him to underperform.
In that case, someone else will definitely need to step up and contribute to this offense.
The great news for New York is that Baltimore is allowing a league-high 290.2 passing yards per matchup.
They have also given up 216.6 yards per matchup and 6 TDs to WRs through the first 5 weeks of action.
Ravens at Giants Betting Trends
Now we have some of the best Ravens at Giants Betting trends that can help you make the best choices when getting action on this particular game.
Baltimore is 5-2 ATS in their previous 7 games versus NY, and 5-2 SU over that period.
The giants are currently 0-5 against the spread in their past 5 matchups versus AFC North teams.
The Giants haven't had any good results versus teams from the AFC North in recent times, but they are receiving 65% of the money.
Thank you for checking out our Ravens at Giants Betting preview, best of luck with your action on this game!