College Football Power Rankings: The Top 10 Best Teams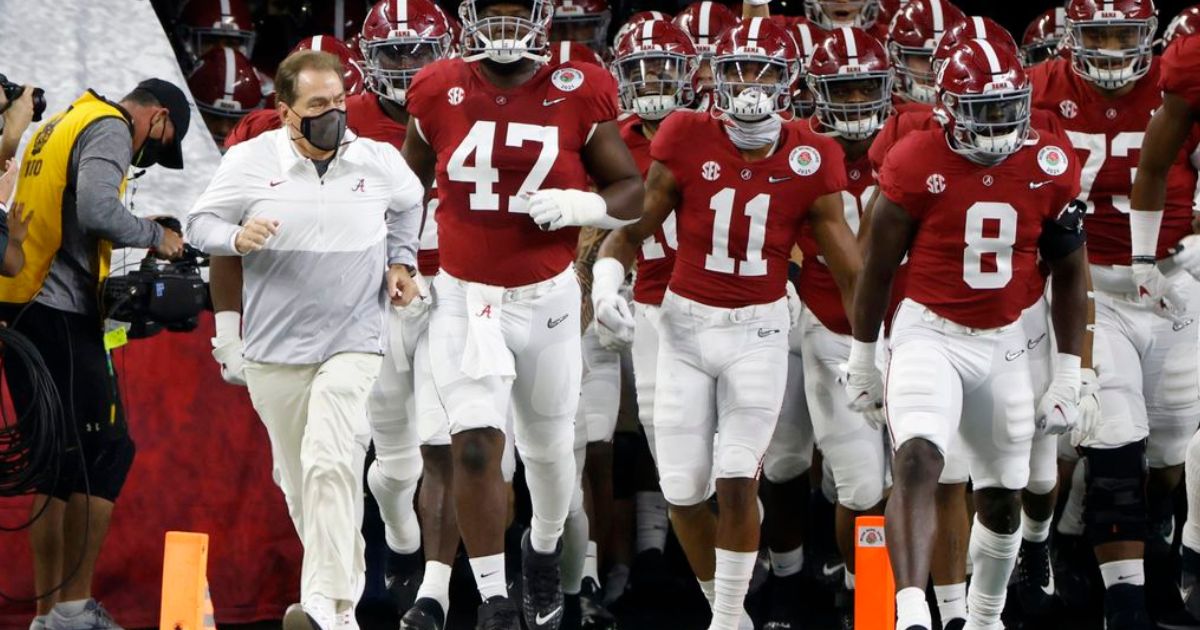 As a new season starts today, here are the top 10 of the College Football Power Rankings.
College Football Power Rankings #1:  Alabama Crimson Tide
College Football Power Rankings number one is the Crimson Tide.
Alabama finished last season with a 13-2 record and they are opening their schedule vs Utah State as -39 huge favorites on September 3.
Nick Saban is now the best-paid college football coach. And one of the reasons why Saban was handed a juicy, multi-year contract is that he knows how to select talent.
The Crimson Tide now counts with the services of LSU's CB Eli Ricks, and Georgia Tech's CB Jahmyr Gibbs. And accomplished wide receivers Tyler Harrell from Louisville, and Jermaine Burton from Georgia.
But the most important transfer of the offseason for Alabama is likely to be Tyler Steen, who was a starter for 33 consecutive games before departing from Vanderbilt.
College Football Power Rankings #2: Ohio State Buckeyes
College Football Power Rankings number two is the Buckeyes.
Last season for the Buckeyes finished with an 11-2 record, and the team is opening their season with a game vs Notre Dame where they are -17 favorites.
Last season QB CJ stroud had a phenomenal season as he was able to execute a big-play passing attack to perfection.
Troy Smith was the last Ohio State and Big Ten to win the Heisman Trophy in 2006. And Stroud is the best candidate from the Buckeyes to grab those honors.
What is great for Stroud is that he has the best group of wide receivers in the nation at this disposition.
And, with things like that, it is title-or-bust in his junior season, and which will likely be the last one for Stroud with Ohio State.
College Football Power Rankings #3: Georgia Bulldogs
College Football Power Rankings number three is the Bulldogs.
The Bulldogs had an outstanding 2021 season as they finished with an impressive 14-1 record, and, they also won the title!
Georgia is opening their schedule for this campaign as -17 favorites over Oregon.
Everybody talks about Stetson Bennett and what he can't do. But the quarterback continues to destroy negative myths around him.
And he is back as the starter for the Dawgs in what is going to be his seventh college season.
But, despite the questions about his arm and size, his teammates definitely believe in him and his potential to deliver.
Indeed, there is no question about why they call him the Mailman!
College Football Power Rankings #4: Clemson Tigers
College Football Power Rankings number four is the Tigers.
Clemson finished the 2021 season with a great 10-3 record, and they are opening up their 2022 schedule with a clash vs Georgia Tech where they are the -21 favorites to get the victory.
DJ Uiagalelei was a Heisman contender at some point, but he had to deal with a series of situations that prevented him from displaying his full potential.
If Uiagalelei is able to perform as he did during his freshman season, Clemson will definitely be one of the toughest teams to beat.
But, if he continues to struggle as he did recently, chances are that the Tigers will be in for a long season.

College Football Power Rankings #5 Notre Dame Fighting Irish
College Football Power Rankings are the Fighting Irish.
The Fighting Irish finished last season with an impressive eleven victories and only 2 losses.
Notre Dame is opening as +17 underdogs to the powerful Buckeyes in what promises to be one the best game between high-ranked college teams on Saturday.
With eligibility possibilities exhausted by last season's Jack Coan, Notre Dame is in search of their next starter, and chances are that the position already has a name: Tyler Buchner.
Indeed, Buchner can be the stable, consistent presence this team requires.
And, let's not forget that the team is featuring a new head coach, Marcus Freeman, who is entering his first year as HC.
Players are thrilled about Freeman taking over as head coach. And also with a new quarterback, it will be interesting to see how this team is going to look like during this upcoming campaign.
#6 Utah Utes
College Football Power Rankings number six is the Utah Utes
The 2021 season was a good one for the Utes as they finished with ten victories and only four losses.
Utah is opening their schedule as -2.5 favorites vs Florida.
And the impact of quarterback Cam Rising on the 2021 season for this team was probably the most significant in all of NCAA football.
He wasn't able to start the first 3 games for Utah, but the team went 9-1 in Rising's first ten starts.
Under his leadership, the Utes were able to win the Pac-12, even qualifying for the Rose Bowl.
#7 Texas A&M Aggies
College Football Power Rankings number seven is the Aggies.
The Aggies finished the 2021 campaign with an 8-4 record, and they are opening their season vs the Sam Houston State Bearkats as +4 underdogs.
Haynes King is a junior who is probably the fastest player on the team. But King suffered a season-ending injury in what it was the second game of the 2021 season.
If King returns to his normal self, he can exploit his foot ability and take advantage of outstanding receiving weapons such as Evan Stewart.
Indeed, if things go the Aggies' way, they can become a true SEC threat with a very tough defense that can turn into a nightmare for rival offensive lineups.
#8 Michigan Wolverines
College Football Power Rankings number eight is the Wolverines.
The Wolverines finished with twelve victories and only two defeats last year, and they are starting their season as huge -27 favorites over Colorado State.
The strength of Michigan's offensive lineup last season was their run game.
And this area is going to suffer now that the team lost Rb Hassan Haskins, who left college to play in the NFL and is now part of the Tennessee Titans.
Haskins's production was quite significant as he finished last year with 20 rushing TDs.
But apart from these offensive question marks, the big problems for the Wolverines are on defense.
They lost Daxton Hill, Christopher Hinton, Vincent Gray, Josh Ross, Brad Hawkins, and of course, Aidan Hutchinson.
And those guys made up for the top 3 in tackles, top 2 defenders in total tackles, and top 5 in tackles for loss.
Needless to say, that is a lot of production, and Michigan's defensive lineup will likely look a lot different this time around.
Read our Giants at Titans Week 1  regular season preview.
#9 Oklahoma Sooners
College Football Power Rankings number nine is the Sooners.
The Sooners, this year's Big-12 favorites, had an outstanding 11 victories and a low two losses last year.
The team is set as huge -31 favorites over UTEP for their first game of the season on September 3.
QB Dillon Gabriel just clicked quite well with offensive coordinator Jeff Lebby a couple of seasons ago, and they are back in the same team once again.
So, if these two can find that same football chemistry, the Sooners can end up having one of the best offenses in the country.
#10 Baylor Bears
College Football Power Rankings number ten is the Bears.
The Bears had a fabulous 2021 season as they finished with a 12-2 record.
The team is opening its season against Albany on September 3.
Craig "Sqwirl" Williams is likely the best player on Baylor's roster.
And, as both Trestan Ebner and Abram Smith departed to the NFL, chances are that the team will assume a more ground-heavy attack focused on Williams.
Williams is ready for his best season yet as he's been dealing with serious ACL and MCL injuries since 2018.
If he can bounce back and play as his best self, chances are that the Bears can add a very dynamic threat to their offense.
Thank you for checking out our article on the top ten College Football Power Rankings, best of luck when getting action on these teams!