NFL Week 2 Betting Odds for All Regular Season Games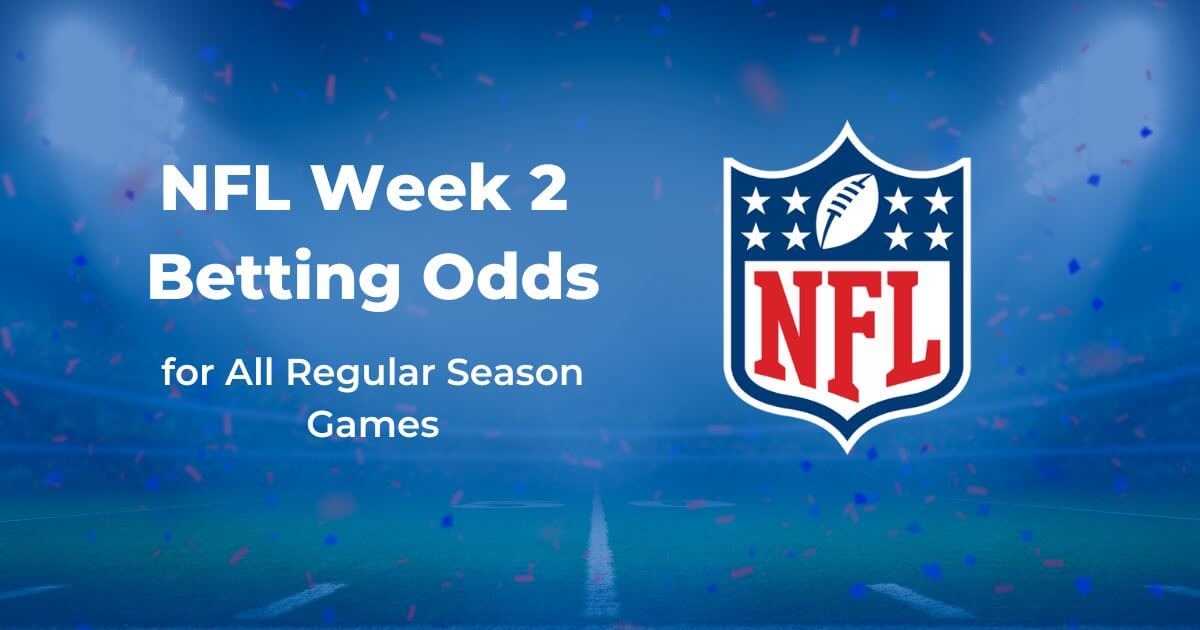 Here are our NFL Week 2 Betting Odds and preview for each game of the second game of the 2022 NFL regular for all teams.
Chargers at Chiefs NFL Week 2 Betting Odds
The Chiefs are home favorites over the Chargers, the underdogs, for their Week 2, Thursday Night Football meeting on September 15.
If there is one team that knows exactly how to beat Kansas City is precisely Los Angeles as these teams are 2-2 in their previous four games vs the other.
Justin Herbert has been phenomenal in these games, averaging 2.5 touchdowns and 282.5 yards in the 4 games. And, what's best for LA fans is that their offensive line looks way better heading into the new season.
When it comes to Mahomes, he has averaged 3 touchdowns and 324 yards in their 3 games for the past 2 seasons.
Each of the last 3 games between these two teams has finished with more than 54 points.
These are the Chargers at Chiefs NFL Week 2 Betting Odds:
Point Spread: Chiefs -3, Chargers +3
Money Line: Chiefs -160, Chargers +140
Total: 53 Over/Under
Read our previews for NFL Week 1.
Dolphins at Ravens NFL Week 2 Betting Odds
Yes, the Dolphins defeated the Ravens last season 22-10!
And that victory came thanks to an outstanding Miami defensive line that managed to keep Baltimore to just 304 total yards.
The Fins' offensive line ranked 25 in yards and 22 in scoring last season.
That being said, the team took the necessary measures to improve in this area by adding big names to its roster such as Chase Edmonds and Tyreek Hill.
The defensive line for the Ravens was a bit weak last season as the team ranked ten in points allowed for 5 seasons in a row, but last year they finished 19.
But Baltimore's defensive line is stronger now, and this game should be a real test.
These are the Dolphins at Ravens NFL Week 2 Betting Odds:
Point Spread: Ravens -4, Dolphins +4
Money Line: Ravens -190, Dolphins +167
Total: 46 Over/Under
Check out our article on the NFL Top 10 Wide Receivers.
Jets at Browns NFL Week 2 Betting Odds
The QB situation with the Browns is still a bit blurry. And whoever gets picked to be the starter, must prove himself in Week 1.
The Browns are facing their former starting quarterback, Baker Mayfield, and the Panthers during the first game of their schedule.
If Cleveland gets defeated by Carolina, this can be a true blow to the team's overall well-being.
But, if the Browns can defeat Baker, this can have the opposite effect.
That's because this will enhance the potential of the team, and will allow them to arrive at this Week 2 game ready to add a second easy victory to their season.
These are the Jets at Browns NFL Week 2 Betting Odds:
Point Spread: Browns -5.5, Jets +5.5
Money Line: Browns -225, +185
Total: 42 Over/Under
Commanders at Lions NFL Week 2 Betting Odds
After a top-5 campaign in 2020, the Commanders' 2021 season was a real disaster in all areas.
The team has brought a new quarterback in veteran Carson Wentz, and they also count on Pro Bowl-caliber players such as Terry McLaurin.
So, fans of the team are really expecting this will be the bounce-back season for their team.
And this is also the perfect opportunity for Jared Goff to start getting some real support from the Detroit crowds.
That's because he will be facing Washington, a team that allowed 226 passing yards for the 4th most last season.
The Lions are also hoping this will be the bounce-back season for D'Andre Swift, whose numbers related to yards per reception and per game dropped last year.
These are the Commanders at Lions NFL Week 2 Betting Odds:
Point Spread: Commanders -1, Lions +1
Money Line: Commanders -115, Lions -105
Total: 45 Over/Under
Colts at Jaguars NFL Week 2 Betting Odds
Although Matt Ryan doesn't get as much recognition as other veteran NFL quarterbacks, he is just as effective!
And, when you add running back Jonathan Taylor to the equation, then it seems like Detroit is set for a solid start.
In Week 1, the Lions are facing a Texans team that did great in the pre-season.
And the next team they will be facing is the Jags, who have a new head coach and are hoping that this will be the breakout year for Trevor Lawrence.
That being said, the Jaguars defeated Indianapolis 26-11 back when these two franchises faced each other on January 9.
And that was a very shocking and unexpected defeat for Detroit as it basically knocked the Lions from playoff contention.
The Jags have won 8 of their last thirteen games vs the Colts.
These are the Colts at Jaguars NFL Week 2 Betting Odds:
Point Spread: Colts -4.5, Jaguars +4.5
Money Line: Colts -195, Jaguars +170
Total: 45.5 Over/Under
Buccaneers at Saints NFL Week 2 Betting Odds
To the surprise of many, Brady has not been performing very well versus New Orleans over the years, and let's add to that that Tampa has experienced the same kind of negative results vs the Saints.
NOLA has come up with the victory 7 of 8, including a 9-0 shutout in December 2021.
And this is really not normal for Tampa Bay, a team that has managed to rank second in scoring with Brady at the helm.
Brady lost Rob Gronkowski during the offseason, and he will also likely be without Chris Godwin, who is still recovering from an injury (ACL).
The very first season with Drew Brees as their number one quarterback wasn't so sweet for NOLA's offense.
The team finished ranking 19th overall in offense in the league, and 28th in yards gained last season.
And this is much different than the previous five seasons when they managed to rank in the top five in scoring in the NFL.
Saints fans are really hoping that Michael Thomas will be able to find his best form in the 2022 regular season; allowing Jameis Winston to count with a high-level target.
And Jameis also counts with 1st-round pick Chris Olave, who, just like Thomas, is also a former Ohio State alumnus.
These are the Buccaneers at Saints NFL Week 2 Betting Odds:
Point Spread: Bucs -3.5, Saints +3.5
Money Line: Bucs -170, Saints +160
Total: 47 Over/Under
Panthers at Giants NFL Week 2 Betting Odds
Carolina has found their new starting quarterback in Baker Mayfield.
What Panthers fans are hoping for is that Christian McCaffrey can play at his best to serve as the perfect complement for Mayfield.
And a great running back can truly make the difference in a game vs the Giants as the red and blue team from New York finished last season 25th in the league vs the run.
The arrival of Baker can also be quite positive for wide receiver DJ Moore.
Daniel Jones didn't have a great year as a starter in 2021 as he finished with a 4-7 record, and a low ten touchdowns.
These are the Panthers at Giants NFL Week 2 Betting Odds:
Point Spread: Giants -1, Panthers +1
Money Line: Giants -110, Panthers +100
Total: 42.5 Over/Under
Patriots at Steelers NFL Week 2 Betting Odds
The Pats were fully dominant over the Steelers during the Big Ben vs Brady years.
But each team is starting fresh this year, and both have new, young quarterbacks who are ready to prove that they have what it takes to replace the previous guys at the QB1 position.
Mac Jones had a decent first year as the starter for New England and he even made it to the Pro Bowl as a rookie.
And that is exactly what Pats fans needed as the team actually looked with some life.
If things go according to history, we are in for a game with a lot of points from the Patriots as they have never scored less than 27 vs Pittsburgh in the last decade.
Mitchell Trubisky was 29-21 as a starter going into the 2021 season, and it is not clear that QB1 at Pittsburgh is reserved for Trubisky as Kenny Pickett is also a great candidate to assume the position.
That being said, many believe that the leadership in terms of offense for the Steelers will be assumed by running back Najee Harris.
The 2021 season was one to forget for Pittsburgh fans, getting ranked dead last versus the run, and 29th in running the ball.
Can this be the bounce-back season for the black and yellow squad, or will this be another bad season to force a true rebuild?
These are the Patriots at Steelers NFL Week 2 Betting Odds:
Point Spread: Patriots -1.5, Steelers +1.5
Money Line: Patriots -125, Steelers +105
Total: 42.5 Over/Under
Falcons at Rams Betting Odds
With the departure of Matt Ryan, the Falcons have a new starter in Marcus Mariota, and things are still no good for Atlanta.
The team finished 27th or worse than that in the NFL both on offense and defense in 2021.
And, their second game of the season is against the defending Super Bowl champs, the Rams.
Needless to say, this is going to be a difficult one for the Falcons.
Thankfully for Mariota, he has a great couple of targets in drake London and Kyle Pitts.
When it comes to the Bills, they are opening their season vs one of the best teams of last year's campaign, the Bills.
If they manage to defeat Josh Allen and Buffalo, Matthew Stafford and LA will have the right focus to get an easy victory in Week 2 and start the season on the right foot with a 2-0 record.
A great tip for Atlanta bettors is that the spread for the Falcons for this game is -13, and Los Angles won their last 3 postseason games (including the Super Bowl) by only 3 points.
So, the Rams are likely to grab the victory on this one, but getting action on Atlanta with that spread doesn't seem like such a bad idea.
These are the Falcons at Rams NFL Week 2 Betting Odds:
Point Spread: Rams -13, Falcons +13
Money Line: Rams -901, Falcons +625
Total: 48 Over/Under

Seahawks at 49ers Betting Odds
The Seahawks will be trusting the quarterback's number one duties to Geno Smith for the upcoming season.
The first test for Smith will be versus Russell Wilson, his former teammate.
If Smith can survive that test vs the Broncos, he will be more than prepared to face the Niners.
And what is interesting is that Seattle has been facing a lot of NFC West rivals, and they have won the last 4 of those meetings.
This is great news for a quarterback that will still be processing getting the starter position by the time this game starts.
That being said, the last 3 of those four games were decided by a single touchdown or less.
And that just signals how bad the Seahawks' defense has been, particularly last year.
Fortunately, the team added some great talent to this department during the offseason.
Now, both of these teams will have new quarterbacks as San Francisco handed the QB1 duties to Trey Lance.
The 49ers ranked in the top 7 on offense and defense last season. In fact, this defensive line has been ranked in the top five in the league for 3 straight seasons.
If Lance is able to meet the expectations and can produce, San Francisco will be one of the strongest squads this upcoming season.
These are the Seahawks at 49ers NFL Week 2 Betting Odds:
Point Spread: 49ers -8.5, Seahawks +8.5
Money Line: 49ers -391, Seahawks +325
Total: 43.5 Over/Under
Bengals at Cowboys NFL Week 2 Betting Odds
The Bengals ranked 27th in defense vs the pass last season, but they made the effort to improve their secondary during the offseason.
When it comes to the offense, this area should be fine for the team. And Cincy has proved that playing on the road is a big obstacle to getting victories.
They were able to defeat both the Titans and the Chiefs to conquer the title last season.
Week 2 for the Bengals will be a clash vs the Cowboys at AT&T Stadium, and the only solid chance for Cincinnati to come up with a valuable road victory this time will be to outscore Dallas.
And this probably not going to be an easy task for the visiting team as the last time the Bengals defeated the Cowboys in Dallas was back in 1988.
And, although Amari Cooper was sent to the Browns, Dak Prescott still has a lot of targets in his arsenal.
These are the Bengals at Cowboys NFL Week 2 Betting Odds:
Point Spread: Cowboys -2.5, Bengals +3.5
Money Line: Cowboys -125, Bengals
Total: 51 Over/Under
Texans at Broncos Betting Odds
Davis Mills will be getting the QB1 duties for the Texans.
Mills wasn't great last season, but he did guide the team to 4 victories. This is despite the fact that Houston ranked last in yards gained.
This team also ranked 2nd-worst in yards allowed. And this means that playing Denver on the road is really going to end up in large-point spreads.
Russell Wilson is the best quarterback the Broncos have has since Peyton Manning, that is unquestionable.
And the team also added another big name to their roster during the offseason in Randy Gregory.
Gregory will definitely be key for a Denver defensive line that finished 15th vs the run and 18th in sacks last season.
Needless to say, the Broncos are strong home favorites for this one.
These are the Texans at Broncos NFL Week 2 Betting Odds:
Point Spread: Broncos -10.5, Texans +10.5
Money Line: Broncos -474, Texans +425
Total: 42.5 Over/Under
Cardinals at Raiders Betting Odds
Kyler Murray and the Cardinals had a great time last season playing on the road as they went 8-2 away from home. And that was tied with the team that eventually went on to win the Super Bowl.
Their pass offense was ranked number eight in the league last year. And they also ranked number six in pass defense.
Indeed, this Arizona team is one that seems to be built as a modern NFL franchise, which means that they have what it takes to slow down the pass-first attack from Las Vegas.
And this is not going to be an easy task as the aerial offense by Las Vegas is stronger now that the team brought in Davante Adams to play with Darren Waller, and Hunter Renfrow.
This game will be played at Allegiant Stadium, and the Raiders went 5-4 in this new football venue, with 3 of those wins coming in over time.
These are the Cardinals at Raiders NFL Week 2 Betting Odds:
Point Spread: Raiders -2.5, Cardinals +2.5
Money Line: Raiders -140, Cardinals +120
Total: 51 Over/Under
Bears at Packers Betting Odds
The Bears replaced Mitchell Trubisky with Justin Fields as their starting quarterback.
The opinions on this move by the team are divided. Some people believe it was a step backward to switch from Trubisky.
And other people believe Fields is the right guy and will definitely do better in his second year.
Chicago experienced a few weaknesses last year, and the team made sure to tackle those problems during the offseason.
They managed to add 2 starters in the secondary, and also as many as 5 offensive players.
That being said, Fields still finds himself without enough playmakers that can serve as targets.
On paper, this is one of the most heated rivalries in football and in all sports.
But the truth is that there hasn't been much of a rivalry lately, with Green Bay winning 23 of their last 27 games between the 2 squads. And this includes six straight games.
These are the Bears at Packers NFL Week 2 Betting Odds:
Point Spread: Packers -9.5, Bears +9.5
Money Line: Packers -474, Bears +380
Total: 45.5 Over/Under
Titans at Bills Betting Odds
The Bills are entering the current season as the huge favorites to win the Super Bowl this year.
And that is thanks to an offense that managed to average 30 points per game. And also a very good defense that includes the likes of playmaker Von Miller. The Bills were able to rank number one vs the pass last season.
The Bills experienced a few defensive weaknesses last year. But overall, they were just average versus the run.
Derrick Henry is one of the best players in the league. And he was ready to break rushing records until an injury finished with those aspirations. There are probably going to be a lot of points in this game!
These are the Titans at Bills NFL Week 2 Betting Odds:
Point Spread: Bills -7.5, Titans +7.5
Money Line: Bills -350, Titans +290
Total: 51 Over/Under
Vikings at Eagles Betting Odds
The Vikings weren't able to qualify for the postseason for the second straight year in 2021, and that was enough reason to say goodbye to head coach Mike Zimmer.
Minnesota has had a low 3 playoff appearances in the past 8 seasons, but they have never finished with a record that is worse than 7-9.
The defense for the Vikings is also not pretty good as they ranked in the bottom five in the league last season.
The Eagles continue to trust Jalen Hurts as their starter. He finished with 26 touchdowns last year, and also lead Philadelphia to the postseason.
Philly has not been able to rank higher than 12 in scoring defense or scoring since 2017.
And that means that there is definitely a lot of room for improvement.
Thank you for reading our NFL Week 2 Betting Odds article, best of luck with your action on any of these games!