UFC 278 Usman vs Edwards 2 Betting Odds and Fight Preview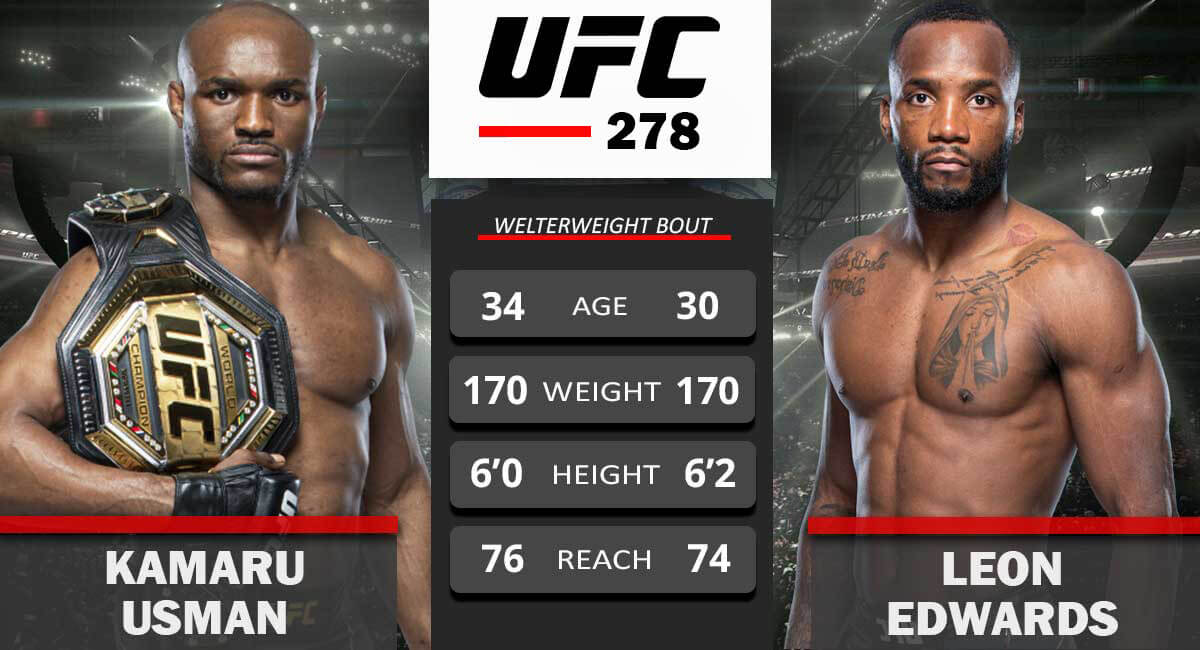 Fans of mixed martial arts have been waiting for 7 years for this bout, and we finally have the UFC 278 Usman vs Edwards 2 Betting Odds and preview for the fight!
UFC 278 Usman vs Edwards 2 Betting Odds
Regardless of who they are facing, champs should always avoid seeing title bouts as pieces of cake.
That being said, bookies believe this is the easiest of all title defenses for Usman as they are putting him as the big favorite to get the victory.
UFC 278 Usman vs Edwards 2 Betting Preview
Oddsmakers' favorite and current UFC Welterweight title holder Kamaru Usman will be looking to defend his belt on August 20 when he faces Leon Edwards in what is going to be the main event of UFC 278.
Both of these 170-pound division fighters have an outstanding resume of victories:
Kamaru has come up with nineteen straight victories that include 5 defenses of his title since he managed to capture the championship in March 2019.
Edwards on the other hand has won 9 straight bouts, with his most recent defeat coming in December 2015 vs Usman.
UFC 278 Usman vs Edwards 2 Betting: UFC 278 Co-Main Event
When it comes to the co-main event, third-ranked Jose Aldo, a former featherweight champ will be clashing with sixth-ranked Merab Dvalishvili in what is going to be a great bantamweight clash.
Dvalishvili lost his first two UFC bouts, but he has managed to win the next seven.
Aldo, on the other hand, lost 3 in a row but he rebounded from those defeats and he is now on a 3 victory streak.
Needless to say, if Aldo manages to defeat Dvalishvili, chances are that he will immediately make the short list of title contenders.

UFC 278 Usman vs Edwards 2 Betting: Kamaru's Sixth Title Defense
Kamaru Osman is one of the best fighters in the history of this sport.
He was a former NCAA wrestling champ before he opted for becoming a mixed martial arts fighter.
Usman was 20-1 MMA before joining the UFC, and he is currently undefeated at 15-0 as part of the Ultimate Fighting Championship.
Osman, also known as the Nigerian Nightmare has managed to defend his title a total of five times, with his first title fight coming vs Tyron Woodley as the underdog of this UFC 235 fight, where he crowned himself for the first time.
At 35 years old, and with that 15-0, Usman is neck to neck with GSP as the best UFC welterweight fighter in the history of the UFC.
And, if Usman truly wants to get the edge on this GOAT battle with Georges St-Pierre, a sixth title defense victory versus a guy such as Edwards is an outstanding place to start.
Edwards' Title Shot
Now in this UFC 278 Usman vs Edwards 2 Betting preview, let's check out Edwards and his long-awaited title shot.
Leon Edwards is an English fighter that truly has what it takes to battle against any of the top guys in the welterweight division.
Edwards was a BAMMA champ before moving to the UFC, where he did not look as dominant at first, losing two of his first four bouts.
Those losses included one versus Usman back in 2015.
But it appears that that loss to Usman was the incentive Edwards required as the Britton went on to win the next ten fights over significant opponents such as Donald Cerrone, Nate Diaz, Vicente Luque, and Rafael dos Anjos.
And needless to say, the only barrier between Edwards and UFC Gold is Usman.
Edwards has been asking for a title shot for a while now, and 14 months after his last UFC bout, his prayers have been answered as he will be facing Usman in the main event of UFC 278.
And, if he defeats Usman, this can be historical as he will become the first Jamaican to raise a UFC title belt.
Who Has the Edge
Although the Nigerian Nightmare is the big favorite, it is Edwards the one who feels that he must prove to himself and the world that he is a champion.
Edwards is on a winning streak, he wants revenge, and he is definitely focused on getting that title belt.
If Usman doesn't take this fight seriously, Edwards can take advantage of that situation, and it can cost Kamaru the title.
All in all, this promises to be an outstanding clash of UFC titans that will be worth your time and your wagering money.
Thank you for reading our article on UFC 278 Usman vs Edwards 2 Betting, feel free to continue checking more of our sports content, best of luck with your wagering action!