Wake Forest vs Notre Dame Predictions, Odds Week 12 2023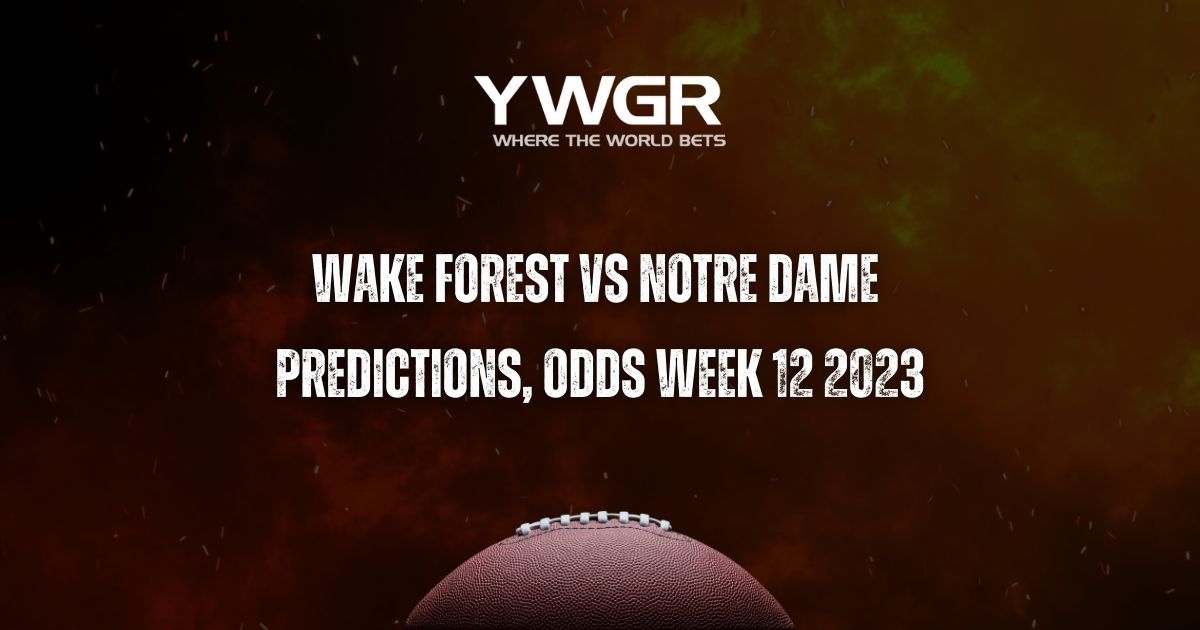 See who we predict to win and cover in our week 12 college football pick and preview for Wake Forest vs Notre Dame.
Wake Forest's defense allows 24.6 points per game on the road.
It ranks 71st among offenses trying to pass for Notre Dame.
PREVIEW: WAKE FOREST VS NOTRE DAME
On Saturday, November 18, at 3:30, the Wake Forest Demon Deacons and Notre Dame Fighting Irish will square off. Notre Dame Stadium at Notre Dame, Indiana, will host this game. NBC is airing the game. The Fighting Irish are the clear 24.5-point favorites to win this non-conference game. Is it wiser to back the Demon Deacons or should you go with them to cover the spread? Find out by reading on.
A GLANCE AT THE WAKE FOREST VS. NOTRE DAME MATCHUP
Teams: Notre Dame Fighting Irish vs. Wake Forest Demon Deacons
Where: Notre Dame Stadium is home to Notre Dame.
Date: November 18, Saturday
WAKE FOREST PREVIEW: WILL THEY CONTINUE TO WIN?
Wake Forest has a 4-6 overall record going into this matchup. Their most recent match versus NC State turned out to be difficult as they lost 26–6. Wake Forest has an ATS record of 4-5 based on their season-average scoring difference of -4.1. Three times the Demon Deacons have been the favorite and six times they have been the underdog. The average over/under for Wake Forest's games over the last ten games has been 51 points. These games have had an average total score of 45.1 points, giving OU a 3-6 record.
Against NC State, the Demon Deacons' offensive output was 163 yards after going 1/12 on third down. They gained 156 yards and one touchdown in the passing game. The Demon Deacons finished with 7 rushing yards after failing to score on any of their 18 rushing attempts. Quarterback Michael Kern finished with a QB rating of 65.71 in the NC State game, completing 14 of 26 passes for 137 yards. He improved his performance by one touchdown as well.
Against NC State, Wake Forest's defense gave up 383 yards in total by the end of the game. Against Wake Forest, NC State threw the ball 17 times for 111. The Demon Deacons surrendered 272 rushing yards while they were on the ground. The Demon Deacons defense leads the league in quarterback hurries and has produced 22 sacks so far this season. They are conceding 24.6 points per game on average (93rd). They rank 85th in the NCAA against the pass with 224.9 passing yards allowed per contest. Wake Forest allows 148.5 running yards per game against opponents.
A PREVIEW OF NOTRE DAME: CAN NOTRE DAME WIN ANOTHER VICTORY?
Following their most recent defeat by Clemson, Notre Dame's record as a whole is at 7-3. The Fighting Irish lost the game 31–23 because they were unable to seal the victory. Notre Dame has started as the underdog in one game and as the favorite in eight others thus far. As a result, there has been an average score differential of +19.9 and an ATS record of 5-3-1. Notre Dame has a 5-4 over/under record this season. The total number of points scored in their games has averaged 53.7, with an over/under of 51.6 points.
The Fighting Irish offense amassed 183 running yards on 31 attempts against Clemson, including two scores on the ground. Sadly, their passing game ended with 146 yards from 30 pass attempts since they were unable to find the end zone. QB Sam Hartman managed to dash for one touchdown in the team's loss to Clemson, despite failing to complete a touchdown pass. 146 passing yards and a 43.3% completion percentage were among his total stats.
Against Clemson, Notre Dame's defense gave up 465 yards in total by the end of the game. Against Notre Dame, Clemson passed the ball 37 times for 205 yards. The Fighting Irish allowed 260 running yards when they were on the ground. This season, the Fighting Irish defense ranks 159th in terms of rushing yards allowed per game (128.1). Against Notre Dame, opponents are averaging 153.6 passing yards, and their quarterbacks have a passer rating of 57.5. As of right now, their NCAA point allowance ranking is 92nd.
Odds, trends, and analysis for Wake Forest vs. Notre DAME betting
Wake Forest is hoping to carry on its winning streak against Notre Dame on the road, where it is 3-2 in the previous five meetings.
Wake Forest has a 2-1 record against the spread with an average score differential of 24 points per game in their last three meetings with Notre Dame.
Right now, Notre Dame is the favorite—24.5 points—on the road. There hasn't been any change in the point spread since opening; the lines have remained steady. Wake Forest now has a moneyline payout of +1290 and an implied win percentage of 7%. On the moneyline, Wake Forest really opened at +1280. With an expected win probability of 97%, Notre Dame is now at -3750, having opened at -3500.
BETTING TRENDS
Wake Forest is 3-2 away from home against the spread.
In their last five home games, Notre Dame has a 3-2 record against the spread.
Notre Dame has amassed an ATS record of 6-3-1 in their last ten games as the underdog.
In their past five games as favorites, Wake Forest has a 2-3 record.
YouWager.lv you can wager on the different betting types, such as moneyline, spread, and total, and you can bet either on your favorite team or an undervalued underdog, always with the best and latest wagering lines. Open your account now and receive a 100% bonus on your first cryptocurrency deposit, just click below: