North Carolina vs Clemson Predictions, Odds Week 12 2023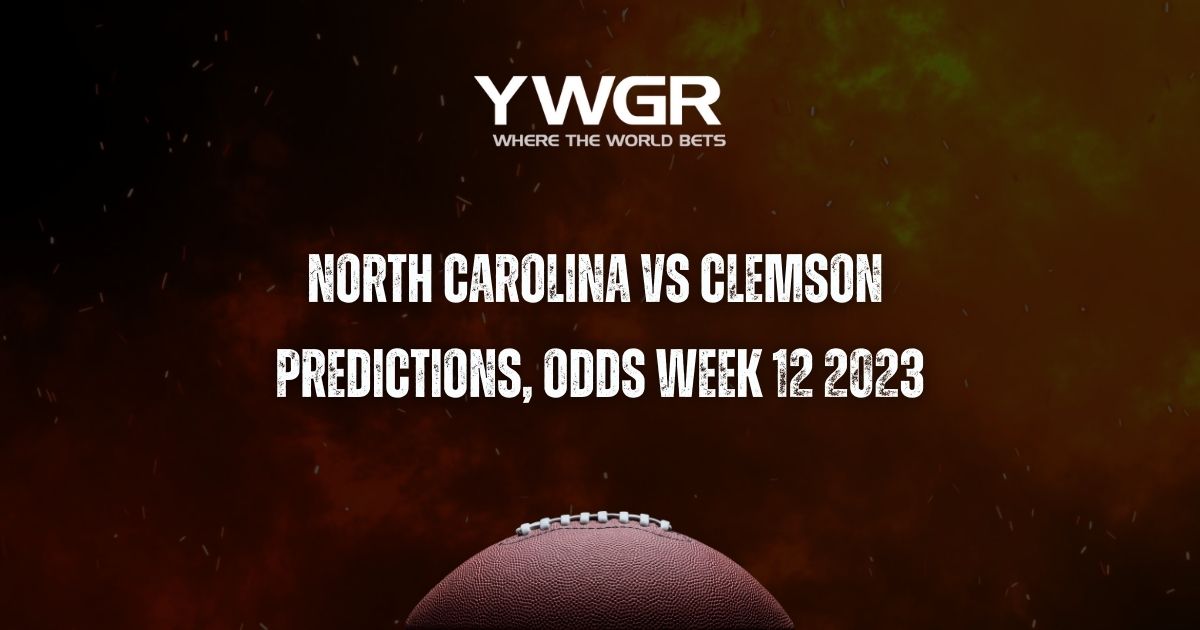 See our pick and preview for North Carolina vs. Clemson in NCAA Week 12 by continuing to read. We will predict the winner and cover the spread in this post.
Each game, the North Carolina defense allows 25.5 points to be scored.
In terms of passing attempts, Clemson's offense ranks 19th.
Preview: North Carolina vs. Clemson
The Clemson Tigers and North Carolina Tar Heels will play at Memorial Stadium (Clemson, SC) on Saturday, November 18th at 3:30 PM ET. The game's television broadcast will be provided by ESPN.The Tigers are 6.5 point favorites over their adversary from the Atlantic Coast going into the game. Will the Tar Heels be able to cause an upset? Maybe the Tigers will win at home.
A GLANCE AT THE NORTH CAROLINA VS. CLEMSON MATCHUP
Teams: Clemson Tigers vs. North Carolina Tar Heels
Where: Memorial Stadium in Clemson, SC; home of Clemson
Date: November 18, Saturday
PREVIEW: AFTER A LOSS, WHAT ARE THE GOALS FOR NORTH CAROLINA?
The North Carolina Tar Heels have an 8-2 record, which is above.500, going into this week's match. They defeated Duke (47-45) in their most recent game to improve their record. North Carolina is 5-2 against the spread this season despite being favored in every game they have played. The club has a +14.4 average scoring advantage going into the contest. The over/under record for North Carolina's games through ten games is 57.3 points on average. With a cumulative scoring average of 65.4 points over their games, OU has a 3-3-1 record.
Against Duke, the Tar Heels passed the ball 43 times for 342 yards and one touchdown in the passing game. They had three running scores in the end, averaging 4.4 yards per carry on the ground. Drake Maye, the team's quarterback, scored two touchdowns on the run in addition to one touchdown via the air in their most recent victory. Regarding passing, he gained 342 yards with a 65.1% completion percentage.
Duke was given 379 total yards by the Tar Heels defense by the end of the game. 179 yards were gained through the run defense, compared to 200 yards throughout the passing game. In terms of points allowed entering this week's match, North Carolina's defense is ranked 96th, giving up 25.5 points per contest on average. As of right now, their opponents have only managed 235.5 passing yards per game (108th). They rank 98th in college football due to their 155.6 running yards allowed on the ground.
CLEMSON PREVIEW: AFTER A LOSS, WILL CLEMSON REBOUND?
Before playing North Carolina this week, Clemson's record stands at 6-4 after their 42-21 victory against Georgia Tech. This season, Clemson has started six games as the favorite and one as the underdog. As of right now, their ATS record is 4-3. The average over/under for Clemson's games over the last ten games has been 50.7 points. These games have had an average total score of 51.5 points, giving OU a 3-4 record.
The Tigers' offensive output versus Georgia Tech included 260 rushing yards and one touchdown on the ground. Clemson scored four touchdowns and passed for 205 yards on 37 attempts during the passing assault. Quarterback Cade Klubnik finished with a quarterback rating of 110.54 in the victory over Georgia Tech, completing 23 of 34 passes for 205 yards. He also had four touchdowns at the end of the game.
Georgia Tech scored 254 yards of offense against Clemson's defense. They gave up 117 yards on the ground and 137 yards in the passing game. The Tigers' defense has allowed 109.4 running yards per game against the run so far this season, which ranks 181st. Against Clemson, opponents are averaging 162.5 passing yards, and their quarterbacks have a passer rating of 64.8. Their scoring defense ranks them 70th in the NCAA.
CLEMSON VS. NORTH CAROLINA: BETTING ODDS, TRENDS & ANALYSIS
As of right now, Clemson can brag that it defeated North Carolina 39–10 in their most recent head-to-head battle. In the passing game, neither team had much trouble moving the ball; Clemson threw for 317 yards while North Carolina only managed 273.
Clemson was originally set as 7.5 point home favorites, but the lines have since moved to -6.5. The Tigers' initial odds of -275 were not the same as the current moneyline payout of -265. The current implied win probabilities for Clemson are 73%, while North Carolina's are 33%.
BETTING TRENDS
North Carolina is 3-2 ATS against the spread while playing on the road.
Clemson has a 2-3 record against the spread in their last five home games.
In their past three games as underdogs, the Tigers are 1-2.
In their last five games as favorites, North Carolina has a 2-3 record.
YouWager.lv you can wager on the different betting types, such as moneyline, spread, and total, and you can bet either on your favorite team or an undervalued underdog, always with the best and latest wagering lines. Open your account now and receive a 100% bonus on your first cryptocurrency deposit, just click below: