Georgia vs Tennessee Predictions, Odds Week 12 2023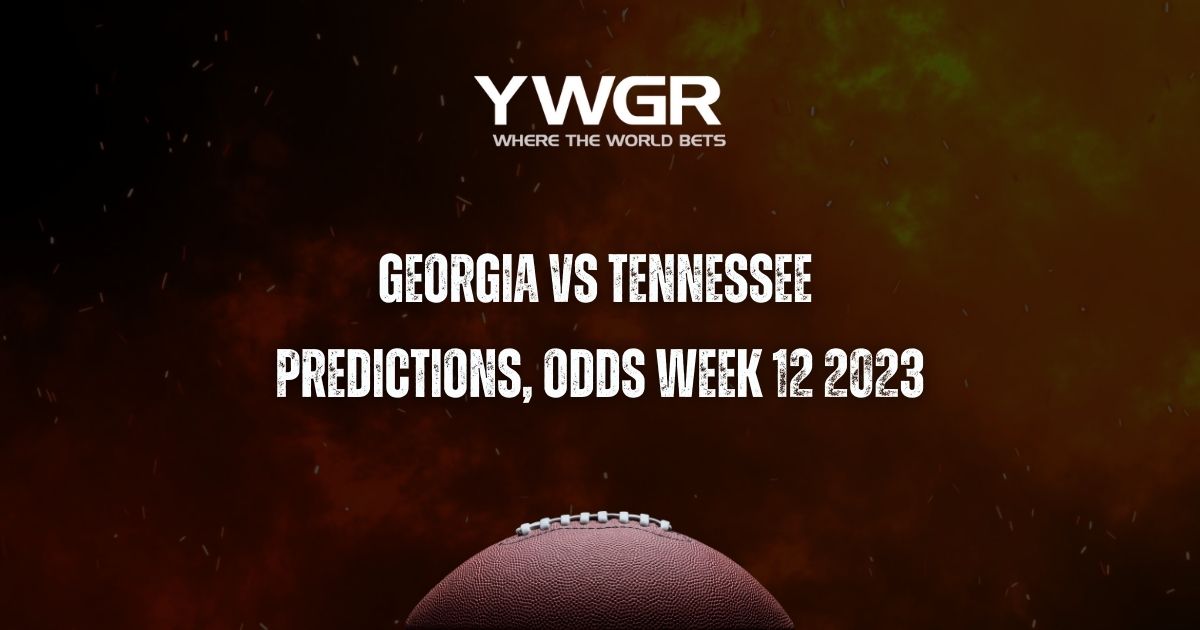 View our free preview and pick for this week 12 college football match in Knoxville, Georgia vs Tennessee. Check out our pick for the winner and spread in this NCAA preseason game.
15.6 points are surrendered by the Georgia defense each contest.
In passing yards, the Tennessee Volunteers are ranked 54th.
PREVIEW: GEORGIA VS. TENNESSEE
This week 12 NCAAF game between the Volunteers and Bulldogs takes place at Neyland Stadium at 3:30 ET. The game is planned for Saturday, November 18th; catch the action on CBS.In this SEC matchup, the Bulldogs are the away favorite by 10.5 points. Can they cover the spread and win on the road?
A GLANCE AT THE TENNESSEE VS. GEORGIA MATCHUP
Teams: Tennessee Volunteers vs. Georgia Bulldogs
Where: Neyland Stadium in Knoxville
Date: November 18, Saturday
PREVIEW: CAN GEORGIA RETURN TO ITS ORIGIN?
Prior to their next matchup with Tennessee, the Georgia Bulldogs own an undefeated 10-0 record. In their most recent match, they defeated Ole Miss 52–17. Georgia has a > overall record for the season and has started as the favorite in each of their first 13 games. This season, Georgia has amassed an over/under record of 6-3. Their games have had an average aggregate score of 56.2 points, with a usual over/under line of 52.6 points.
Against Ole Miss, the Bulldogs' passing offense consisted of 26 pass attempts for 311 yards and two touchdowns. They scored five rushing touchdowns and averaged 8.6 yards per carry in the running game. Carson Beck completed 72.0% of his passes for 306 yards against Ole Miss. He completed the game with a passer rating of 123.08 and two touchdown passes.
Georgia's defense gave up 352 yards in total against Ole Miss as they concluded the contest. Against Georgia, Ole Miss threw the ball 24 times for 173 yards. 179 run yards were allowed by the Bulldogs while they were on the ground. The defense of the Bulldogs, who rank first in quarterback rushes and have 21 sacks, takes on Tennessee. They are allowing 15.6 points per game, which is 53rd in the country, in terms of points allowed. They rank 32nd in the NCAA against the pass with 181.3 passing yards allowed per contest. The run defense of Georgia allows 108.1 running yards per game.
TENNESSEE PREVIEW: WILL TENNESSEE BE ABLE TO SECURE ANOTHER VICTORY?
Tennessee's record suffered after their most recent game versus Missouri, falling to 7-3. The Volunteers ultimately suffered a 36-7 defeat in the game. Tennessee has an ATS record of 6-3 based on its season-average score differential of +11.8. Eight games have had the Volunteers as favorites, and one has seen them as the underdog. Tennessee's season-to-date over/under record is 5-4. Their games have yielded 52.2 points on average, with an average over/under line of 55.1 points.
In their offensive game against Missouri, the Volunteers went 5/13 on third down and amassed 350 yards of total offense. They gained 267 yards and one touchdown in the passing game. The Volunteers finished with 83 running yards despite failing to score on any of their 23 rush attempts. Tennessee's loss versus Missouri included one touchdown pass from quarterback Joe Milton III. In all, he completed 64.7% of his throws for 267 yards and had an overall passer rating of 86.27.
Against Missouri, Tennessee's defense allowed 531 offensive yards. They gave up 256 yards on the ground and allowed 275 yards in the passing game. This season, the Volunteers defense has surrendered 33 sacks and leads the league in quarterback hurries. They are letting up 20.2 points per game overall (73rd). They rank 93rd in the NCAA against the pass with 227.5 passing yards allowed per contest. Tennessee allows 113.4 running yards per game against opponents.
Tennessee vs. Georgia Betting Odds, Trends, and Analysis
The last time Georgia and Tennessee faced off, Georgia prevailed 27–13. Tennessee just managed 94 yards of total offense due to Georgia's defense making things difficult for them up front. Georgia's offense finished the game with 130 rushing yards and 257 passing yards.
Georgia now leads by 10.5 points and is the road favorite. The lines don't really stray from the starting values, and the point spread has been relatively constant. Georgia has moved to -393 from its opening moneyline of -335, yielding an expected win percentage of 80%. Currently, Tennessee has a moneyline of +294 and implied odds of 25%. The moneyline for the Volunteers was first available at +275.
BETTING TRENDS
When examining Georgia's last five away games, they have a 2-3 record against the spread.
Tennessee has a 2-3 record against the spread in their last five home games.
In their last ten games as underdogs, Tennessee is 3-7.
Georgia has been favored nine times in a row, and their record against the spread is 3-6-1.
YouWager.lv you can wager on the different betting types, such as moneyline, spread, and total, and you can bet either on your favorite team or an undervalued underdog, always with the best and latest wagering lines. Open your account now and receive a 100% bonus on your first cryptocurrency deposit, just click below: