Utah vs Arizona Predictions, Odds Week 12 2023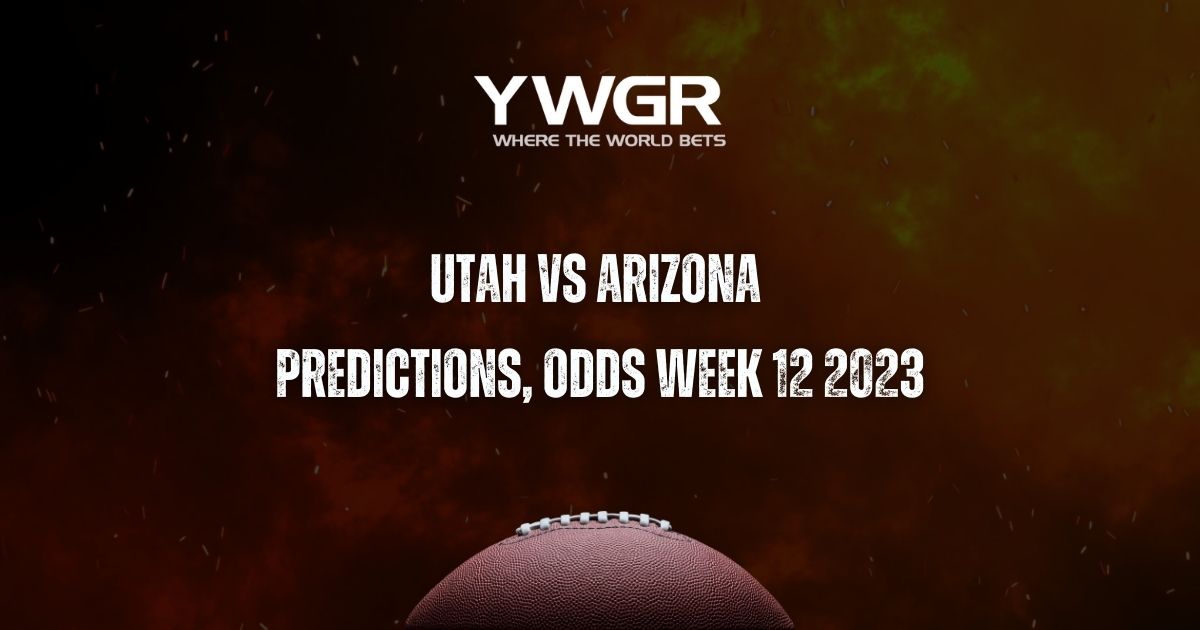 See our analysis of the Utah vs. Arizona matchup for week 12 to learn who we believe will win and cover in Tucson.
The defense of Utah is giving up 11.8 yards for each completion.
Arizona ranks ninth with a passing completion percentage of 71.9%.
PREVIEW: UTAH VS. ARIZONA
Kickoff between the Utes and the Wildcats is set for 2:30 PM ET at Arizona Stadium in Tucson, AZ. PACN will broadcast the game.The Utes are the 1 point favorite on the spread in their Pac-12 week 12 clash, according to the bookmakers. To find out how I envision this one going, continue reading.
A GLANCE AT THE UTAH VS. ARIZONA MATCHUP
Teams: Arizona Wildcats vs. Utah Utes
Where: Arizona Stadium in Tucson
Date: November 18, Saturday
UTAH PREVIEW: CAN UTAH CONTINUE TO WIN?
Utah's record suffered after their most recent game versus Washington, falling to 7-3. The final score of the game was 35-28, and the Utes were defeated. This season, Utah has started five games as the favorite and four as the underdog. As of right now, their ATS record is 6-3. Throughout the season, Utah has amassed an over/under record of 2-3. Their games have averaged 43.1 points overall, with 45.9 points serving as the normal over/under.
In their final 30 pass attempts against Washington, the Utes gained 267 yards and two touchdowns. They scored two rushing touchdowns and averaged 4.5 yards per carry in the rushing game. QB Bryson Barnes completed 30 passes against Washington in their most recent game. He finished with 267 throwing yards and a 56.7% completion percentage for the game. In addition, he had two interceptions during the defeat.
Ultimately, the Utes defense allowed Washington 459 yards in total during the game. Compared to 332 yards in the passing game, the team's run defense gave up 127 yards of rush yardage. The Utes defense leads the nation in quarterback rushes and has 30 sacks as they take on Arizona. They are 60th in the country in terms of points allowed, giving up 17.8 points per game. They rank 70th in the NCAA in passing defense, giving up 214.2 passing yards per contest. The run defense of Utah allows 85.8 running yards per game.
PREVIEW OF ARIZONA: WHAT WILL ARIZONA DO AFTER A LOSS?
Arizona's record is now 7-3 as they get ready for this week's matchup with Utah after defeating Colorado 34-31. Arizona has favored three games thus far and been the underdog in four others. An average scoring difference of +10.2 and an ATS record of 5-2 have resulted from this. All this season, Arizona has compiled an over/under record of 1-6. Their games have averaged 52 points overall, with 59.2 points serving as the normal over/under.
In terms of offense, the Wildcats amassed 211 rushing yards and two touchdowns on the ground versus Colorado. Arizona scored twice and passed for 214 yards on 35 passes during the passing assault. QB Noah Fifita completed 21 of 35 passes for 214 yards and a QB rating of 96.61 in the victory over Colorado. He also brought two scores into the contest.
Arizona's defense gave up 339 yards in total versus Colorado by the end of the game. Against Arizona, Colorado passed the ball 35 times for 262 yards. The Wildcats gave up 77 running yards while on the ground. As they get ready for this game, Arizona's defense is rated 95th in terms of passing yards allowed per game. Against the Wildcats, opponents have attempted 31.2 passing attempts on average. They are ranked 77th in college football after giving up 20.9 points per game thus far. They rank 21st in the NCAA in the rush defense category.
Betting odds, trends, and analysis for Utah vs Arizona
When Utah and Arizona last faced one other, Utah prevailed 45-20. Utah's offensive output included 306 yards of running and 151 yards from throwing. Conversely, Arizona's offense finished the game with 387 yards.
s changed from being a -1 point favorite to their current line of +1 (-115) since the lines began. At the moment, Utah is a -1 (-106) point road underdog. Wildcats had -109 moneyline odds when they first started, but they are now -111. Utah has a 53% chance of winning, while Arizona's is 53%, according to the odds.
BETTING TRENDS
Utah is 3-2 against the spread in their last five games played against the spread.
Arizona has a 2-1 record against the spread in their last three home games.
Arizona has an 8-2 ATS record in the 10 most recent instances in which they were the underdog.
Utah has a 3-2 ATS record in their previous five games as the favorite.
YouWager.lv you can wager on the different betting types, such as moneyline, spread, and total, and you can bet either on your favorite team or an undervalued underdog, always with the best and latest wagering lines. Open your account now and receive a 100% bonus on your first cryptocurrency deposit, just click below: