Oklahoma vs BYU Predictions, Odds Week 12 2023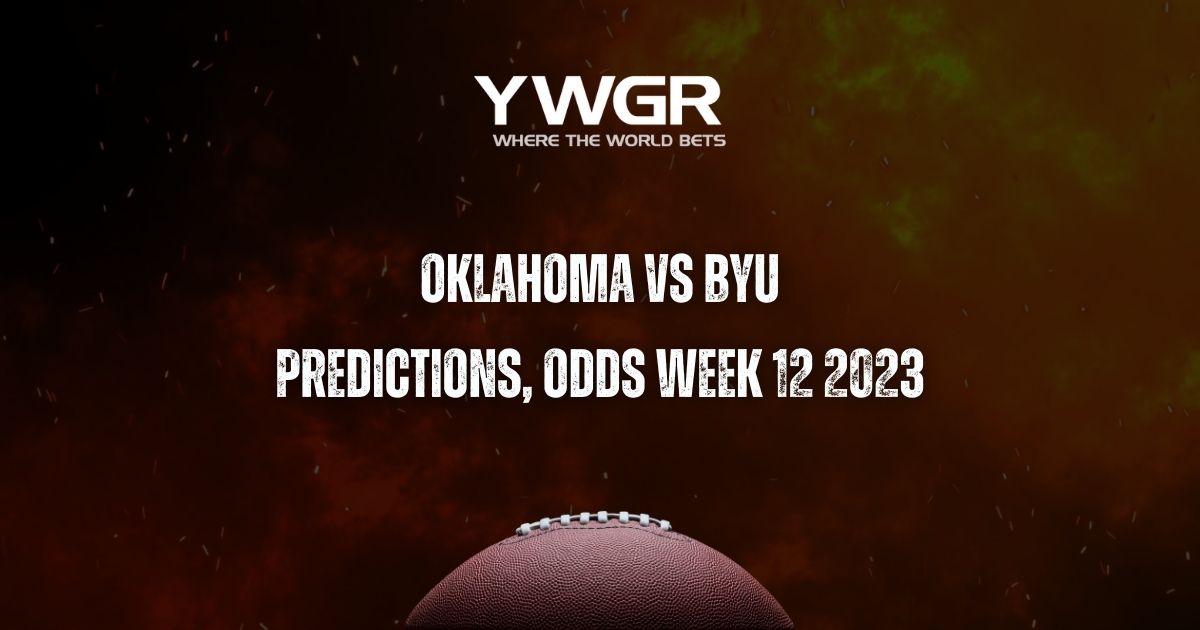 Check out our preview and pick for Oklahoma vs. BYU, which takes place in Provo on Week 12 of college football. Check out our picks for this NCAA showdown to win and cover the spread.
Seventh in passing yards are the Oklahoma Sooners.
Against BYU, opposing quarterbacks had a passing rating of 88.1.
Preview: Oklahoma vs. BYU
The Oklahoma Sooners and BYU Cougars play at LaVell Edwards Stadium in Provo, UT on Saturday, November 18, at 12:00 PM ET. ESPN will be providing televised coverage of the match.The Sooners are the 24-point favorites on the spread in this Big 12 week twelve showdown, according to the odds. Get our betting analysis for this Week 12 showdown by reading on.
A GLANCE AT THE OKLAHOMA VS. BYU MATCHUP
Teams: BYU Cougars vs. Oklahoma Sooners
Where: LaVell Edwards Stadium in Provo
Date: November 18, Saturday
OKLAHOMA PREVIEW: AFTER A LOSS, WHAT WILL HAPPEN TO OKLAHOMA?
Oklahoma improved to 8-2 with their victory against West Virginia, 59-20, as they prepared for this week's game against BYU. The Sooners have been the underdog in one game and the favorite in nine coming into this week's game against BYU. They have a 7-3 ATS record going into the match. Oklahoma's games have an average over/under line of 61 points over the past ten games. These games have had an average total score of 61.6 points, giving OU a 6-4 record.
Against West Virginia, the Sooners passed the ball 36 times for 423 yards and five touchdowns in the passing game. They had three running scores in the end, averaging 5.6 yards per carry on the ground. Dillon Gabriel rushed for three touchdowns in addition to throwing for five in Oklahoma's most recent victory. He completed 63.9% of his throws for 423 yards via the air throughout the game.
Against West Virginia, Oklahoma's defense allowed 330 yards of offense. They gave up 176 yards on the ground and 154 yards in the passing game. Oklahoma's defense, which ranks 88th in passing yards allowed per game, is ready for battle. Against the Sooners, opponents pass the ball 35.2 times on average. They are 71st in NCAA football in terms of points allowed per game (19.8). Their current ranking in the NCAA is 64th when it comes to rushing yards allowed.
Preview: Is another victory possible for BYU?
The Cougars are 5-5 going into this week's game, having dropped back to a.500 record following their most recent defeat to Iowa State. Based on spread betting lines, BYU has an ATS record of 3-5 and has been the underdog in every one of their games. Throughout the season, BYU has compiled an over/under record of 5-3. Their games have averaged 50.6 points overall, with 49 points serving as the normal over/under.
Against Iowa State, the Cougars' offensive output was 318 yards after going 1/11 on third down. They amassed 130 yards and two touchdowns in the passing game. The Cougars finished with 188 running yards despite failing to score on any of their 38 rush attempts. Quarterback Jake Retzlaff attempted 27 passes against Iowa State in their previous game. With 104 passing yards and a 37.0% completion percentage, he concluded. He also threw two interceptions in the defeat.
Iowa State was able to gain 443 yards against BYU on defense. This includes conceding 209 passing yards and 234 permitted yards on the ground. With 28.7 points allowed per game going into the contest, BYU is 118th in terms of points allowed. On average, teams have been accumulating 233.5 passing yards against them, ranking 102nd. Their 180.7 yard average against the run ranks them 136th in college football.
Betting odds, trends, and analysis for Oklahoma vs. BYU
With a 3-2 record in their previous five meetings versus Oklahoma, BYU will want to maintain momentum.
Oklahoma is 1-2 as the underdog against BYU in their previous three meetings.
There hasn't been much movement in the point spreads, with Oklahoma favored by 24 on the road against BYU, which is exactly where they opened. Oklahoma received a moneyline payout of -2500 to begin play, but that has since changed to -2728. The odds-based implied win percentages for BYU and Oklahoma are 8% and 96%, respectively.
BETTING TRENDS
In their previous five road games, Oklahoma is 3-2 against the spread.
BYU's home record against the spread in the last five games is 1-4.
BYU has a 1-4 ATS record in the five most recent instances in which they were the underdog.
In their last three games as the favorite, Oklahoma's record against the spread is 1-2.
YouWager.lv you can wager on the different betting types, such as moneyline, spread, and total, and you can bet either on your favorite team or an undervalued underdog, always with the best and latest wagering lines. Open your account now and receive a 100% bonus on your first cryptocurrency deposit, just click below: