Michigan vs Maryland Predictions, Odds Week 12 2023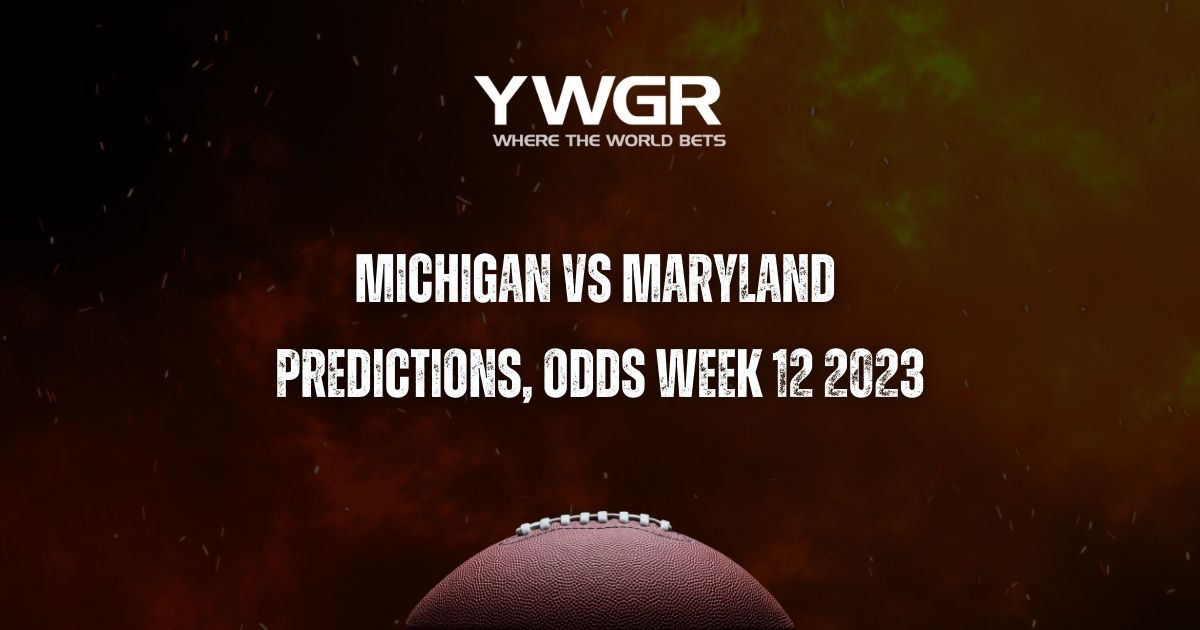 See our analysis of Michigan vs. Maryland for week 12 to learn who we believe will win and cover at College Park.
In passing yards, the Michigan Wolverines rank 58th.
The defense of Maryland allows 82nd few points per game.
PREVIEW: MICHIGAN VS. MARYLAND
At 12:00 ET on Saturday, November 18, the Maryland Terrapins and Michigan Wolverines will play a game. This week's NCAAF match between the Terrapins and Wolverines can be found on FOX.The Wolverines are the away favored by 19.5 points in this matchup between two Big Ten teams. Is Michigan able to cover the spread and win away from home?
A GLANCE AT THE MICHIGAN VS. MARYLAND MATCHUP
Teams: Maryland Terrapins vs. Michigan Wolverines
Where: SECU Stadium's College Park
Date: November 18, Saturday
A PREVIEW OF MICHIGAN: HOW WILL MICHIGAN ANSWER A LOSS?
With a 10-0 record, the Michigan Wolverines are still unbeaten as they prepare for this week's matchup with Maryland. They won 24–15 against Penn State in their most recent match. Michigan has a +31.5 scoring margin this year. They have a 5-4-1 ATS record and have always been favored in their games. Michigan's over/under record for this season is 5-5. With an average over/under line of 48.4 points, their games have yielded a cumulative total of 46.5 points.
Against Penn State, Michigan's offense finished with 291 yards of total offense, including three touchdowns on the run. They made six of thirteen throws on third down, averaging 8.6 yards per completion on their eight pass attempts. Against Penn State, J.J. McCarthy completed 7 of 8 passes for 60 yards and an 87.5% completion percentage. There was not a single passing or rushing score by the end of the game.
Michigan's defense gave up 238 yards to Penn State in all. This entails surrendering 74 passing yards and the 164 permitted yards on the ground. With 7.5 points allowed per game, Michigan's defense is ranked 35th in terms of points allowed. Teams have been averaging 134.6 passing yards per game (10th nationally) against them thus far. They rank 19th in NCAA football for rushing yards allowed on the ground (97.4).
PREVIEW: AFTER A LOSS, WHAT'S NEXT FOR MARYLAND?
Maryland defeated Nebraska 13–10, improving their record to 6-4 ahead of this week's game against Michigan. This season, Maryland has started seven games as the favorite and two as the underdog. As of right now, their ATS record is 4-5. Maryland has a 5-4 over/under record thus far this season. Their meetings have produced a cumulative average score of 51.3 points, with 50 points serving as the usual over/under.
Against Nebraska, the Terrapins' offense amassed 384 yards of total offense. Of these yards, 283 were gained through the air, but 101 were gained on the ground. They completed 6/12 on third down and completed one touchdown pass. Taulia Tagovailoa, the quarterback, completed 27 of 40 passes for 283 yards and a QB rating of 85.73 in the victory over Nebraska. He also had one touchdown to the game's total.
The Terrapins defense played a great game against Nebraska, allowing just 269 yards and 10 points. Nebraska completed its passing game with 86 yards. Maryland surrendered 4.6 yards per attempt up front. The Terrapins' defense has allowed 122.7 rushing yards per game this season, which ranks 165th in the nation. Against Maryland, opponents average 218.2 passing yards, and its quarterbacks have an 83.5 passer rating. They are ranked 67th in terms of NCAA points permitted.
MICHIGAN VS. MARYLAND: ANALYSIS, TRENDS, AND BETTING ODDS
In this week's game, Maryland will be seeking retribution after Michigan prevailed 34-27 in their most recent meeting between the two teams. Michigan had the advantage offensively, accumulating 463 yards to Maryland's 397. In the end, Michigan's offense gained 220 passing yards and 243 running yards.
Michigan started out as -21 point favorites, but since the odds were first established, they have dropped to -19.5 (-112). On their home field, Maryland is currently +19.5 (-110) point underdog. According to the moneyline odds as of right now, Maryland has a 12% probability of winning and a moneyline payout of +745. Conversely, the Wolverines have a moneyline of -1268 and an assumed win probability of 93%.
BETTING TRENDS
Michigan is 9-1 against the spread in their last ten games played against the spread.
Maryland's record in their previous five home games against the spread is 3-2.
In their past three games as underdogs, Maryland has a 1-2 record.
Underdog Michigan has a 5-4-1 record against the spread in its previous 10 games.
YouWager.lv you can wager on the different betting types, such as moneyline, spread, and total, and you can bet either on your favorite team or an undervalued underdog, always with the best and latest wagering lines. Open your account now and receive a 100% bonus on your first cryptocurrency deposit, just click below: