Oklahoma State vs Houston Predictions, Odds Week 12 2023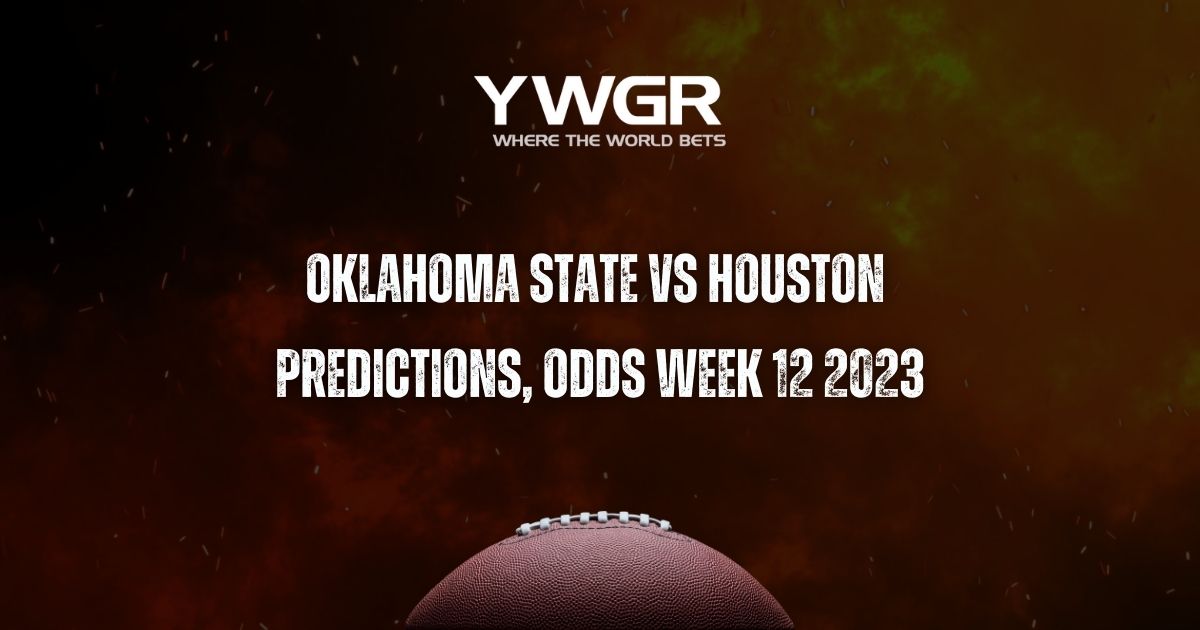 View our complimentary Oklahoma State vs. Houston prediction and preview for this week 12 college football match in Houston. Check out our pick for the winner and spread in this NCAA preseason game.
Each game, Oklahoma State's defense allows 26.4 points to be scored.
The average throwing yardage for Houston is 247 per game.
Preview: Oklahoma State vs. Houston
The Cowboys vs. Cougars Week 12 CFB game will stream on ESPN2 at 4:00 on November 18, 23. Houston's TDECU Stadium will host the game (TX).The Cowboys are the 7-point favorite to win going into the contest. For my opinion of this matchup, continue reading. I have handicapped this game for you.
A GLANCE AT THE OKLAHOMA STATE VS. HOUSTON MATCHUP
Teams: Houston Cougars vs. Oklahoma State Cowboys
Where: TDECU Stadium in Houston
Date: November 18, Saturday
PREVIEW OF OKLAHOMA STATE: WILL THIS TEAM WIN AGAIN?
After their recent game versus UCF, Oklahoma State's record suffered, falling to 7-3. The Cowboys ultimately suffered a 45-3 defeat in the game. Oklahoma State has a 6-3 record this season against the spread. Out of five games where they have been the underdog, the Cowboys have been favored four times. Throughout the season, Oklahoma State has amassed an over/under record of 4-5. Their games have averaged 54.3 points overall, with 52.6 points serving as the normal over/under.
The Cowboys' offensive culminated in 282 yards of total offense and 15 first downs. They threw the ball 39 times for 225 yards through the air. On 24 carries, their running game yielded 57 yards. Quarterback Alan Bowman attempted 36 passes against UCF in their previous game. With 225 throwing yards at the end of the game, he completed 52.8% of his throws. He also had three interceptions in the defeat.
Oklahoma State gave up 592 yards in total versus UCF on defense. This entails surrendering 299 throwing yards and 293 permitted on-the-ground yards. Oklahoma State's defense gives up 26.4 points per game, ranking them 100th in terms of points allowed. Teams have been averaging 255.4 passing yards per game (ranked 141st nationally) against them thus far. They are giving up 182.7 running yards on the ground, which puts them 139th in college football.
HOUSTON PREVIEW: WILL HOUSTON GO ON TO WIN AGAIN?
Houston, who has a 4-6 record overall, is ready for this match. Regretfully, they were defeated 24–14 by Cincinnati in their most recent game. This season, Houston has started six games as the underdog and one as the favorite. As of right now, their ATS record is 3-4. The over/under for Houston's games this season has been 56.5 points on average. The Cougars enter this week's game with an over/under record of 2–5.
In their offensive game against Cincinnati, the Cougars went 6/13 on third down and amassed 241 yards of total offense. They gained 102 yards and two scores in the passing game. The Cougars finished with 139 running yards despite failing to score on any of their 23 rush attempts. Donovan Smith, the quarterback, completed 16 of 28 passes for 102 yards and a QB rating of 49.11 in the defeat to Cincinnati. He also brought two scores into the contest.
Houston's defense gave up 370 yards to Cincinnati in all. This entails surrendering 164 passing yards and the permitted 206 ground yards. Houston is ranked 71st in terms of passing yards allowed per game by its defense. When facing the Cougars, opponents attempt 31.4 passes on average. They rank 127th in college football due to their 30.8 PPG against. In the NCAA, their run defense is ranked 114th.
Texas vs. Oklahoma betting odds, trends, and analysis
Houston has won four of the last five games in their head-to-head series against these opponents.
Oklahoma State has lost its last three games versus Houston as the underdog.
So far, the point spreads have been quite consistent. Right now, Oklahoma State is the favorite, paying out -112 and spread of -7 points, while Houston is at +7 (-109). Houston now has a 30% implied victory probability and a moneyline payout of +228 in the context of the moneyline odds. Conversely, the Cowboys have a moneyline of -290 and an assumed win probability of 74%.
BETTING TRENDS
In their last three games against the spread, Oklahoma State has a 1-2 record.
Houston's record in their last five home games against the spread is 2-3.
Houston has a 2-1 ATS record as an underdog in their last three games.
In their last three games as the favorite, Oklahoma State has a 1-2 record against the spread.
YouWager.lv you can wager on the different betting types, such as moneyline, spread, and total, and you can bet either on your favorite team or an undervalued underdog, always with the best and latest wagering lines. Open your account now and receive a 100% bonus on your first cryptocurrency deposit, just click below: