Minnesota vs Ohio State Predictions, Odds Week 12 2023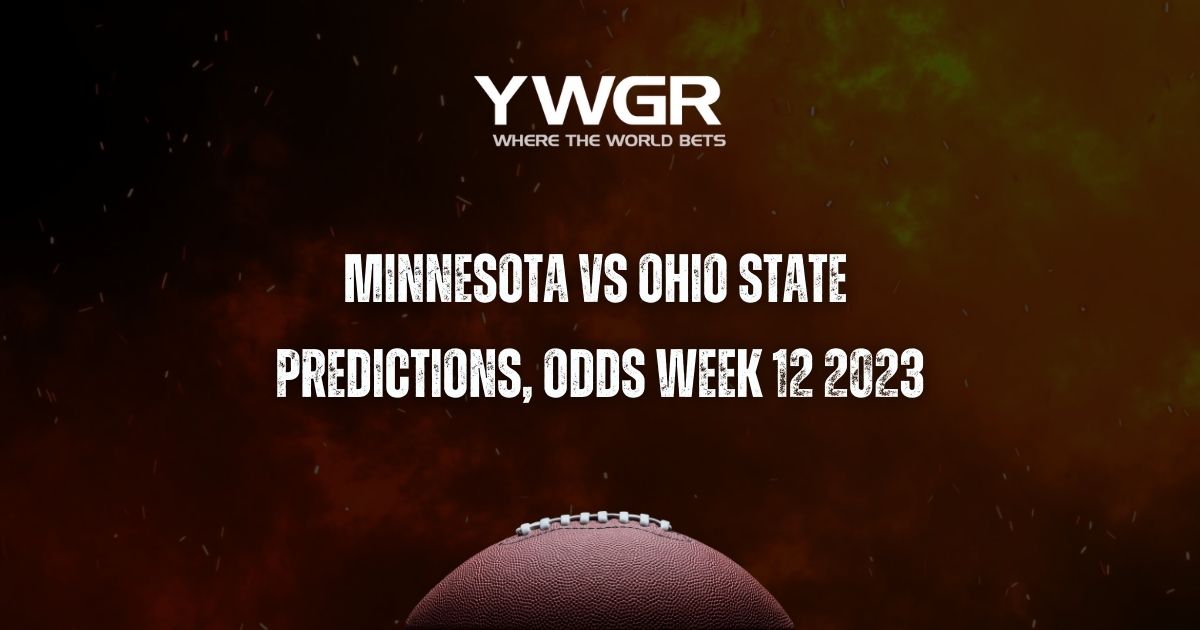 See who we predict to win and cover in Columbus in our week 12 college football pick and preview for Minnesota vs Ohio State by reading on for betting odds and analysis.
Its passing attempts rank 92nd for Minnesota's offensive.
The defense of Ohio State is giving up 9.5 yards per completion.
PREVIEW: MINNESOTA VS. OHIO STATE
The Golden Gophers and Buckeyes play a week 12 NCAAF game at Ohio Stadium at 4:00 ET. The game, which is being played on Saturday, November 18, will be televised by BTN.The Buckeyes are the 27.5-point home favorites in this Big Ten showdown for week twelve. When facing the Golden Gophers, are they sure to win? Find out by reading on.
A GLANCE AT THE MINNESOTA VS. OHIO STATE MATCHUP
Teams: Ohio State Buckeyes vs. Minnesota Golden Gophers
Where: Ohio Stadium in Columbus
Date: November 18, Saturday
MINNESOTA PREVIEW: CAN MINNESOTA MAINTAIN THE CURRENT SUMMARY?
The Golden Gophers enter this week's game with a 5-5 record after their most recent loss to Purdue dropped them back to.500. This season, Minnesota has started six games as the favorite and three as the underdog. As of right now, their ATS record is 3-6. After ten games this season, Minnesota's over/under record stands at 4-5. Their combined games have yielded 48.3 points on average.
The Golden Gophers' offense amassed 407 yards of total offense against Purdue, with 115 of those yards coming from the ground and 292 through the air. They had a 4/14 third-down efficiency and three passing touchdowns. In Minnesota's defeat versus Purdue, quarterback Athan Kaliakmanis passed for three touchdowns. In all, he completed 42.9% of his throws for 292 yards and had a passer rating of 90.58.
Against Purdue, Minnesota's defense allowed 604 offensive yards. They gave up 353 yards on the ground and 251 yards in the passing game. As they go ready for this game, Minnesota's defense is rated 110th in terms of passing yards allowed per contest. The Golden Gophers have allowed opponents to attempt 29.9 passing attempts on average. They are ranked 97th in college football after giving up 25.8 points per game thus far. They rank 63rd in the NCAA's rush defense category.
OHIO STATE PREVIEW: AFTER A LOSS, HOW WILL OHIO STATE RETURN?
Ohio State is still undefeated at 10-0 going into their tenth game of the year, and they just defeated the Michigan State Spartans 38-3. Ohio State has a > overall record for the season and has started as the favorite in each of their first 13 games. Ohio State has an over/under record of 2–7 this season. Their games have yielded a combined total of 43.2 points on average, with 52.8 points being the median over/under line.
The Buckeyes ran for 177 rushing yards and scored two touchdowns on the ground against Michigan State. Ohio State scored three goals and threw the ball 34 times for 353 yards in the passing attack. Kyle McCord completed 77.4% of his passes for 335 yards against Michigan State. He completed the game with a passer rating of 143.88 and three touchdown passes.
The defense of the Buckeyes was outstanding against Michigan State, allowing just 3 scores on 182 yards allowed. The passing game for Michigan State totaled 88 yards. Ohio State conceded 3.2 yards per attempt right away. First quarterback rushes and 19 sacks will be on the Buckeyes defense when they hit the field. They rank 43rd in terms of points allowed per game, with 9.9 points. With 149.9 passing yards allowed per game, the squad ranks 13th in the NCAA against the pass. Ohio State's run defense also allows 112.4 rushing yards per game.
Betting odds, trends, and analysis for Minnesota vs. Ohio State
With Minnesota having won the previous three meetings, Ohio State enters this week's game hoping to snap the losing streak in their head-to-head series.
Ohio State is 1-2 as the underdog against Minnesota in their past three meetings.
Ohio State was originally set as home favorites by 28.5 points, but the lines have been moved to -27.5. Minnesota now has a 6% implied victory probability and a moneyline payout of +1600 in the context of the moneyline odds. Conversely, the Buckeyes have a moneyline of -5750 and an assumed win percentage of 98%.
BETTING TRENDS
Minnesota has an ATS record of 4-6 against the spread while playing away.
ATS at home for Ohio State (last five games) is 1-2-2.
In their last three games as an underdog, Ohio State has a 2-1 ATS record.
In their last five games as favorites, Minnesota is 2-3.
YouWager.lv you can wager on the different betting types, such as moneyline, spread, and total, and you can bet either on your favorite team or an undervalued underdog, always with the best and latest wagering lines. Open your account now and receive a 100% bonus on your first cryptocurrency deposit, just click below: