Oregon vs Arizona State Predictions, Odds Week 12 2023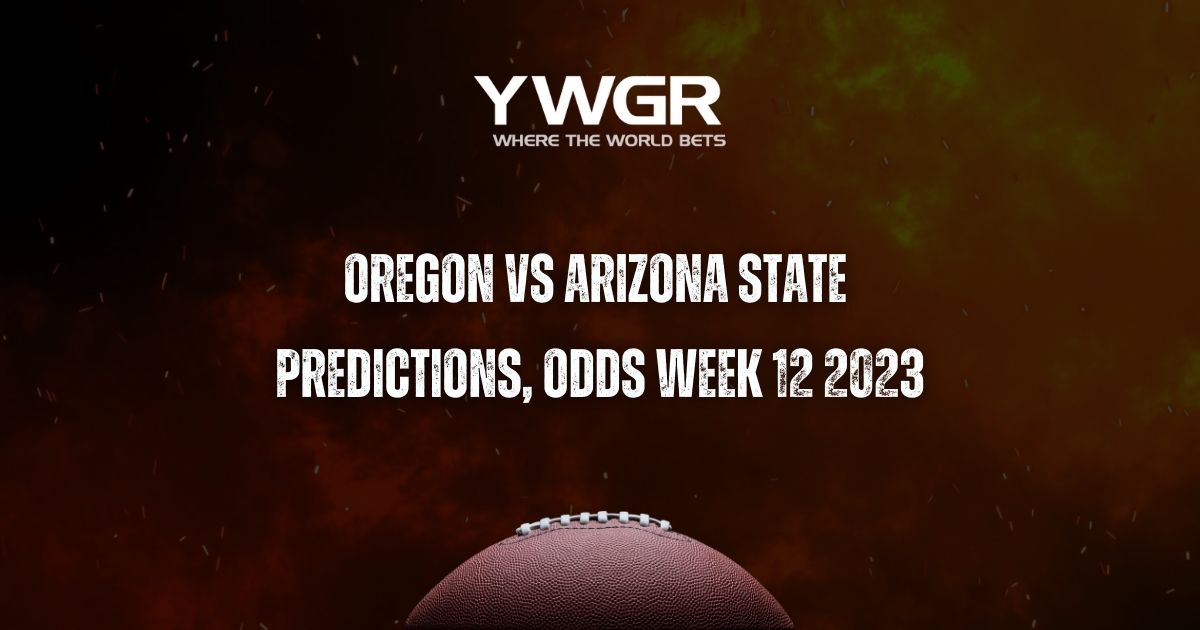 See who we predict to win and cover in Tempe in our week 12 college football pick and preview for Oregon vs Arizona State by reading on for betting odds and analysis.
In a game, Oregon averages 338.7 passing yards.
Against Arizona State, the passer rating of opposing quarterbacks is 94.3.
PREVIEW: OREGON VS. ARIZONA STATE
At Mountain America Stadium, the Ducks and Sun Devils will kick off their Week 12 game at 4:00 ET. The broadcast coverage of this ORE vs. ARZST brawl will air on FOX.In this matchup between two Pac-12 teams, the Ducks are the away favorite by 23 points. Is it possible for Oregon to win away from home and cover the spread?
A SNEAK PEEK AT OREGON VS. ARIZONA STATE MATCHUP
Teams: Arizona State Sun Devils vs. Oregon Ducks
Where: Mountain America Stadium in Tempe
Date: November 18, Saturday
OREGON PREVIEW: WILL OREGON BE ABLE TO RESUME?
Oregon is now 9-1 as they get ready for this week's matchup with Arizona State after defeating USC 36-27. Oregon has a 6-2-1 record this season against the spread. Eight games have had the Ducks as favorites compared to only one when they were the underdog. Oregon has an over/under record of 3-6 this season. Their games have yielded a cumulative total of 63.4 points on average, with a usual over/under line of 64.4 points.
Against USC, the Ducks completed 32 pass attempts, gaining 412 yards and four touchdowns. They gained one rushing touchdown and averaged 5.5 yards per carry in the rushing game. Bo Nix threw for 412 yards and a passing rating of 155.58 against USC. With 31 passing attempts at the end of the game, he completed 74.2% of them.
Against USC, Oregon's defense allowed 379 offensive yards. They gave up 73 yards on the ground and allowed 306 yards in the passing game. The Oregon defense ranks 58th in the nation in terms of points allowed, surrendering 17.1 points per game, going into their game against Arizona State. As of right now, their opponents have averaged 214.7 passing yards per game, which ranks 72nd in the nation. Their 16th-ranked defense allows 94.7 running yards per game against the run.
PREVIEW OF ARIZONA STATE: CAN THE STATE GET BACK ON TRACK?
Arizona State, with a 3–7 overall record, is prepared to play. In their most recent match, they defeated UCLA 17–7 in the end. Arizona State has an overall record of 5-3-1 when it comes to spread betting, having been the underdog in every one of their games. Arizona State has scored 45.1 points per game on average during its last 10 games. As a result, the Sun Devils have an over/under record of 3-6.
With 39 pass attempts in the end, the Sun Devils gained 176 yards and one touchdown against UCLA. They produced one rushing touchdown with an average of 4.0 yards per carry in the rushing department. Trenton Bourguet completed 19 of 34 passes for 149 yards in the victory over UCLA. He did neither rush or throw for a touchdown, and his overall passer rating was 54.66.
The Sun Devils' defense played a great game against UCLA, allowing only 300 yards and 7 points. UCLA completed the passing game with 117 yards. Arizona State conceded 4.9 yards per attempt right away. With 25 sacks and a top ranking in quarterback rushes going into this week's game, the Sun Devils defense is formidable. They have allowed 27.4 points per game thus far (108th). They are 75th in the US in terms of pass defense, allowing 217 passing yards per contest. Furthermore, Arizona State's defense is giving up 137.2 running yards per game when it comes to stopping the run.
Arizona State vs Oregon betting odds, trends, and analysis
Oregon has lost all three of their games as the favorite against Arizona State.
Arizona State has covered the spread in two of the last three meetings between the teams. Arizona State is 2-0-1 ATS in their past three games as hosts of Oregon.
Oregon has changed from being -22.5 point favorites to their current line of -23 (-112) since the odds were first established. On the other side, Arizona State is now the home underdog by +23 (-108) points. Oregon moved from their opening moneyline of -2800 to -4076, which gives them an expected win probability of 98%. With a moneyline of +1301 and implied odds of 7%, Arizona State is now favored. The starting moneyline for the Sun Devils was +1000.
BETTING TRENDS
Oregon has a 6-3-1 ATS record against the spread while playing on the road.
Arizona State has a 6-4 record (last 10) against the spread at home.
In their last five games as an underdog, Arizona State has a 3-1-1 ATS record.
In their last five games as favorites, Oregon is 3-2.
YouWager.lv you can wager on the different betting types, such as moneyline, spread, and total, and you can bet either on your favorite team or an undervalued underdog, always with the best and latest wagering lines. Open your account now and receive a 100% bonus on your first cryptocurrency deposit, just click below: