Tulane vs Florida Atlantic Predictions, Odds Week 12 2023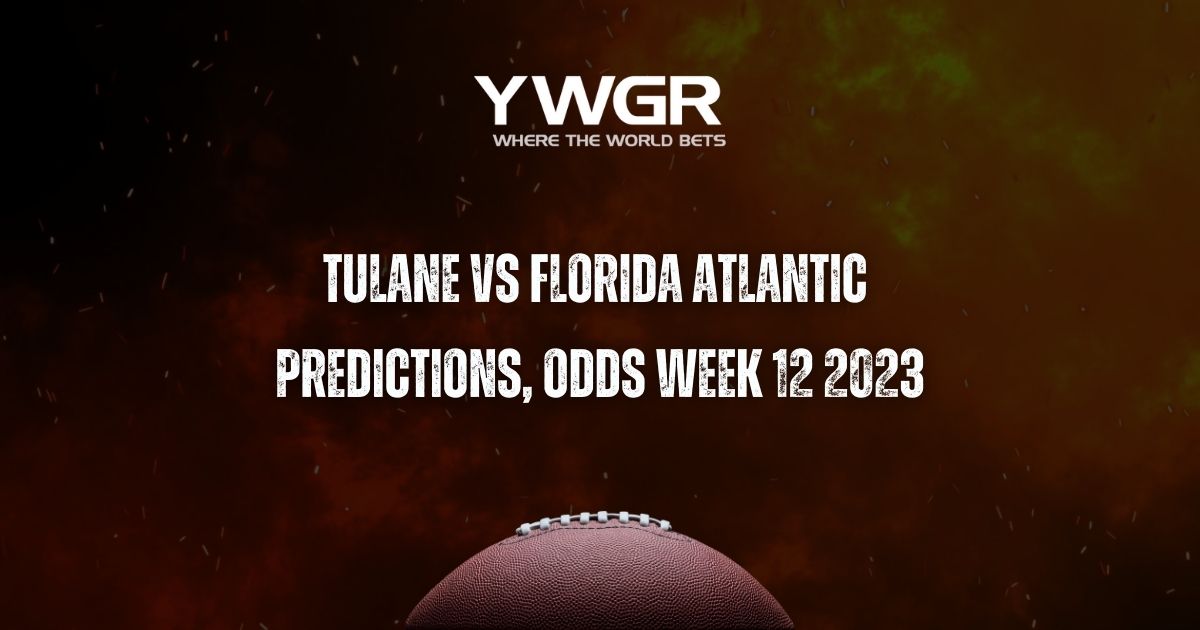 Find out who we think will win and cover the spread in this week 12 NCAAF preview of Tulane vs Florida Atlantic.
The defense of Tulane is giving up 11.2 yards per completion.
In terms of throwing yards, the Florida Atlantic Owls rank 65th.
Florida Atlantic vs. Tulane Preview
The Green Wave and Owls square off in an NCAAF week 12 showdown at FAU Stadium at 12:00 ET. On Saturday, November 18, all of the action will be televised on ESPN+.The Green Wave are 9.5 point road favorites in this week's American Athletic Conference matchup. Can they cover the spread and win on the road?
A Quick Look at Tulane vs. Florida Atlantic
Teams: Florida Atlantic Owls vs. Tulane Green Wave
Where: FAU Stadium in Boca Raton
Date: November 18, Saturday
Preview of Tulane: Will Tulane Be Able to Restart?
Tulane improved to 9-1 with their victory against Tulsa, 24-22, as they got ready for this week's matchup with Florida Atlantic. Tulane has favored eight games thus far and been the underdog in one. An average scoring difference of +8.6 and an ATS record of 3-6 have resulted from this. Tulane's matchups have an average over/under line of 54.7 points over the course of ten games. With an average total score of 47.8 points across these games, OU has a 2–7 record.
Against Tulsa, the Green Wave's passing game consisted of 29 pass attempts for 194 yards and one touchdown. They scored one rushing touchdown and averaged 5.2 yards per carry in the running game. Quarterback Michael Pratt finished with a quarterback rating of 73.06 in the victory over Tulsa, completing 16 of 29 passes for 194 yards. In addition, he scored one touchdown during the contest.
Against Tulsa, Tulane's defense gave up 486 yards in total by the end of the game. Against Tulane, Tulsa tossed the ball 41 times for a 355 lead. The Green Wave surrendered 131 running yards while they were on the ground. With 19.6 points allowed per game, Tulane is ranked 69th going into the match. On average, teams have been accumulating 250.6 passing yards against them, ranking 138th. Their 84.2 yard average against the run ranks them ninth in college football.
Florida Atlantic Preview: Is There Any Chance for Florida Atlantic to Win Again?
Florida Atlantic, that has a 4-6 overall record, is ready for this match. Unfortunately, they were defeated by East Carolina, 22–7, in their most recent game. This season, Florida Atlantic has started six games as the favorite and four as the underdog. As of right now, their ATS record is 3-6-1. The over/under line in Florida Atlantic's matches over the last ten games has averaged 53.9 points. With an average total score of 51.4 points from these games, OU has a 5-5 record.
With one rushing touchdown and twenty-one running yards on thirty-one tries, the Owls' offense concluded the game against East Carolina. Despite tossing the ball 36 times, the team's passing offense managed to end with 151 without scoring any runs. Daniel Richardson did not throw a touchdown pass against East Carolina, but he did throw for 151 yards against them. With a completion percentage of 66.7%, he had an overall passer rating of 63.54.
Against East Carolina, Florida Atlantic's defense allowed 237 yards of offensive production. They gave up 81 yards on the ground and 156 yards in the passing game. This season, the Owls' defense has allowed 149.8 running yards per game, ranking 126th. When playing against Florida Atlantic, opponents are averaging 247.1 passing yards, and their quarterbacks have an 87.4 passer rating. They presently hold the 52nd position in the NCAA standings for points allowed.
Florida Atlantic vs. Tulane Betting Trends & Analysis
Florida Atlantic enters the match hoping to continue their winning streak against Florida Atlantic, which stands at 2-1.
In their previous three games against Florida Atlantic, Tulane has gone 1-2 as the underdog.
Thus far, there have been minimal alterations to the point spreads. With a current payout of -112, Tulane is favored by 9.5, while Florida Atlantic is at +9.5 (-110). Tulane has moved to -365 from its opening moneyline of -265, yielding an estimated win percentage of 78%. With a moneyline of +280, Florida Atlantic now has implied odds of 26%. At first, the Owls' moneyline opened at +210.
Major Trends in Betting
Tulane has a 1-2 record away from home against the spread.
In their last three home games, Florida Atlantic has a 2-1 record against the spread.
Florida Atlantic has a 3-2 overall record while playing as an underdog in their last five games.
When Tulane was favored the last three occasions, their ATS record was 0-3.
YouWager.lv you can wager on the different betting types, such as moneyline, spread, and total, and you can bet either on your favorite team or an undervalued underdog, always with the best and latest wagering lines. Open your account now and receive a 100% bonus on your first cryptocurrency deposit, just click below: