UNLV vs Air Force Predictions, Odds Week 12 2023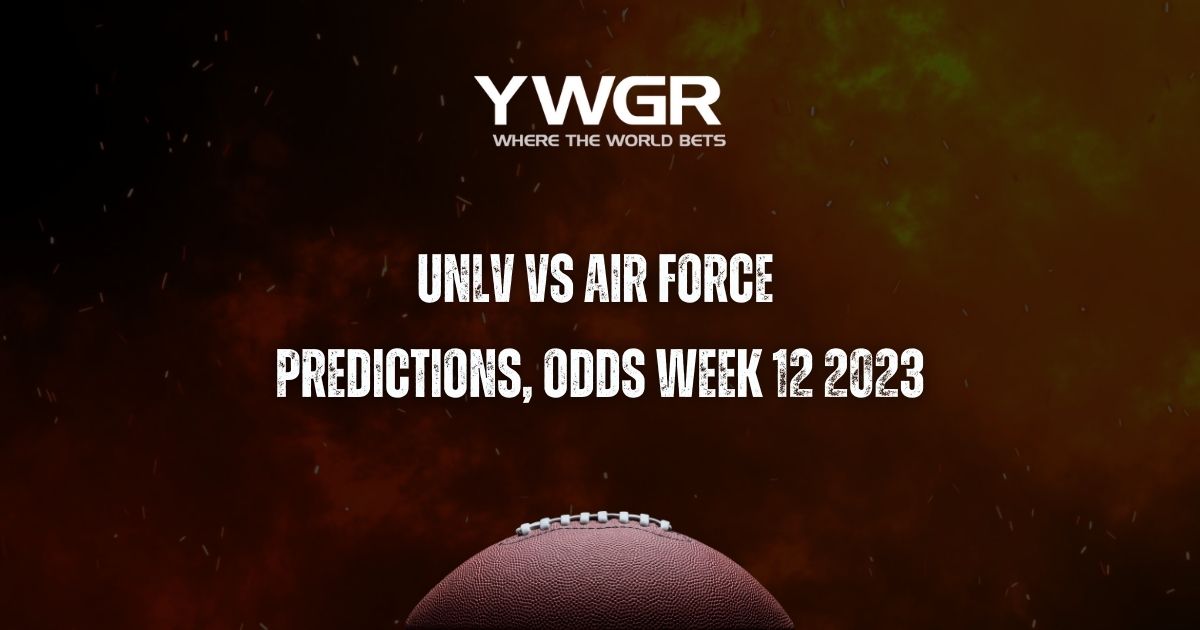 See who is favored to win and cover the spread in this NCAAF week 12 UNLV vs Air Force preview.
In terms of points allowed, UNLV's defense ranks 91st.
The Air Force ranks 101st with a passing completion percentage of 56.2%.
Preview: UNLV vs. Air Force
Falcon Stadium will host the start for the Rebels and Falcons' Week 12 game at 3:30 ET. The television coverage of this UNLV vs. AIRF matchup will be provided by CBSS.Air Force is the 3 point favorite to win this Mountain West battle going into it. Does this imply that their victory is certain? See what I think about this showdown by reading on.
An Overview of the UNLV vs. Air Force Matchup
Teams: Air Force Falcons vs. UNLV Rebels
Where: Falcon Stadium's USAF Academy
Date: November 18, Saturday
UNLV Preview: What Will Happen If UNLV Loses?
Before this week's game against Air Force, the UNLV Rebels had an 8-2 record, which is above.500. This follows their 34-14 victory over Wyoming in their most recent game. This season, UNLV has started five games as the favorite and four as the underdog. As of right now, their ATS record is 8-1. UNLV's average over/under line through ten games is 55.2 points. With an average score of 60.7 points over their games, OU has a 5-4 record.
In their final 24 throw attempts against Wyoming, the Rebels gained 232 yards and one touchdown. They scored three rushing touchdowns and averaged 3.7 yards per carry in the rushing game. Quarterback Jayden Maiava gained 40 rushing yards and two rushing touchdowns in the victory over Wyoming. He completed 70.8% of his passes for 232 yards in the passing game, good for a passer rating of 115.28.
Against Wyoming, UNLV's defense gave up 297 yards in total by the end of the game. Against UNLV, Wyoming passed the ball 28 times for 176 yards. During their time on the ground, the Rebels allowed 121 rush yards. As they get ready for this game, UNLV's defense is rated 58th in terms of passing yards allowed per game. Against the Rebels, opponents have attempted 32 passes on average. They are 91st in college football after giving up 24.3 points per game thus far. They rank 48th in the NCAA for rush defense.
Air Force Preview: Will Their Victory Be Completed?
As they take on UNLV, the Air Force Falcons have an above.500 record of 8-2 even though they lost their most recent game 27-13 to Hawaii. Air Force has an ATS record of 4-3-1 going into this week's game. They have an average scoring margin of +12.8 points per game thus far, and they have been favored in all of their games. Air Force has a 4-4 over/under record thus far this season. Their matches have produced a total score of 44.2 points on average, with 42 points often being the over/under line.
Against Hawaii, Air Force's offense managed 315 yards of total offense and one touchdown on the ground. They were 7/14 on third down, averaging 38.0 yards per completion on their nine pass attempts. Jensen Jones completed 3 of 7 passes for 114 yards in the defeat against Hawaii. With a 50.3 passer rating overall, he did neither rush or throw for a touchdown.
The Air Force defense allowed Hawaii to score 298 yards of offense. They gave up 122 yards on the ground and 176 yards in the passing game. In terms of points allowed entering this week's match, the Air Force defense is ranked 54th, allowing 15.7 points per contest on average. As of right now, opponents have averaged 159.3 passing yards per game against them, ranking them 17th. They rank 12th in college football due to their 87.8 running yards allowed on the ground.
Air Force vs. UNLV betting odds, trends, and analysis
Air Force will try to maintain its winning streak over UNLV, which ended last year at 42-7. With 420 yards of total offense, the Air Force attack scored 42 points in a huge performance. The Falcons had 26 first downs during the game and were 4/9 on third downs. They allowed 61 yards of rushes and 118 passing yards on defense.
At first, Air Force was 3.5 point home favorites. The lines are currently at Air Force -3 after shifting. The Falcons' starting odds were -167, but as of right now, their money line payout is -158. As of right now, UNLV has an indicated win probability of 44% and Air Force has an implied win probability of 61%.
Major Trends in Betting
UNLV is 3-0 against the spread in their last three games played against the spread.
In their last ten home games, Air Force has a 5-4-1 record against the spread.
In their past three games as underdogs, the Falcons have a 2-1 record.
UNLV has been favored nine times in a row, and their record against the spread is 6-4.
YouWager.lv you can wager on the different betting types, such as moneyline, spread, and total, and you can bet either on your favorite team or an undervalued underdog, always with the best and latest wagering lines. Open your account now and receive a 100% bonus on your first cryptocurrency deposit, just click below: