Louisiana vs Troy Predictions, Odds Week 12 2023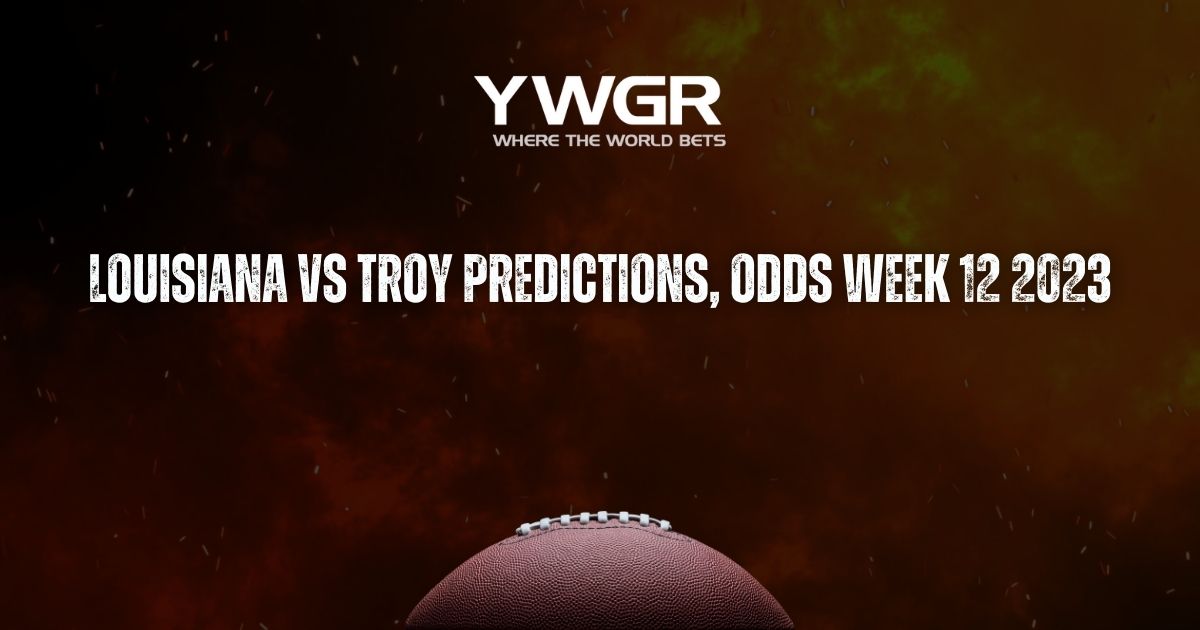 See our analysis of who will win and cover in Troy by reading our week 12 Louisiana vs. Troy selection and preview.
Each game, Louisiana is averaging 213.4 passing yards.
Troy's defense gives up the fewest points (55th).
Preview: Louisiana vs. Troy
On Saturday, November 18, the Ragin Cajuns travel to play the Trojans at 3:30 ET. This Week 12 CFB game will be played at Troy's Veterans Memorial Stadium (AL), and NFLN will televise it.In this Sun Belt matchup, the Trojans are listed as 15.5 point favorites at home. Will they be able to cover the spread and win at home?
An Overview of the Louisiana vs. Troy Matchup
Teams: Troy Trojans vs. Louisiana Ragin Cajuns
Where: Veterans Memorial Stadium in Troy, Alabama
Date: November 18, Saturday
Louisiana Prediction: Will Louisiana Win Again?
The Ragin Cajuns are 5-5 going into this week's game, having dropped back to a.500 record following their most recent defeat to Southern Miss. Louisiana has favored five games thus far and been the underdog in three others. An average scoring difference of +2.5 and an ATS record of 3-5 have resulted from this. During this season, Louisiana has compiled a 4-4 over/under record. The standard over/under line has been 56.9 points, and the aggregate average score for their games has been 59.7 points.
Against Southern Miss, the Ragin Cajuns' passing offense consisted of 38 pass attempts for 260 yards and two touchdowns. They scored one rushing touchdown and averaged 4.8 yards per carry in the running game. Chandler Fields, the quarterback, completed 24 of 38 passes for 260 yards and a QB rating of 100.77 in the loss to Southern Miss. He also brought two scores into the contest.
In the end, Louisiana's defense gave up 392 yards in total against Southern Miss. Against Louisiana, Southern Miss passed the ball 26 times for 161 yards. The Ragin Cajuns surrendered 231 running yards while they were on the ground. This season, the Ragin Cajuns defense ranks 99th in terms of rushing yards allowed per game with 163.3. Against Louisiana, opponents are averaging 225.4 passing yards, and their quarterbacks have a 97.2 passer rating. They are presently ranked 32nd in the NCAA for points permitted.
Troy Prediction: Will Troy Win Back After Losing?
Troy defeated UL Monroe 45–14, improving their record to 8–2 ahead of this week's game against Louisiana. Troy has an ATS record of 6-3 based on their season-average scoring differential of +13.1. Seven times, the Trojans have been the favorite, and twice, they have been the underdog. Troy's over/under record for this season is 2-7. Their aggregate results from games have yielded an average of 44.9 points, with an average over/under line of 48.9 points.
Against UL Monroe, the Trojans' passing game consisted of 46 completion attempts for 264 yards and five touchdowns. They scored one rushing touchdown and averaged 2.8 yards per carry in the running game. Troy defeated UL Monroe with four touchdowns from quarterback Gunnar Watson. With 219 yards and 61.5% of his throws completed, he finished with a passer rating of 110.95 overall.
The Trojans' defense allowed UL Monroe a total of 309 yards in the game's conclusion. Compared to 243 yards in the passing game, the team's run defense gave up 66 yards of rush yardage. With 15.9 points per game allowed, Troy's defense is ranked 55th going into this week's matchup. Teams are now averaging 194.9 passing yards per game against the unit, which ranks 43rd. Their ground defense of 102.1 rushing yards ranks them 23rd among college football teams.
Troy vs. Louisiana Predictions, Trends, and Analysis
Troy won the most recent match between the two teams, defeating Louisiana 23–17. The Trojans' defense limited Louisiana to just 112 passing yards. Troy's offense totaled 382 yards of offense, including a 6/15 performance on third down.
With 15.5 points, Troy is presently the favorite on the road. The point spread has stayed very consistent, adhering to the initial lines. Troy has moved to -885 from his opening moneyline of -880, yielding an expected win percentage of 90%. With a moneyline of +568 and indicated odds of 15%, Louisiana is now in the lead. The moneyline for the Ragin Cajuns opened at +550.
Major Trends in Betting
In their previous ten road games, Louisiana has a record of 4-6.
Troy has a 4-1 record against the spread in their last five home games.
Troy had an ATS record of 2-1 the last three times they entered a game as the underdog.
Louisiana has an ATS record of 0-3, having been the betting favorite in their last three games.
YouWager.lv you can wager on the different betting types, such as moneyline, spread, and total, and you can bet either on your favorite team or an undervalued underdog, always with the best and latest wagering lines. Open your account now and receive a 100% bonus on your first cryptocurrency deposit, just click below: