Old Dominion vs Georgia Southern Predictions, Odds Week 12 2023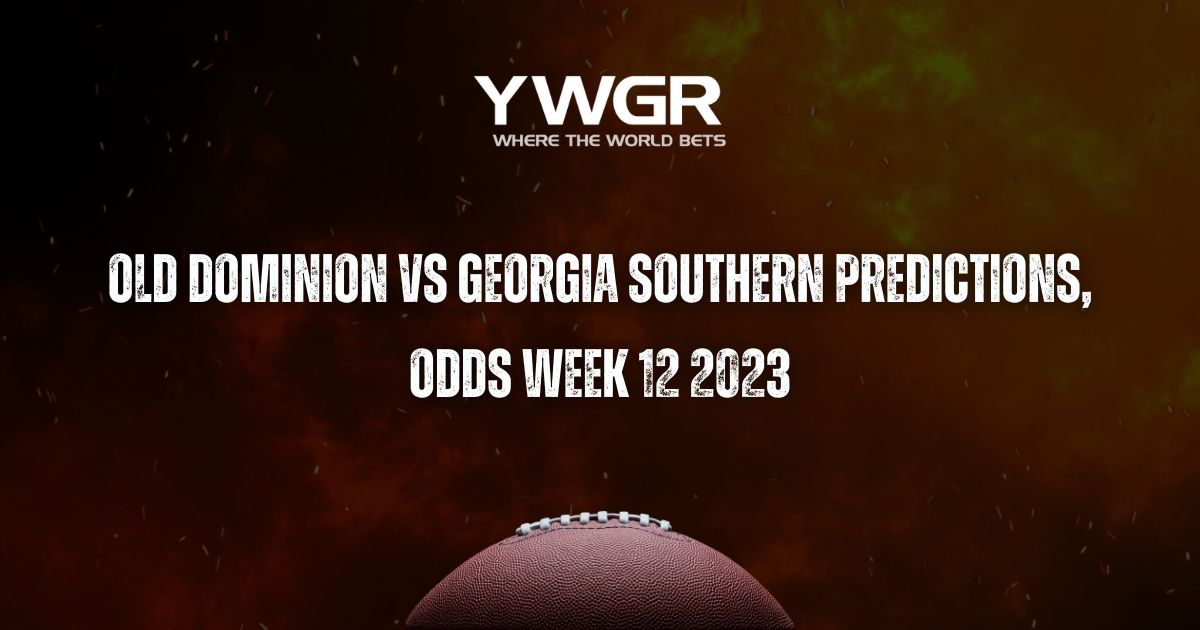 Check out our preview and prediction for the Old Dominion vs. Georgia Southern college football game taking place in Statesboro this week. Check out our picks for this NCAA showdown to win and cover the spread.
In throwing yards, the Old Dominion Monarchs rank 93rd.
Every game, the Georgia Southern defense allows 28 points to be scored.
Preview: Old Dominion vs. Georgia Southern
This week's Week 12 CFB matchup between the Monarchs and Eagles will kick off at 6:00 on ESPN+ (11/18/23). Allen E. Paulson Stadium in Statesboro (GA) will host the game.Georgia Southern is the 7-point favorite to win this Sun Belt match going into it. Does this imply that their victory is certain? See what I think about this showdown by reading on.
An Overview of the Old Dominion vs. Georgia Southern Match
Teams: Georgia Southern Eagles vs. Old Dominion Monarchs
Where: Allen E. Paulson Stadium in Statesboro
Date: November 18, Saturday
Preview: Will Old Dominion Secure Another Victory?
Old Dominion, that has a 4-6 overall record, is ready for this match. Unfortunately, they were defeated 38–10 by Liberty in their most recent game. With an ATS record of 6-4, Old Dominion has an average score differential of -4.4 for the season. Eight games have seen the Monarchs as the underdog and two occasions as the favorites. After ten games this season, Old Dominion has a 5-5 over/under record. Their combined games have yielded 50.4 points on average.
Against Liberty, the Monarchs' offense amassed 280 yards of total offense—159 in the air and 119 on the ground. They made seven of their twenty-two third down conversions and one passing touchdown. Quarterback Grant Wilson finished with a QB rating of 61.71 in the loss over Liberty, completing 23 of 42 passes for 161 yards. He improved his performance by one touchdown as well.
Old Dominion gave up 455 yards in total to Liberty on defense. This entails forfeiting the allotted 230 ground yards and 225 passing yards. Prior to this week's match, the Old Dominion defense ranks 108th in the nation in terms of points allowed, giving up 27.4 points per contest. 118th in the nation, their opponents have been averaging 242.1 passing yards per game against them. Their running yardage defense of 155.9 places them 100th in NCAA football.
Preview: Is Another Victory in Store for Georgia Southern?
Georgia Southern wants to turn things around this week after losing to Marshall 38-33. Nevertheless, after ten games, they have a 6-4 record that is above.500. The Eagles have been the underdog in three games and the favorite in four going into this week's game against Old Dominion. They have a 4-4-1 ATS record going into the match. The over/under for Georgia Southern's games this season has been 62.7 points on average. The Eagles enter this week's game with an over/under record of 4-4-1.
The Eagles' offensive output against Marshall was a 5/19 third-down percentage and 384 yards of total offense. They gained 307 yards and three scores in the passing game. The Eagles finished with 77 running yards despite failing to score on any of their 24 rush attempts. Against Marshall, Davis Brin completed with a passer rating of 89.04 and threw for 307 yards. 53.7% of his 54 passing attempts were completed by the end of the game.
Against Marshall, Georgia Southern's defense allowed 376 yards of offense. They gave up 175 yards on the ground and 201 yards in the passing game. The Eagles lead the league in quarterback rushes and have 21 sacks going into the game. This season, they have given up 28 points per game so far (112th). They allow 242.1 passing yards per game, ranking 118th in the NCAA in terms of pass defense. Georgia Southern has given up 151.2 rushing yards per game against the run so far.
Georgia Southern vs. Old Dominion betting odds, trends, and analysis
In this week's contest, Old Dominion will be seeking retribution after Georgia Southern prevailed 28-23 in their most recent meeting. Georgia Southern's offense consisted of 223 yards of running and 192 yards of passing. Conversely, Old Dominion finished with 446 yards of offensive yardage.
The movement of the point spread line has not seen much action. Georgia Southern was the 7-point favorite at the outset. Right now, here is where the lines are. Georgia Southern now has a 73% implied win probability and a moneyline payout of -277 in the context of the moneyline odds. Conversely, the Monarchs have a +220 moneyline and an implied win probability of 31%.
Major Trends in Betting
In their last ten games against the spread, Old Dominion has a 7-3 record.
The last five home games for Georgia Southern's ATS record is 1-3-1.
Georgia Southern has an ATS record of 1-3-1 in their last five appearances as the underdog.
Old Dominion is 3-7 against the spread in their last 10 games when favored.
YouWager.lv you can wager on the different betting types, such as moneyline, spread, and total, and you can bet either on your favorite team or an undervalued underdog, always with the best and latest wagering lines. Open your account now and receive a 100% bonus on your first cryptocurrency deposit, just click below: