Appalachian State vs James Madison Predictions, Odds Week 12 2023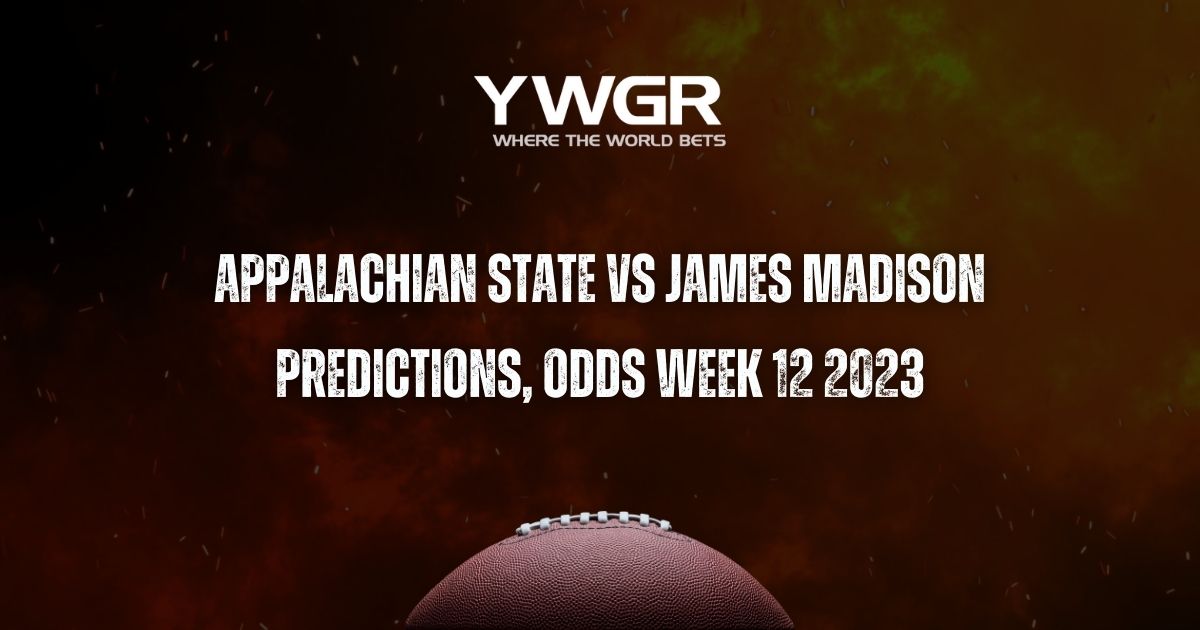 See our analysis of the James Madison vs. Appalachian State game for week 12 to learn who we believe will win and cover in Harrisonburg.
The passing attempts made by Appalachian State's offense rank 51st.
18.2 points are surrendered by the James Madison defense per contest.
Preview: Appalachian State vs. James Madison
The James Madison Dukes will host the Appalachian State Mountaineers on the road at Bridgeforth Stadium/Zane Showker Field in Harrisonburg, Virginia. This week's game, which will air on ESPN+, will kick off at 2:00 PM ET.James Madison is the -10.5 point home favorite going into this Sun Belt game. To learn my thoughts on how this game unfolds, continue reading.
A Quick Look at the James Madison vs. Appalachian State Matchup
Teams: James Madison Dukes versus Appalachian State Mountaineers
Where: Zane Showker Field, Bridgeforth Stadium, Harrisonburg
Date: November 18, Saturday
Preview of Appalachian State: Will It Be Able to Resume Its Previous Course?
With a record of 6-4, the Appalachian State Mountaineers sit above.500 coming into this week's match. They defeated Georgia State (42–14) in their most recent game to improve their record. The Mountaineers have been the underdog in two games and the favorite in six coming into this week's game against James Madison. They have a 3-4-1 ATS record going into the match. Appalachian State has a 3-5 over/under record thus far this season. Their matches have yielded a cumulative average score of 61.8 points, with an average over/under line of 54.7 points.
The Mountaineers tried 21 passes through the air against Georgia State, accumulating 255 yards and scoring three touchdowns. They ran for three touchdowns on the ground while maintaining an average of 6.7 yards per carry. Quarterback Joey Aguilar finished the game with a quarterback rating of 127.98 in the victory over Georgia State, having completed 14 of 21 passes for 255 yards. To his performance, he scored three touchdowns as well.
Against Georgia State, Appalachian State's defense gave up 260 yards in total by the end of the game. Against Appalachian State, Georgia State passed the ball 31 times for 121 yards. The Mountaineers allowed 139 running yards while they were on the ground. With twenty-five sacks and their first quarterback rush, the Mountaineers defense will be in the game.
They rank 106th in terms of points allowed per game, at 27. With 201.2 passing yards allowed per game, the squad ranks 52nd in the NCAA against the pass. Appalachian State's run defense also allows 189.5 running yards per game.
James Madison Preview: After a Loss, What's the Game Plan for James Madison?
James Madison is still undefeated as they enter their tenth game of the year and are coming off a 44-6 victory over the UConn Huskies. James Madison has an ATS record of 7-2 based on their season average score differential of +16.1. Seven times, the Dukes have been the favorite, and twice, they have been the underdog. The average over/under for James Madison's games has been set at 49.6 points after 10 games played. With an average total score of 52.5 points from these games, OU has a 6-3 record.
Against UConn, the Dukes' offense totaled 508 offensive yards. Out of these yards, 457 came through the air, and 51 came on the ground. They completed 3/9 on third down while throwing for four touchdowns. Leading the way, Jordan McCloud gained 457 passing yards versus UConn, good for a passer rating of 154.17. He attempted 37 passes during the game, completing 89.2% of them.
The Dukes defense played a great game against UConn, allowing just 319 yards and 6 points. The passing game for UConn totaled 240 yards. James Madison surrendered 3.2 yards per attempt up front. With 18.2 points allowed per game, the James Madison defense is ranked 62nd in terms of points allowed. Teams facing them allow an average of 263.3 passing yards per game (ranked 146th in the nation). They are fourth in college football for rushing defense, having surrendered 61.6 rushing yards.
James Madison vs. Appalachian State betting odds, trends, and analysis
In the latest match between the two teams, James Madison prevailed over Appalachian State 32-28. James Madison scored 209 points in the throwing game and ran for 166 yards as an offensive player. Conversely, Appalachian State finished with 298 yards of total offense.
James Madison has moved from being a -12 point favorite to their current line of -10.5 (-110) since the odds were first released. Conversely, Appalachian State is currently +10.5 (-111) point underdogs on the road. After opening at -500, the moneyline payoff for the Dukes is currently -422. At the moment, Appalachian State has a win probability of 24% and James Madison has an implied win probability of 81%.
Major Trends in Betting
Over their last ten road games, Appalachian State has a record of 3-6-1.
James Madison has a 3-0 ATS record in their previous three home games.
In their last three games as an underdog, James Madison's overall record against the spread is 2-1.
Appalachian State is 2-8 against the spread in its last 10 games when favored.
YouWager.lv you can wager on the different betting types, such as moneyline, spread, and total, and you can bet either on your favorite team or an undervalued underdog, always with the best and latest wagering lines. Open your account now and receive a 100% bonus on your first cryptocurrency deposit, just click below: