Hawaii vs Wyoming Predictions, Odds Week 12 2023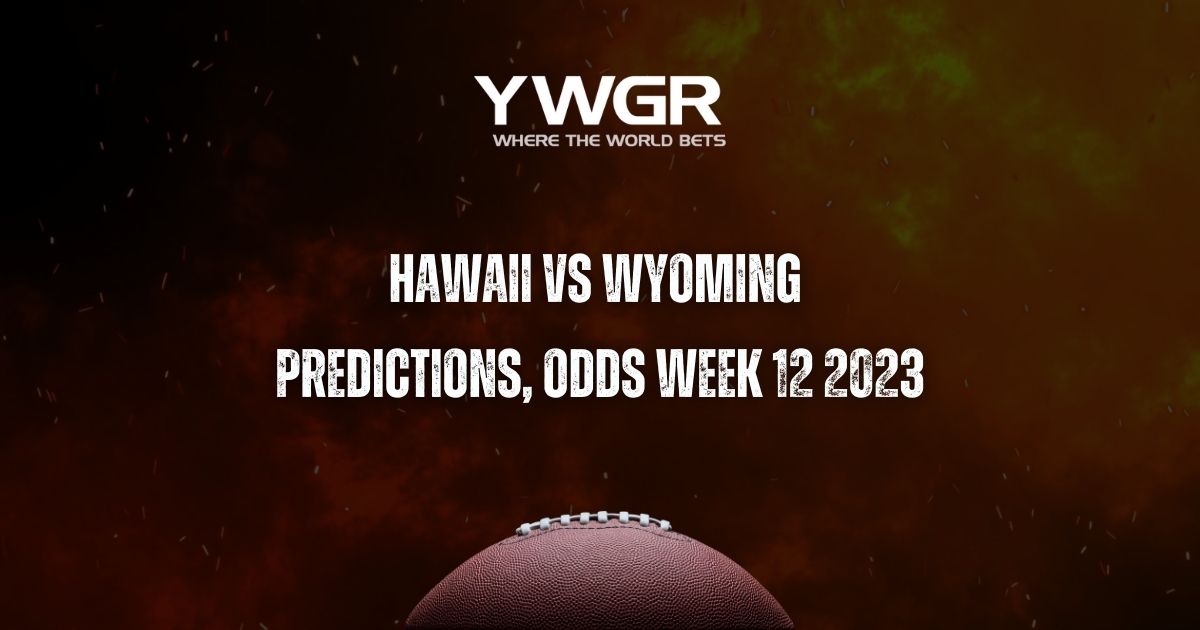 Find out who we think will win and cover the spread in this week 12 NCAAF preview of Hawaii vs Wyoming.
Hawaii has a 97.9 passing rating for opposing quarterbacks.
Wyoming ranks 81st with a passing completion percentage of 58.7%.
Preview of Hawaii vs. Wyoming
The Hawaii Rainbow Warriors will play the Wyoming Cowboys on Saturday, November 18th at 2:00 ET. SPEC will provide television coverage of this Week 12 CFB game at War Memorial Stadium (WY).The Cowboys are the home team favored by 13.5 points in this week 12 Mountain West game, according to the odds. When facing the Rainbow Warriors, are they certain to win? Find out by reading on.
Overview of Hawaii vs. Wyoming Match
Teams: Wyoming Cowboys vs. Hawaii Rainbow Warriors
Where: War Memorial Stadium in Laramie, Wyoming
Date: November 18, Saturday
Hawaii Preview: How Will A Loss Affect Hawaii?
Hawaii has a 4–7 overall record going into this game. They won 27–13 against Air Force in their most recent match. The Rainbow Warriors had been the underdog in eight games going into this week's game against Wyoming and had been favored in two of them. Their ATS record is 3–7 going into this match. Hawaii has finished their season with a 5-5 over/under record. Their games have had an average combined score of 54.1 points, with a standard over/under line of 55.8 points.
In terms of offense, the Rainbow Warriors amassed 122 rushing yards despite only managing one touchdown on the ground against Air Force. Hawaii scored twice and threw the ball 29 times for 176 yards in the passing attack. QB Brayden Schager scored one touchdown on the ground and two touchdowns passing in Hawaii's most recent victory. He completed 75.9% of his passes for 176 yards on passing during the course of the contest.
Hawaii's defensive line gave up 315 yards to Air Force. This includes allowing 201 yards of total offense on the ground and 114 yards of passing. Hawaii's defense, which allows 156 passing yards per game, comes into the contest rated 156th. Against the Rainbow Warriors, opponents throw the ball an average of 25.2 times. They rank 140th in college football with their 32.1 PPG allowed. They rank 132nd in the NCAA in terms of rushing yards allowed.
Preview of Wyoming: Can Wyoming Pull Off a Victory?
Following their most recent defeat over UNLV, Wyoming's record now stands at 6-4. The Cowboys were defeated 34–14 in the game. With an average score difference of -3.1 for the season, Wyoming has an ATS record of 4-3-1. Five games have seen the Cowboys as the underdog and three times as the favorites. The average over/under line for Wyoming's matches after ten games is 45.6 points. OU has a 3-5 record as a result of their games' average score of 48.9 points.
Against UNLV, Wyoming's offense totaled 297 yards of offense and scored twice on the run. They completed 28 passes for an average of 11.7 yards per completion on third down, going 3/11 overall. Quarterback Andrew Peasley did not pass for a touchdown in the team's defeat to UNLV, but he did dash for one. 144 passing yards and a 50.0% completion rate were part of his total performance.
Against UNLV, Wyoming's defense allowed 399 offensive yards. They gave up 167 yards on the ground and allowed 232 yards in the passing game. The Cowboys' defense ranks 95th in the league with 165.6 running yards allowed per game this season. The passing yardage average for opponents is 212.7, and their quarterbacks have a 94.8 passer rating versus Wyoming. They are ranked 51st in terms of NCAA points permitted.
Hawaii vs. Wyoming Predictions, Patterns, and Evaluation
In the most recent meeting between these two teams, Wyoming prevailed 27–20. The Wyoming offense outgained Hawaii 441 to 350 in the victory. Wyoming ended with 365 yards on the ground and 76 yards via the air in the passing game.
Wyoming was originally set as 14-point home favorites, but the lines have since moved to -13.5. With Wyoming now having moved from their opening line of -700 to -662 on the moneyline, their indicated win probability is 87%. Hawaii is presently priced at +455 by the oddsmakers, with an estimated win probability of 18. Hawaii's moneyline opened at +500.
Major Trends in Betting
Hawaii has a 3–2 record away from the spread.
Wyoming's record in their last five home games against the spread is 2-3.
When considering just the last three games in which Wyoming started as the underdog, their overall record was 1-2.
Hawaii has been favored nine times in a row, but their record against the spread is 3-7.
YouWager.lv you can wager on the different betting types, such as moneyline, spread, and total, and you can bet either on your favorite team or an undervalued underdog, always with the best and latest wagering lines. Open your account now and receive a 100% bonus on your first cryptocurrency deposit, just click below: