New Mexico vs Fresno State Predictions, Odds Week 12 2023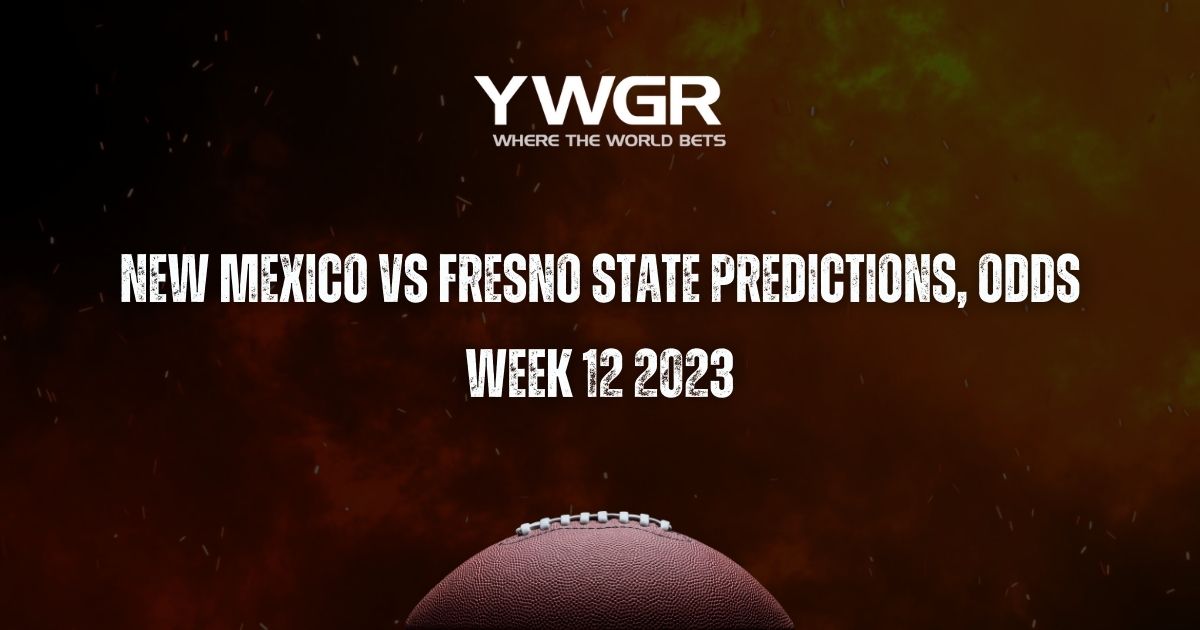 Find out who is the favorite to win and cover the spread in this week 12 NCAAF New Mexico vs Fresno State preview.
In throwing yards, the New Mexico Lobos are ranked 69th.
The defense of Fresno State is giving up 12.4 yards per completion.
Preview: New Mexico vs. Fresno State
The game between the Fresno State Bulldogs and the New Mexico Lobos is scheduled for Saturday, November 18th at 10:30 ET. This week's NCAAF match between the Bulldogs and Lobos can be found on FS1.Fresno State is the 23-point favorite to win this Mountain West battle going into it. Does this imply that their victory is certain? See what I think about this showdown by reading on.
A Quick Look at the New Mexico vs. Fresno State Matchup
Teams: Fresno State Bulldogs vs. New Mexico Lobos
Where: Valley Children's Stadium in Fresno
Date: November 18, Saturday
Preview: Is Another Victory in Store for New Mexico?
With a 3–7 overall record, New Mexico is prepared to play in this match. They lost to Boise State 42–14 in their most recent game, though, which left them disappointed. The Lobos have been the underdog in seven games going into this week's game against Fresno State, and the favorite in one. They have a 2–6 ATS record going into the match. New Mexico has a 6-2 over/under record this season. The total number of points scored in their games has averaged 62.1, with an over/under of 52.3 points.
The Lobos offense ran for 123 yards on 31 carries and two touchdowns on the ground against Boise State. Despite 26 passes being attempted, their passing offense only produced 200 yards and no touchdown. Devon Dampier completed 17 of 26 passes for 200 yards in the defeat against Boise State. With an overall passer rating of 88.62, he did not score a touchdown by passing or running.
Against Boise State, New Mexico's defense allowed 491 yards of offense. They gave up 226 yards on the ground and 265 yards in the passing game. The Lobos' defense ranks 81st this season after allowing an average of 176.3 running yards. When playing New Mexico, opponents average 243.1 passing yards, and their quarterbacks have a passer rating of 118. They are presently ranked seventh in the NCAA for points allowed.
Preview: Can Fresno State Pull Off Another Victory?
After losing against San Jose State recently, Fresno State's overall record dropped to 8-2. The final result of the game was 42-18, meaning the Bulldogs were defeated. This season, Fresno State has a 4-5 record against the spread. There have been seven Bulldogs victories as the favorite and just two losses as the underdog. The over/under for Fresno State games this season has been 50.4 points on average. The Bulldogs enter this week's game with a 6-3 over/under record.
The Bulldogs' offense amassed 309 yards of total offense against San Jose State, with 84 of those yards coming from the ground and 225 through the air. They had an 8/17 third-down efficiency and two passing touchdowns. QB Logan Fife finished the game with a QB rating of 64.58 in the defeat to San Jose State, having completed 11 of 21 passes for 115 yards. He improved his performance by one touchdown as well.
San Jose State was able to gain 466 yards against Fresno State on defense. This entails surrendering 146 passing yards and 320 yards permitted on the ground. As they get ready for this game, Fresno State's defense is rated 118th in terms of passing yards allowed per game. The Bulldogs have allowed opponents to attempt 32.9 passing attempts on average. They are 88th in college football after giving up 23.7 points per game thus far. They rank 74th in the NCAA's rush defense category.
Fresno State vs. New Mexico betting odds, trends, and analysis
When Fresno State and New Mexico last played, Fresno State prevailed 41–9 in the end. Fresno State's offense consisted of 285 yards of running and 225 yards of passing. Conversely, New Mexico finished with 138 yards of offensive total.
Fresno State moved from being -24.5 point favorites to their current line of -23 (-112) since the odds were first released. Conversely, New Mexico is currently the road underdog by +23 (-110) points. The Bulldogs' initial odds of -5000 were not the same as the current moneyline payout of -3153. The current implied win probabilities for Fresno State and New Mexico are 97% and 8%, respectively.
Major Trends in Betting
In their last five road games, New Mexico is 2-3 against the spread.
In their last three home games, Fresno State has a 0-3 record against the spread.
In their previous five games as underdogs, Bulldogs are 3-2.
In their last five games as the favorite, New Mexico's record against the spread is 2-3.
YouWager.lv you can wager on the different betting types, such as moneyline, spread, and total, and you can bet either on your favorite team or an undervalued underdog, always with the best and latest wagering lines. Open your account now and receive a 100% bonus on your first cryptocurrency deposit, just click below: