Central Michigan vs Ohio Predictions, Odds Week 12 2023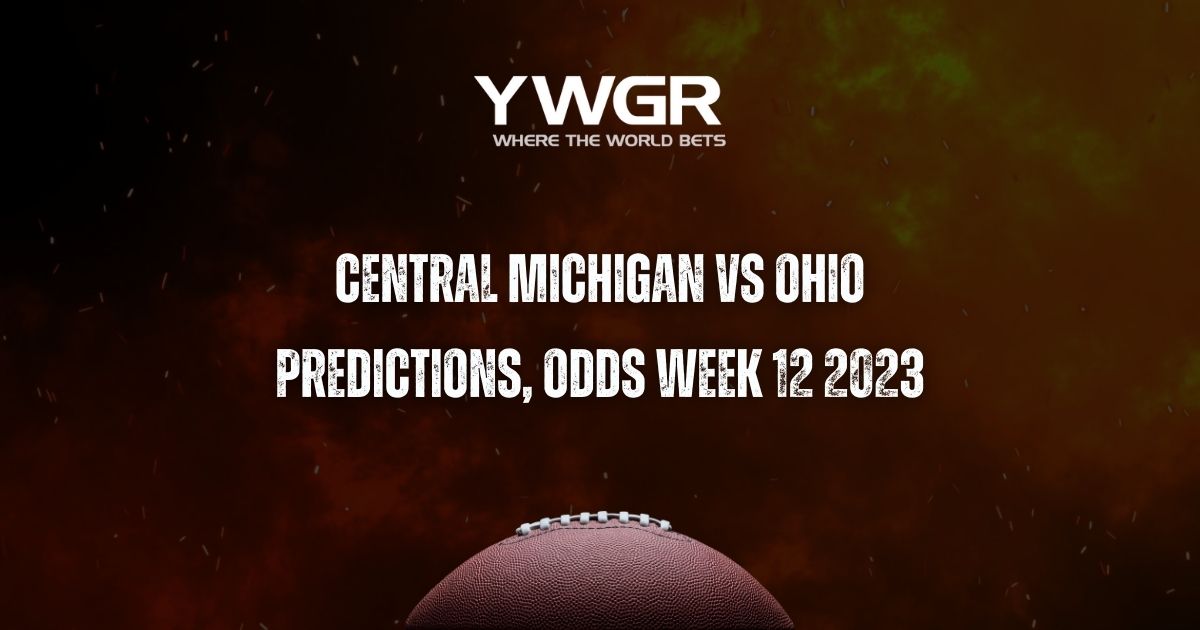 See our Ohio vs Central Michigan preview and predictions for week 12 to learn who we think will win and cover in Athens.
Check out our preview and prediction for this week 12 college football match in Athens between Central Michigan and Ohio. Check out our picks for this NCAA showdown to win and cover the spread.
30.7 points are surrendered by the Central Michigan defense each game.
Ohio ranks 60th with a passing completion percentage of 61.7%.
Ohio vs. Central Michigan Preview
This week 12 NCAAF game between the Bobcats and Chippewas takes place at Peden Stadium at 7:00 ET. Watch the action live on ESNU during the Wednesday, November 15th game.In this matchup between Mid-American teams, the Bobcats are pegged as 10-point favorites at home. Will they be able to cover the spread and win at home?
An Overview of the Ohio vs. Central Michigan Match
Teams: Ohio Bobcats vs. Central Michigan Chippewas
Where: Peden Stadium in Athens
Date: November 15, Wednesday
Preview: Is Another Victory in Store for Central Michigan?
The Chippewas entered this week's game with a 5-5 record, but they had fallen short of a.500 mark after losing their most recent game to Western Michigan. This season, Central Michigan has a 3-6 record against the spread. Out of five games as the underdog, the Chippewas have been favored four times. The over/under total for Central Michigan's games over the last ten games has been 48 points. These games have had an average total score of 54.8 points, giving OU a 5-4 record.
Against Western Michigan, the Chippewas' passing offense consisted of 27 pass attempts for 205 yards and three touchdowns. They scored one rushing touchdown and averaged 5.9 yards per carry in the running game. In Central Michigan's defeat at the hands of Western Michigan, quarterback Jase Bauer completed three touchdown passes. In all, he completed 51.9% of his passes for 205 yards and had a passer rating of 98.53.
Against Western Michigan, Central Michigan's defense gave up 487 yards at the game's conclusion. Against Central Michigan, Western Michigan threw the ball 36 times for 333. The Chippewas surrendered 154 running yards while they were on the ground. This season, the Chippewas defense has allowed 151.3 running yards per game, ranking 119th. When playing against Central Michigan, opponents are averaging 264.1 passing yards, and their quarterbacks have a passer rating of 101.7. At the moment, they are ranked 23rd in the NCAA for points allowed.
Ohio Preview: Can Ohio Win Back After a Setback?
Ohio improved their record to 7-3 with their 20-10 victory over Buffalo, setting them up for this week's matchup with Central Michigan. Ohio has been the underdog in three games thus far and has been favored six times. An average scoring difference of +6.5 and an ATS record of 5-4 have resulted from this. Ohio's matchups have an average over/under line of 47.1 points over the course of ten games. With an average total score of 36.7 points across these games, OU has a 3-6 record.
The Bobcats' offense finished the game against Buffalo with 121 running yards on 28 attempts and two rushing scores. Sadly, after 21 attempts, their passing game only managed 121 yards without finding the end zone. Kurtis Rourke completed 14 of 21 passes for 121 yards and a completion rate of 66.7% versus Buffalo. There was not a single passing or rushing score by the end of the game.
The Bobcats defense played a great game against Buffalo, allowing just 295 yards and 10 points. Buffalo's passing offense totaled 181 yards in the end. Ohio surrendered 2.8 yards per attempt up front. In terms of points allowed entering this week's match, Ohio's defense is ranked 52nd, allowing 15.1 points per contest on average. As of right now, opponents have only managed 172.3 passing yards per game against them, ranking them 26th. Their 17th-ranked defense allows 96.5 running yards per game on the ground.
Ohio vs. Central Michigan Betting Trends & Analysis
Central Michigan has the advantage in this head-to-head series after five games, 3-2.
Ohio has a 0-3 record against Central Michigan in their previous three games as the favored.
Ohio was -8 point favorites when the lines were first established, but they are now -10 (-110). Conversely, Central Michigan is currently a +10 (-110) point underdog traveling. According to the moneyline odds as of right now, Central Michigan has a 25% probability of winning and an ML payout of +301. Conversely, with a moneyline of -408, the Bobcats' estimated win percentage is 80%.
Major Trends in Betting
Based on their last 10 away games, Central Michigan has a record of 3-7 against the spread.
Ohio has a 3-2 record (last five games) against the spread at home.
Ohio has a 3-2 ATS record in the five most recent instances in which they were the underdog.
In their last three games as the favorite, Central Michigan's record against the spread is 0-3.
YouWager.lv you can wager on the different betting types, such as moneyline, spread, and total, and you can bet either on your favorite team or an undervalued underdog, always with the best and latest wagering lines. Open your account now and receive a 100% bonus on your first cryptocurrency deposit, just click below: