NC State vs Virginia Tech Predictions, Odds Week 12 2023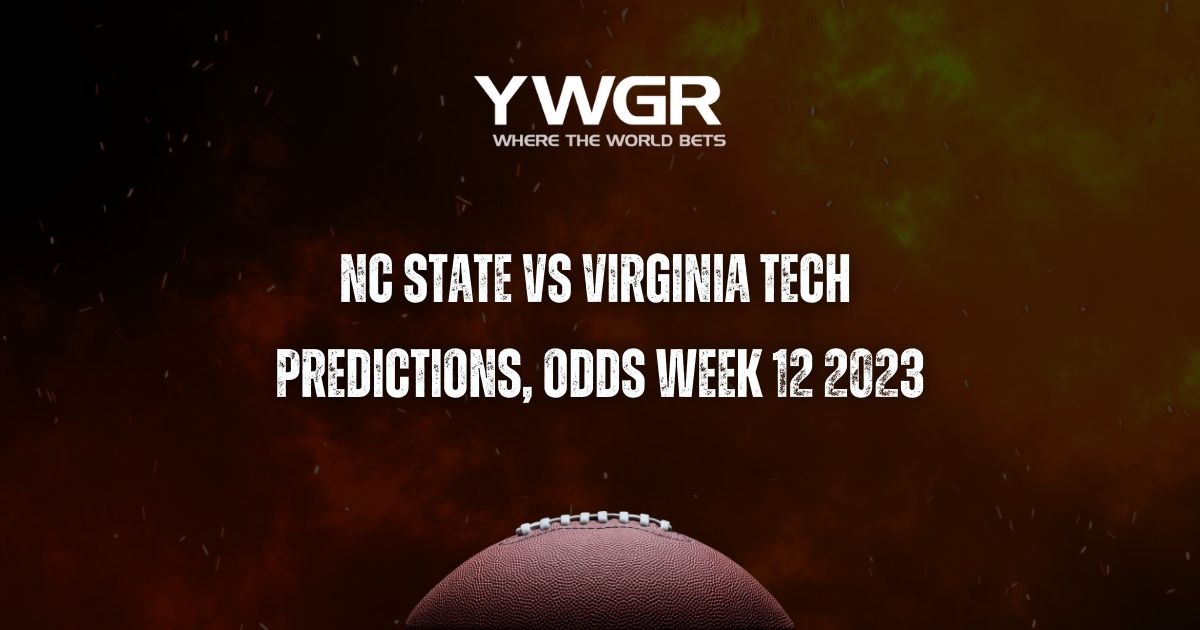 View our prediction and preview for NC State vs. Virginia Tech, week 12 to find out who we think will prevail in Blacksburg.
19.4 points are given up per game by the NC State defense.
Virginia Tech passes for 205.5 yards per game on average.
REVIEW: Virginia Tech vs. NC State
Live coverage of this Hokies vs. Wolfpack game can be found on ACCN. Saturday, November 18th, at 3:30 p.m. is when the game starts. The CFB game this week will be played at Blacksburg, Virginia's Lane Stadium.The Hokies are the home 2.5-point favorites in their Atlantic Coast game. Can they cover the spread and win at home?
A GLANCE AT THE NC STATE VS. VIRGINIA TECH MATCHUP
Lane Stadium in Blacksburg will host NC State Wolfpack vs. Virginia Tech Hokies.
The date is Saturday, November 18.
NC STATE PREVIEW: AFTER LOSS, WHAT IS THE PLAN FOR NC STATE?
When they play Virginia Tech this week, the NC State Wolfpack have a 7-3 record. This is after they defeated Wake Forest 26–6 in their most recent game. This season, NC State is 5-4 against the spread. The Wolfpack have been the underdog five times and the favorite four times. As of this week's game, NC State's over/under record stands at 2–7. With an average of 44.2 points per game, their current average margin against over/under lines is -3.2.
The Wolfpack's passing game saw 17 attempts for 111 yards and one touchdown against Wake Forest. They gained two touchdowns and averaged 5.6 yards per carry when they ran the ball. Against Wake Forest, Brennan Armstrong found the end zone in a number of ways. He rushed for one score and threw for 111 yards.
Against Wake Forest, the Wolfpack defense played a superb game, giving up just 6 points on 163 yards. Wake Forest amassed 156 yards of throwing yardage. On the ground, NC State permitted 0.4 yards per attempt. At 19.4 points per game, the NC State defense is ranked 68th in terms of points allowed per game. Teams have averaged 214.6 passing yards per game (ranked 71st) against the unit. With 100.6 yards allowed per carry, their rushing defense ranks 22nd in the NCAA football rankings.
A PREVIEW OF VIRGINIA TECH: AFTER A LOSS, WHAT WILL HAPPEN TO VIRGINIA TECH?
Following their victory over Boston College, Virginia Tech's record is now.500. The Hokies come into this week's game with a 5-5 record. With an ATS record of 6-4, Virginia Tech has an average scoring differential of +2.1 for the season. This season, the Hokies have been the underdog five times and the favorite four times. With this week's game, Virginia Tech's over/under record is 6-4. With an average of 49.9 points per game, their current average margin against over/under lines is +3.8.
The Hokies passed the ball 21 times for 237 yards and two touchdowns against Boston College. They averaged 7.1 yards per carry and finished with four running scores. Kyron Drones completed 12 of 17 passes for 219 yards and had a quarterback rating of 152.21 in the victory over Boston College. During the game, he also scored two touchdowns.
Against Boston College, the Virginia Tech defense gave up 265 yards of offensive production. They allowed 127 yards on the ground and 138 yards via the air. Virginia Tech's passing yards allowed per game puts its defense in 183rd place. When playing the Hokies, opponents attempt 24.6 passes per game. In college football, they are ranked 89th, giving up 23.9 points per game. They are ranked 101st in the US for rush defense.
ODDS, TRENDS, AND ANALYSIS OF VIRGINIA TECH VS. NC STATE
NC State will aim to improve on their 22-21 triumph over Virginia Tech from the previous season. In their 43 throws for 296 yards versus Virginia Tech, the NC State offense was very active. In the end, Virginia Tech's offense totaled 293 yards.
After starting as 3-point favorites, Virginia Tech has somewhat declined when viewed through the lens of the point-spread movement. The current point differential for Virginia Tech is -2.5. The starting odds for the Hokies are -162, but the moneyline payoff is currently -151. The current implied win probabilities for the two teams are 45% for NC State and 60% for Virginia Tech.
KEY BETTING TENDENCES
When playing on the road, NC State is 1-2 against the spread.
After its last three home games, Virginia Tech is 2-1 ATS.
In their last five games as the underdog, Virginia Tech has an ATS record of 2-3.
In their past three games, NC State has gone 2-1 against the spread as the favorite.
YouWager.lv you can wager on the different betting types, such as moneyline, spread, and total, and you can bet either on your favorite team or an undervalued underdog, always with the best and latest wagering lines. Open your account now and receive a 100% bonus on your first cryptocurrency deposit, just click below: