Kentucky vs South Carolina Predictions, Odds Week 12 2023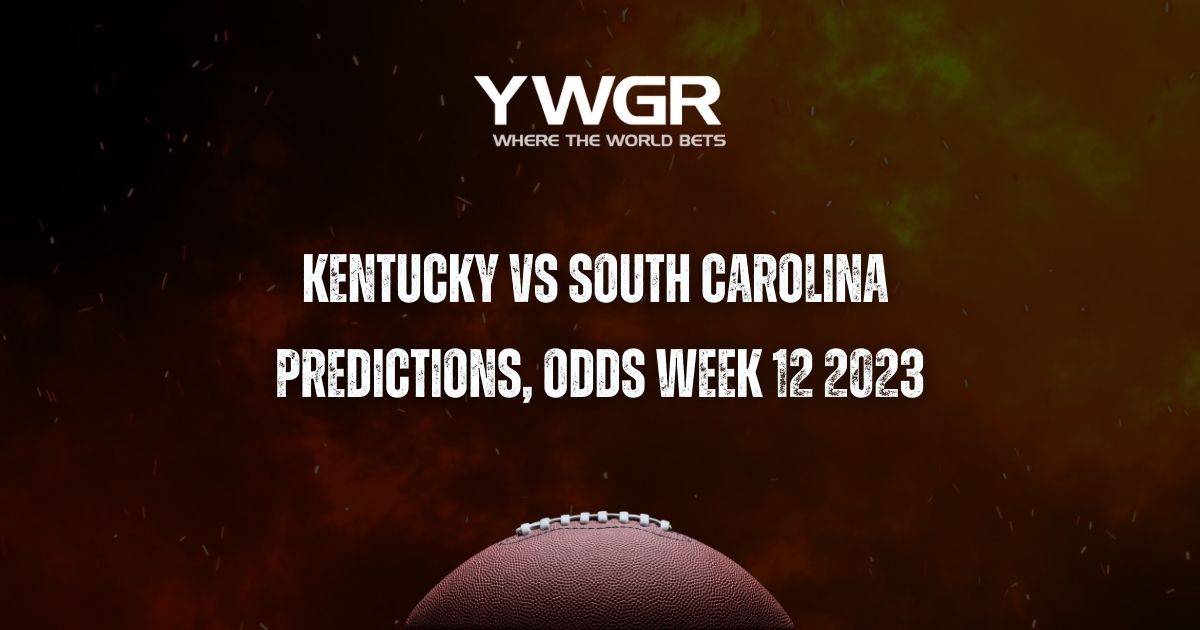 See who we like to win and cover the spread in our week 12 NCAAF Kentucky vs South Carolina preview.
Kentucky's defense ranks 95th in terms of points allowed.
South Carolina ranks 14th in passing completion percentage with 70.3%.
Preview of Kentucky vs. South Carolina
This week's 12 CFB matchup between the Wildcats and Gamecocks will air on SECN at 7:30 p.m. (11/18/23). The game will take place at Williams-Brice Stadium in Columbia, South Carolina.The Wildcats are a 2-point away favorite in an SEC game. Will they be able to win and cover on the road?
At A Glance: Kentucky vs. South Carolina
College Football is a sport.
South Carolina Gamecocks vs. Kentucky Wildcats
Where: Williams-Brice Stadium, Columbia
Saturday, November 18th is the date.
Kentucky Preview: Can the Wildcats Repeat Their Victory?
Kentucky's overall record has dropped to 6-4 following their recent game versus Alabama. The Wildcats were unable to earn the victory, falling 49-21. Kentucky's season average score differential is +4.1, resulting in an ATS record of 5-4. The Wildcats have been the favorite in six games and the underdog in three. The average over/under line in Kentucky's matches after ten games is 47.8 points. The average score in their games has been 54.1 points, giving OU a 7-2 record.
Offensively, the Wildcats scored two touchdowns on the ground versus Alabama while gaining 95 yards. Kentucky scored once and threw the ball 31 times for 158 yards in the passing offense. Devin Leary had a QB rating of 66.33 in the loss to Alabama, completing 17 of 31 passes for 158 yards. He also contributed one touchdown to the contest.
Kentucky's defense surrendered 444 yards versus Alabama. This includes allowing 159 yards on the ground and 285 passing yards. This season, the Wildcats defense has 23 sacks and is first in quarterback hurries. Overall, they allow 25 points per game (95th). They rank 116th in the NCAA in pass defense, allowing 241.4 passing yards per game. Kentucky allows 116.2 running yards per game.
South Carolina Preview: How Will the Gamecocks Recover From a Loss?
As they prepare for this game, South Carolina has an overall record of 4-6. Their most recent game was a success, as they defeated Vanderbilt 47-6. South Carolina has been the favorite three times and the underdog five times thus far. This has resulted in a 4-4 ATS record and a +0.2 average score differential. So far this season, South Carolina has a 3-5 over/under record. Their games have combined for an average of 57.4 points, with a 54.4 point over/under.
The Gamecocks completed 36 passes for 351 yards and three touchdowns against Vanderbilt. They averaged 7.3 yards per carry and scored three touchdowns on the ground. Spencer Rattler had a passer rating of 123.5 and passed for 351 yards versus Vanderbilt. He attempted 36 passes and completed 77.8% of them.
The Gamecocks defense was outstanding against Vanderbilt, allowing only 6 points on 249 yards allowed. Vanderbilt's passing game totaled 104 yards. South Carolina allowed 3.6 yards per attempt on the ground.
As they prepare for this game, South Carolina's defense is rated 46th in passing yards allowed per game. Opponents have attempted 33.8 passes on average against the Gamecocks. They have allowed 28.6 points per game this season, ranking them 117th in college football. They rank 87th in the NCAA in rush defense.
Betting Odds, Trends, and Analysis for Kentucky vs. South Carolina
South Carolina will seek to build on last year's 24-14 victory against Kentucky. South Carolina will look to run the ball well again after gaining 179 yards on the ground the last time they met. Kentucky finished with 299 yards total offense, while South Carolina had 356 yards.
Kentucky is a two-point favorite on the road. So far, the point spread has moved only little, remaining consistent with the opening lines. The Wildcats currently have a moneyline payout of -125, compared to their initial odds of -132. The clubs' implied win probabilities are presently 56% for Kentucky and 49% for South Carolina.
Important Betting Trends
Kentucky is 3-2 against the spread in their last five games against the spread.
South Carolina is 5-5 against the spread in its last 10 games at home.
South Carolina has an ATS record of 1-2 in the three most recent times they were the underdog.
Kentucky is 4-1 as a favorite in their last five games.
YouWager.lv you can wager on the different betting types, such as moneyline, spread, and total, and you can bet either on your favorite team or an undervalued underdog, always with the best and latest wagering lines. Open your account now and receive a 100% bonus on your first cryptocurrency deposit, just click below: