Kent State vs Ball State Predictions, Odds Week 12 2023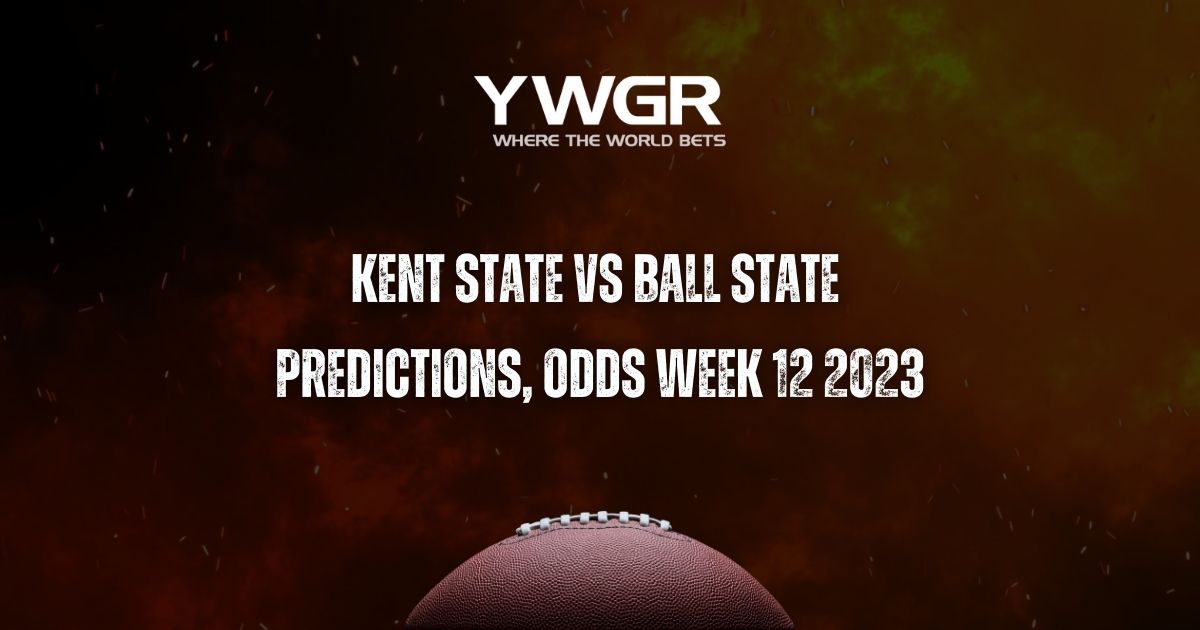 Find out who we think will win and cover the spread in this week 12 NCAAF preview of Kent State vs Ball State.
Against Kent State, opposing quarterbacks had a 96.7 passing rating.
Ball State ranks 77th with a passing completion rate of 59.3%.
Preview of Kent State vs. Ball State
The Kent State Golden Flashes and Ball State Cardinals will play at Scheumann Stadium in Muncie, IN on Saturday, November 18th at 2:00 PM ET. ESPN+ will be providing televised coverage of the match.The Cardinals are 12 point favorites at home against a pair of Mid-American clubs. Which wager on the spread is the best? See my analysis and breakdown of this clash below.
An Overview of Kent State vs. Ball State
Teams: Ball State Cardinals vs. Kent State Golden Flashes
Where: Scheumann Stadium in Muncie
Date: November 18, Saturday
Preview of Kent State: Will Kent State Be Able to Win Again?
Kent State, which has a 1-9 overall record, is ready for this match. They were unfortunately defeated by Bowling Green, 49-19, in their most recent game. Based on spread betting lines, Kent State has an ATS record of 1-7-1 and has been the underdog in every one of its games. The average over/under line in Kent State's confrontations over the last ten games has been 46.4 points. With an average total score of 49 points across these games, OU has a 6-3 record.
The Golden Flashes ran for 74 rushing yards and scored one touchdown on the ground in their offensive victory over Bowling Green. Kent State scored one goal and threw 40 passes for 284 yards in their passing attack. Tommy Ulatowski, the quarterback for the losing team versus Bowling Green, finished with a quarterback rating of 77.5 after completing 23 of 40 passes for 284 yards. He improved his performance by one touchdown as well.
In terms of defense, Bowling Green was only given 480 yards by Kent State. This includes surrendering 286 passing yards and 194 permitted yards on the ground. In terms of passing yards per game, Kent State is ranked 104th going into this matchup on defense. When playing the Golden Flashes, opponents toss the ball an average of 28 times per game. They rank 137th in college football when it comes to points allowed per game, giving up 34.4 overall. They yield 105th-most running yards in the NCAA when it comes to stopping the run.
Preview of Ball State: Can Ball State Win After A Loss?
Ball State has a 3-7 overall record going into this match. They defeated Northern Illinois 20-17 in their most recent encounter. Ball State's record this season against the spread is 4-4-1. This has occurred while they have been the underdog in each of their games and have an average scoring differential of -10.3. Ball State's games have an average over/under line of 47.7 points over the past ten games. These games have had an average total score of 44.3 points, giving OU a 3-6 record.
Against Northern Illinois, the Cardinals' passing offense consisted of 25 pass attempts for 115 yards and one touchdown. They scored one rushing touchdown and averaged 4.2 yards per carry in the running game. In the last game Ball State won, Kiael Kelly scored a touchdown running as well as passing the ball. He completed 60.0% of his throws for 115 yards of total passing during the contest.
Ball State's defense gave up 315 yards to Northern Illinois in all. This includes surrendering 141 passing yards and 174 yards on the ground. With 27.3 points allowed per game entering this week's match, the Ball State defense is ranked 107th in the nation for points allowed. They rank 80th in the nation in passing yards gained by opponents per game, with an average of 221.3. With 127.7 rushing yards allowed on the ground, they are 50th in college football.
Kent State vs. Ball State Predictions, Patterns, and Evaluation
Ball State hopes to maintain its winning streak against Kent State, which ended 27–20 last year. Ball State clamped down on Kent State's passing game as they were throwing for 183 yards. Ball State's offensive output totaled 450 yards, of which 254 came from passing and 196 from the ground.
Thus far, there have been few alterations to the point spreads. As of right now, Ball State is ahead with a 12 point spread and a -110 payout, while Kent State is at +12 (-110). With a moneyline payout of +377, Kent State presently has a 21% chance of winning based on the moneyline odds. On the other hand, with a moneyline of -521, the implied victory percentage for the Cardinals is 84%.
Major Trends in Betting
Kent State has a 1-3-1 away record against the spread.
Ball State has a 6-3-1 record (last 10) against the spread at home.
When Ball State entered a game as the underdog the previous three occasions, their overall record was 3-0.
Kent State has a 2-1 ATS record in their previous three games as the favorite.
YouWager.lv you can wager on the different betting types, such as moneyline, spread, and total, and you can bet either on your favorite team or an undervalued underdog, always with the best and latest wagering lines. Open your account now and receive a 100% bonus on your first cryptocurrency deposit, just click below: