Rutgers vs Penn State Predictions, Odds Week 12 2023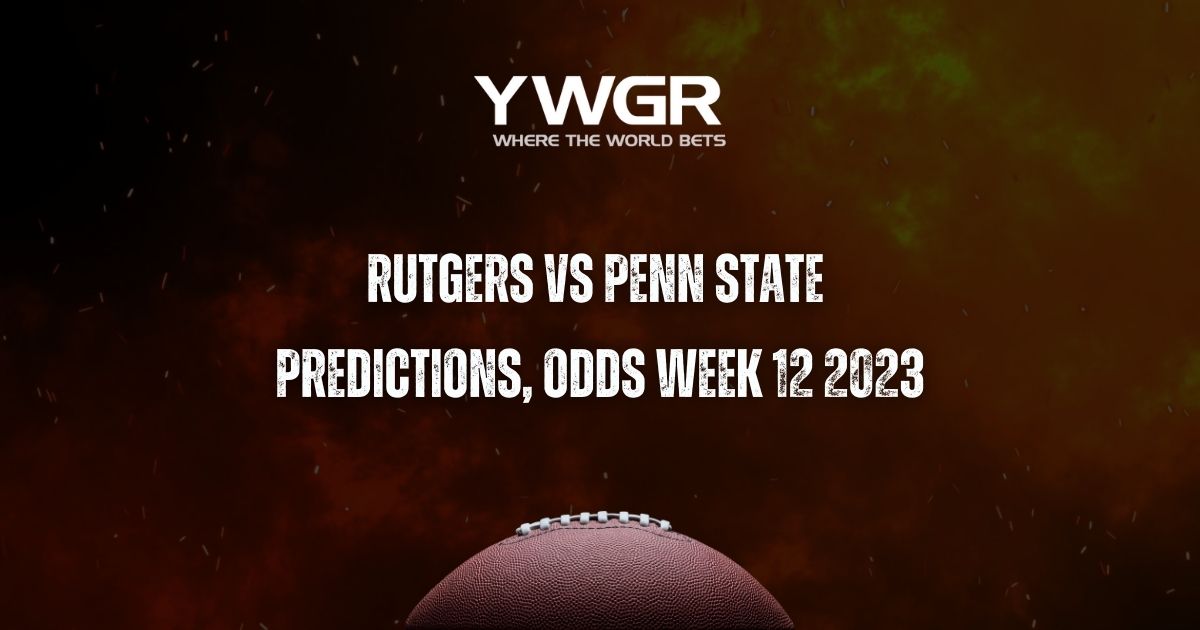 See who we like to win and cover the spread in this week 12 NCAAF Rutgers vs Penn State preview.
Rutgers ranks 132nd in passing completion percentage with 48.9%.
Penn State's defense ranks 51st in terms of points allowed.
Preview of Rutgers vs. Penn State
The game between the Scarlet Knights and the Nittany Lions is scheduled to begin at 12:00 p.m. ET on Saturday, November 18th. This week's CFB showdown will be broadcast on FS1.The Nittany Lions are pegged as 20-point away favorites in this Big Ten conference rivalry. Can they find a place to live while also covering the spread?
At A Glance: Rutgers vs. Penn State
Rutgers Scarlet Knights at Penn State Nittany Lions
Where: Beaver Stadium at University Park
Saturday, November 18th is the date.
Rutgers Preview: Will Rutgers Score Another Victory?
Rutgers' overall record dipped to 6-4 after their latest loss to Iowa. The Scarlet Knights were defeated in the game by a score of 22-0. This season, Rutgers has been the favorite in five games and the underdog in three. Their current ATS record is 4-2-2. Rutgers has a 4-4 over/under record this season. Their games have produced a combined total of 42.4 points on average, with a usual over/under line of 39.2 points.
The Scarlet Knights did not score offensively against Iowa. They threw for 93 yards on 18 attempts overall. They averaged 2.5 yards per attempt for a total of 52 yards in the running game. Gavin Wimsatt passed for 93 yards on 7 of 18 attempts in the loss to Iowa. His quarterback rating was 32.87 total, and he did not throw or rush for a touchdown.
Rutgers' defense surrendered 403 yards versus Iowa. This includes allowing 180 yards on the ground and 223 passing yards. Rutgers' defense ranks 63rd in points allowed, allowing 18.3 points per game. Teams average 166.2 passing yards per game against them (21st in the country). In terms of rushing defense, they rank 54th in college football, allowing 129.2 yards per carry.
Penn State Preview: Is Penn State on the verge of another victory?
Despite losing their most recent game to Michigan by a score of 24-15, the Penn State Nittany Lions still have an above.500 record of 8-2 when they face Rutgers. This season, Penn State has been the favorite in seven games and the underdog in two.
Their current ATS record is 6-3. Penn State has a 5-4 over/under record so far this season. Their encounters have resulted in a total score of 50.8 points on average, with a 47.1 point over/under line.
Against Michigan, the Nittany Lions had 23 pass attempts for 74 yards and one touchdown. In terms of rushing, they averaged 4.7 yards per carry and scored one rushing touchdown. Drew Allar ended with 70 yards passing in the team's most recent loss to Michigan. He not only threw for one touchdown, but he also ran for one.
Penn State finished their game against Michigan with a total of 291 yards allowed. Michigan threw the ball eight times for 60 yards against Penn State. The Nittany Lions surrendered 231 yards on the run.
Penn State's defense ranks 51st in points allowed per game, allowing 13.1 points per game. Teams average 162.5 passing yards per game against them, ranking them 19th in the country. They are seventh in NCAA football in rushing defense, allowing 77.8 yards per carry.
Betting Odds, Trends, and Analysis for Rutgers vs. Penn State
The most recent meeting between Penn State and Rutgers ended with Penn State winning 55-10. Rutgers was restricted to 135 passing yards by the Nittany Lions on defense. Penn State was 4/16 on third down and finished with 436 yards total offense.
Penn State has moved from -20.5 point favorites to their current line of -20 (-112) since the odds were first released. Rutgers, on the other hand, is currently a +20 (-109) point road underdog. According to the current moneyline odds, Rutgers has a 10% chance of winning, with a moneyline payoff of +903. On a -2000 moneyline, the projected victory probability for the Nittany Lions is 95%.
Important Betting Trends
Rutgers is 1-1 against the spread while playing on the road.
Penn State has gone 4-1 ATS in their last five home games.
Penn State's ATS record in the last 10 games where they were the underdog was 4-6.
Rutgers went 2-1 against the spread the last three times they were favored.
YouWager.lv you can wager on the different betting types, such as moneyline, spread, and total, and you can bet either on your favorite team or an undervalued underdog, always with the best and latest wagering lines. Open your account now and receive a 100% bonus on your first cryptocurrency deposit, just click below: