Rice vs UTSA Predictions, Odds Week 11 2023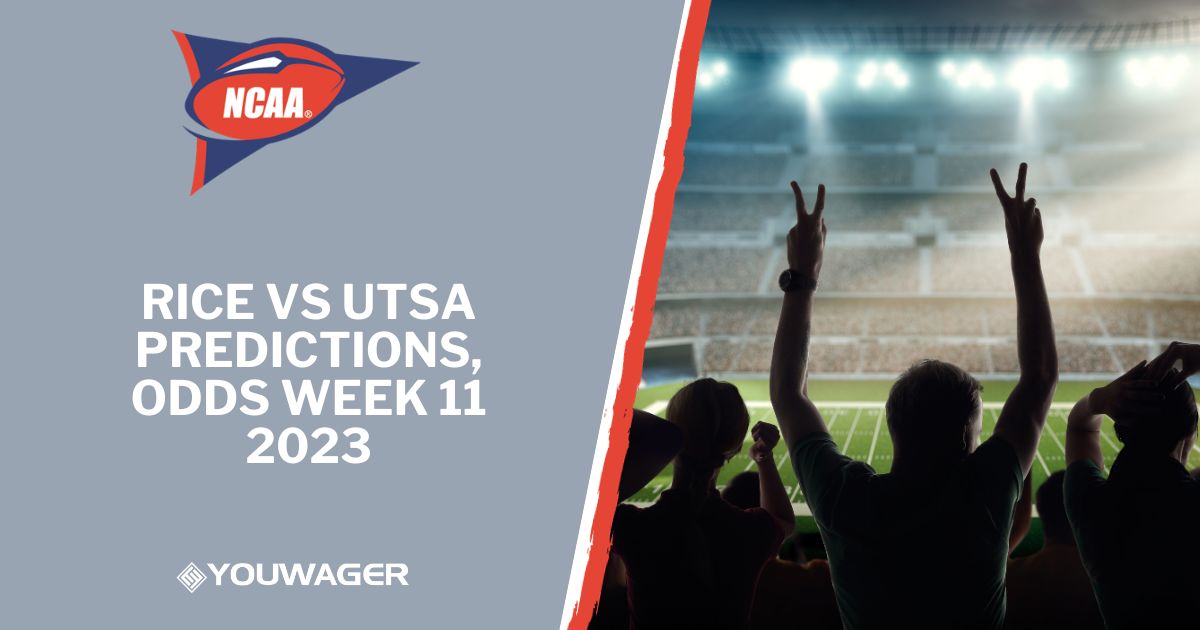 Check out our week 11 Rice vs. UTSA preview to see who we think will win and cover in San Antonio.
Rice is ranked 21st in passing yards.
The UTSA defense allows 12.4 yards per completion.
RICE VS UTSA PREVIEW
The Owls and Roadrunners meet at the Alamodome at 7:30 p.m. ET in a week 11 NCAAF matchup. The game, which is planned for Saturday, November 11th, will be televised on ESNU.The Roadrunners are 13-point home favorites in their American Athletic Conference showdown. Will they be able to win and cover at home?
RICE VS. UTSA MATCHUP AT A GLANCE
Sport: College Football
Teams: Rice Owls at UTSA Roadrunners
Where: San Antonio at Alamodome
Date: Saturday, November 11th
RICE PREVIEW: CAN RICE SECURE ANOTHER VICTORY?
The Owls are 4-5 this season after losing their most recent game to SMU by a score of 36-31. Rice has been the favorite in three games this season and the underdog in four. Their current ATS record is 5-2. In Rice's nine games, the average over/under line is 53.9 points. These games have resulted in an average aggregate score of 61.7 points, giving OU a 4-3 record.
The Owls finished with 31 pass attempts against SMU, totaling 166 yards and two touchdowns. They averaged 5.0 yards per carry on the ground, resulting in one rushing score. Chase Jenkins threw for 85 yards on 10 of 16 attempts in the loss to SMU. He had a passer rating of 50.26 overall and did neither throw or rush for a touchdown.
SMU's defense concluded the game with 489 total yards against the Owls. The team's run defense gave up 228 yards rushing while allowing 261 yards passing. As they prepare for this game, Rice's defense is rated 73rd in passing yards allowed per game. Opponents have attempted 30.9 passing attempts per game against the Owls. They have allowed 28.7 points per game this season, ranking them 111th in college football. They are ranked 105th in the NCAA for rush defense.
UTSA PREVIEW: WHAT'S THE PLAN FOR UTSA FOLLOWING A LOSS?
With a 37-29 victory over North Texas, UTSA improves to 6-3 heading into this week's game against Rice. This season, UTSA has been the favorite in eight games and the underdog in one. Their current ATS record is 3-5-1. Throughout the season, UTSA has a 3-6 over/under record. In their games, the average combined score has been 57 points, and the normal over/under line has been 58.6 points.
The Roadrunners finished their game against North Texas with four rushing scores and 290 yards on 49 attempts. Unfortunately, their passing game was ineffective, gaining only 134 yards on 25 attempts. Frank Harris finished with 134 yards and a completion percentage of 52.0% versus North Texas. He finished the game without scoring on the ground or through the air.
UTSA ended their game against North Texas with a total of 459 yards allowed on defense. Against UTSA, North Texas threw the ball 38 times for 272 yards. The Roadrunners surrendered 187 yards on the ground. The Roadrunners defense enters the game with 31 sacks and is first in QB hurries. In terms of points allowed per game, they rank 96th (25.8 per game). They are ranked 131st in the NCAA in pass defense, surrendering an average of 242.8 passing yards per game. Furthermore, UTSA's run defense allows 137.7 rushing yards per game.
RICE VS UTSA BETTING ODDS, TRENDS & ANALYSIS
The most recent head-to-head meeting between the teams was won by UTSA 41-7 last year. UTSA passed for 132 yards on the day, averaging 8.8 yards per completion. Rice scored 5 points while UTSA scored 262.
The point spread has changed little, with the current lines remaining near to the starting values. Rice is presently the favorite by 13 (-110), while UTSA is the underdog by 13 (-110). Rice began with a moneyline payout of +350, which has since increased to +400. Based on the odds, UTSA has an implied victory probability of 85% and Rice has an implied win probability of 20%.
KEY BETTING TRENDS
Rice is 3-2 against the spread in their last five games against the spread.
UTSA is 2-2-1 against the spread in its last five games at home.
UTSA is 6-4 as an underdog in their last ten games.
Rice has an ATS record of 1-2 in their previous three games as the betting favorite.
YouWager.lv you can wager on the different betting types, such as moneyline, spread, and total, and you can bet either on your favorite team or an undervalued underdog, always with the best and latest wagering lines. Open your account now and receive a 100% bonus on your first cryptocurrency deposit, just click below: