Appalachian State vs Georgia State Predictions, Odds Week 11 2023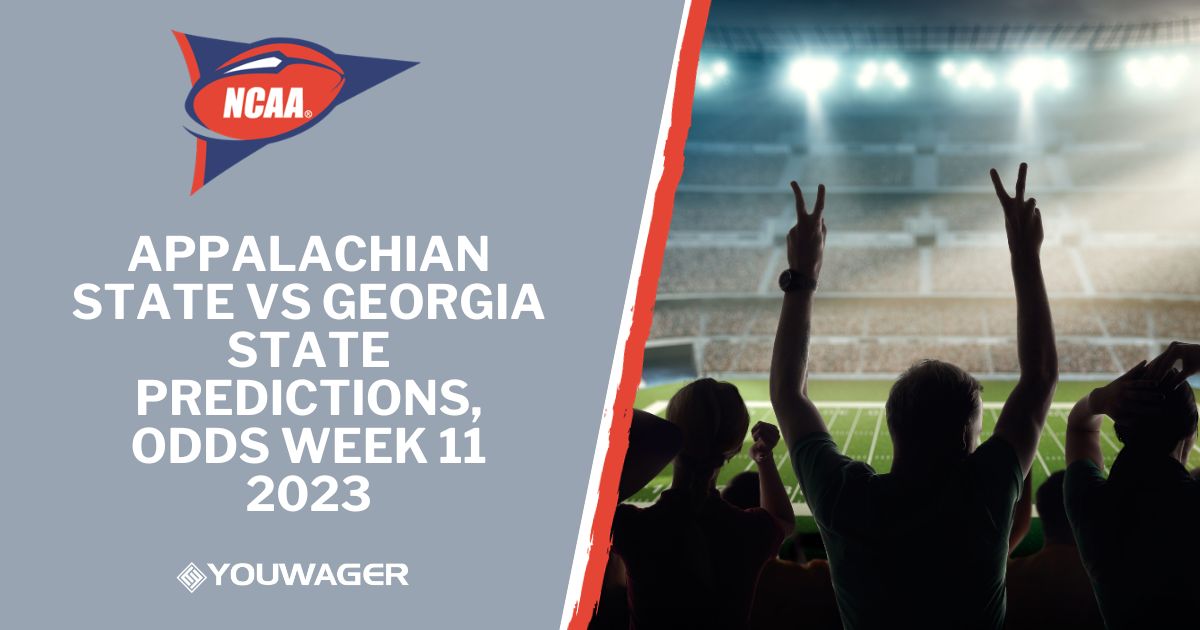 See who prefers to win and cover the spread in our week 11 NCAAF Appalachian State vs Georgia State preview.
Appalachian State is ranked 109th in the US in terms of points allowed.
Georgia State's offense ranks 75th in terms of passing attempts.
APPALACHIAN STATE VS GEORGIA STATE PREVIEW
The Mountaineers and Panthers meet at Center Parc Stadium at 2:00 p.m. ET in a week 11 NCAAF battle. The game, which is set to take place on Saturday, November 11th, will be broadcast on ESPN+.In their Sun Belt match, the Panthers are 2-point favorites at home. Will they be able to cover the spread and win at home?
APPALACHIAN STATE VS. GEORGIA STATE MATCHUP AT A GLANCE
Sport: College Football
Teams: Appalachian State Mountaineers at Georgia State Panthers
Where: Atlanta at Center Parc Stadium
Date: Saturday, November 11th
APPALACHIAN STATE PREVIEW: HOW WILL APPALACHIAN STATE BOUNCE BACK AFTER A LOSS?
Appalachian State improved to 5-4 with a 31-9 victory against Marshall last week and will play Georgia State this week. Appalachian State has won six games while being the underdog in one. As a result, the ATS record is 2-4-1, with a scoring difference of +5.6 on average. Through nine games this season, Appalachian State has a 3-4 over/under record. Their games have averaged 62.4 points per game.
The Mountaineers attempted 27 passes against Marshall, totaling 229 yards and three touchdowns. On the run, they averaged 4.0 yards per carry and scored one rushing touchdown. After completing 20 of 27 passes for 229 yards in the win over Marshall, QB Joey Aguilar finished with a QB rating of 136.19. In addition, he scored three touchdowns.
The Mountaineers' defense performed admirably against Marshall, surrendering only 9 scores on 255 yards. Marshall's passing offense gained 144 yards. Appalachian State allowed 4.4 yards per ground attempt. Appalachian State comes into the contest rated 136th in the nation in passing yards per game. On average, opponents pass the ball 30.1 times a game against the Mountaineers. They are ranked 109th in college football for allowing 28.4 points per game. They are 151st in the NCAA in running yards allowed.
GEORGIA STATE PREVIEW: CAN GEORGIA STATE SECURE ANOTHER VICTORY?
Georgia State's record dropped to 6-3 after their recent game against James Madison. The Panthers were defeated by a score of 42-14. The Panthers had been favorites in four games and underdogs in three prior to this week's game against Appalachian State. Their ATS record heading into the game was 5-3. Over the course of nine games, Georgia State's average over/under line has been 56.1 points. The average aggregate score of these games has been 55.9 points, giving OU a 4-4 record.
Georgia State's offense scored twice on the ground and tallied 228 yards versus James Madison. On third down, they were 3/12 and averaged 8.2 yards per completion on 19 throws. Darren Grainger managed to sprint for two touchdowns despite failing to complete a touchdown pass in the team's loss to James Madison. His overall statistics comprised a 52.6% completion rate and 82 yards thrown.
Georgia State allowed 567 yards versus James Madison in their final game. James Madison threw the ball 36 times for 307 yards against Georgia State. The Panthers gave up 260 yards on the run. This season, the Panthers' defense has allowed 134.7 running yards per game, ranking 147th. Georgia State opponents average 285.4 passing yards per game, and opposing quarterbacks have a passer rating of 98. In terms of NCAA points allowed, they are ranked 43rd.
APPALACHIAN STATE VS GEORGIA STATE BETTING ODDS, TRENDS & ANALYSIS
The most recent meeting between these two teams was won by Appalachian State, 42-17. When the two offenses in this game were compared, Appalachian State rushed for 404 yards and passed for 62. Georgia State finished with 73 points while gaining 228 yards on the ground.
Since the odds opened, Georgia State has gone from a -2.5 point favorite to a -2 (-110) favorite. In the meantime, Appalachian State is a +2 (-112) point road underdog. Appalachian State has a 48% chance of winning and a moneyline payout of +110, according to the current moneyline odds. The Panthers, on the other hand, have a moneyline of -133 and an implied win percentage of 57%.
KEY BETTING TRENDS
On the road, Appalachian State is 1-3-1 against the spread.
Georgia State is 2-1 against the spread in its last three home games.
Georgia State has an ATS record of 6-3-1 in their last 10 games as the underdog.
As the betting favorite, Appalachian State is 1-4 ATS in their previous five games.
YouWager.lv you can wager on the different betting types, such as moneyline, spread, and total, and you can bet either on your favorite team or an undervalued underdog, always with the best and latest wagering lines. Open your account now and receive a 100% bonus on your first cryptocurrency deposit, just click below: