Tulsa vs Tulane Predictions, Odds Week 11 2023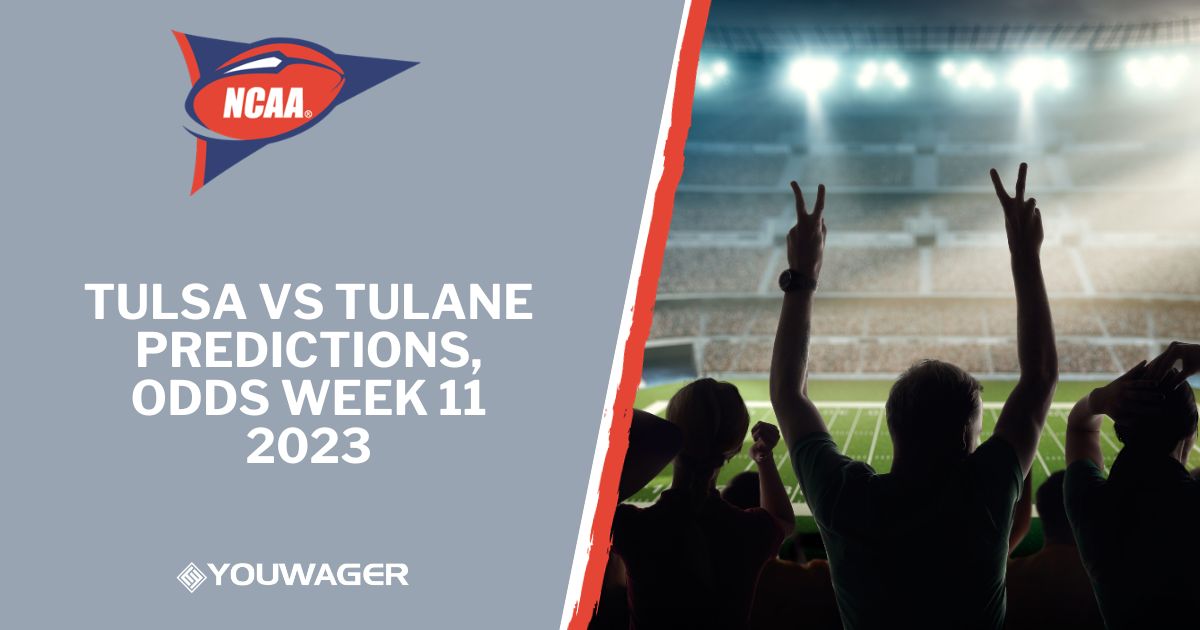 Check out our preview for Tulsa vs. Tulane in Week 11 to see who we think will win and cover in New Orleans.
Tulsa averages 172.6 passing yards per game.
Tulane's defense ranks 66th in terms of points allowed.
TULSA VS TULANE PREVIEW
The Tulane Green Wave will take on the Tulsa Golden Hurricane on Saturday, November 11th at 12:00 p.m. ET. ESPN2 will carry coverage of this week's CFB game at Yulman Stadium.The Green Wave are 22-point road favorites in this week's American Athletic Conference matchup. Can they win and cover the spread at home?
TULSA VS. TULANE MATCHUP AT A GLANCE
Sport: College Football
Teams: Tulsa Golden Hurricane at Tulane Green Wave
Where: New Orleans at Yulman Stadium
Date: Saturday, November 11th
TULSA PREVIEW: CAN TULSA FOLLOW UP WITH ANOTHER WIN?
Tulsa comes into this game with a 3-6 overall record. Their most recent game was a challenge, as they were unable to secure a win against Charlotte, losing 33-26. Tulsa has been the favorite twice and the underdog five times thus far. This has resulted in a 3-3-1 ATS record and a -13.1 average score differential. Throughout the season, Tulsa had an over/under record of 3-4. In their games, the average combined score has been 58 points, while the normal over/under line has been 56.1 points.
In terms of rushing, the Golden Hurricane attack scored three touchdowns and covered 273 yards on 50 attempts versus Charlotte. However, their passing game failed to produce a touchdown, totaling 139 yards on 31 attempts. Kirk Francis threw for 74 yards on 6 of 16 attempts in the loss to Charlotte. He had a quarterback rating of 26.56 overall and did not throw or rush for a touchdown.
Tulsa's defense allowed 433 yards of offense against Charlotte. They allowed 277 yards in the passing game and 156 yards on the ground. The Golden Hurricane defense enters the game with 12 sacks and ranks first in quarterback hurries. In terms of points allowed, they rank 134th with 35.6 per game. They are ranked 180th in the NCAA in pass defense, surrendering an average of 298.4 passing yards per game. Furthermore, Tulsa's run defense allows 145.1 running yards per game.
TULANE PREVIEW: HOW WILL TULANE BOUNCE BACK AFTER A LOSS?
The Tulane Green Wave are coming off a 13-10 win against the East Carolina Pirates and have an above.500 record of 8-1 heading into their game against Tulsa. Tulane has been the favorite in seven games this season and the underdog in one. Their current ATS record is 3-5. Tulane has a 2-6 over/under record so far this season. Their encounters have resulted in a total score of 48 points on average, with a 54.8 point over/under line.
Tulane concluded with one touchdown versus East Carolina on the offensive side of the ball, but did not find the endzone in the running game. They finished with 213 passing yards and 157 running yards. After completing 16 of 25 passes for 213 yards in the win over East Carolina, quarterback Michael Pratt finished with a QB rating of 104.25. He also had one touchdown to his name.
The Green Wave defense was outstanding against East Carolina, allowing only 10 points on 190 yards allowed. East Carolina's passing game totaled 120 yards. Tulane allowed 3.0 yards per attempt up front. The Green Wave defense confronts Tulsa with 23 sacks and is first in QB hurries. When it comes to points allowed, they rank 66th in the country, allowing 19.3 per game. They rank 120th in the NCAA in pass defense, allowing 239 passing yards per game. Tulane's run defense allows 79 running yards per game.
TULSA VS TULANE BETTING ODDS, TRENDS & ANALYSIS
Tulane won the most recent game between the teams, defeating Tulsa 27-13. Tulane passed for 125 yards on the day, averaging 11.4 yards per completion. Tulsa scored 111 points while Tulane scored 357.
The point spread hasn't moved much, since the current lines are exactly where they started. Tulane is presently favored by 22 (-110), while Tulsa is favored by +22 (-110). According to the current moneyline odds, Tulsa has an 8% chance of winning and a moneyline payout of +1094. The Green Wave, on the other hand, has an implied win percentage of 96% and a moneyline of -2537.
KEY BETTING TRENDS
Tulsa's last three games against the spread have resulted in a 1-1-1 record.
Tulane is 1-2 against the spread in its previous three games at home.
Tulane has an ATS record of 6-4 in the ten most recent occasions they were the underdog.
Tulsa is 2-8 against the spread in their last ten games as a favorite.
YouWager.lv you can wager on the different betting types, such as moneyline, spread, and total, and you can bet either on your favorite team or an undervalued underdog, always with the best and latest wagering lines. Open your account now and receive a 100% bonus on your first cryptocurrency deposit, just click below: