Memphis vs Charlotte Predictions, Odds Week 11 2023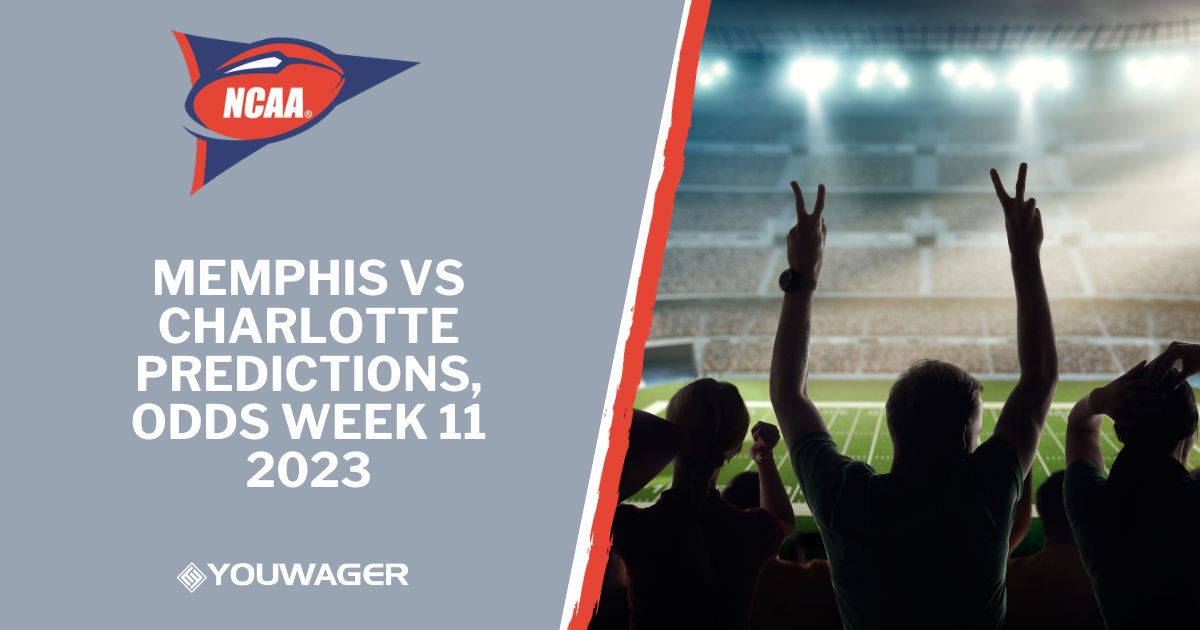 Continue reading for our NCAA week 11 preview of Memphis vs. Charlotte. In this post, we will determine who will win and cover the spread.
Memphis' defense ranks 105th in terms of points allowed.
In terms of throwing yards, the Charlotte 49ers rank 109th.
MEMPHIS VS CHARLOTTE PREVIEW
This week's CFB game between the Tigers and the 49ers will be broadcast on ESPN+ at 2:00 p.m. (11/11/23). Jerry Richardson Stadium in Charlotte (NC) will host the game.The Tigers are 12 point away favorites in their American Athletic Conference clash. Will they be able to win and cover on the road?
MEMPHIS VS. CHARLOTTE MATCHUP AT A GLANCE
Sport: College Football
Teams: Memphis Tigers at Charlotte 49ers
Where: Charlotte at Jerry Richardson Stadium
Date: Saturday, November 11th
MEMPHIS PREVIEW: CAN MEMPHIS RECOVER AFTER A LOSS?
The Memphis Tigers have a 7-2 record that is above.500 entering into this week's game. They added a win to their record after defeating South Florida (59-50) in their most recent encounter. Memphis' season average score differential is +11.3, resulting in an ATS record of 2-5-1. The Tigers have been the favorite six times and the underdog twice. Memphis' over/under record is 6-2 heading into this week's contest. Their current average margin against over/under lines is +8.2, with their games averaging 67.1 points per game.
Against South Florida, the Tigers passed the ball 42 times for 441 yards and five touchdowns. They concluded with three running touchdowns and averaged 5.1 yards per carry. Seth Henigan, the quarterback for Memphis, not only threw four touchdowns but also ran for one. Throughout the game, he threw for 349 yards and had a completion rate of 57.5%.
South Florida's defense concluded the game with 583 total yards against the Tigers. The team's run defense gave up 226 yards rushing while allowing 357 yards passing. Memphis' defense ranks 105th in points allowed, allowing 27.9 per game. Teams have averaged 250.4 passing yards per game against them thus far (141st nationally). They rank 122nd in college football by allowing 169.9 rushing yards per game.
CHARLOTTE PREVIEW: HOW WILL CHARLOTTE BOUNCE BACK AFTER A LOSS?
Charlotte enters this week's game against Memphis aiming to build on their recent triumph against Tulsa (33-26). Charlotte, on the other hand, is still 3-6 this season. Charlotte has an ATS record of 4-3 after being the underdog in all of their games thus far. Their season scoring margin is -8 (per game). Charlotte's average over/under line has been set at 47.7 points in nine games played. These games have resulted in an average aggregate score of 41.6 points, giving OU a record of 3-4.
The 49ers passed the ball 37 times for 277 yards and one touchdown versus Tulsa. They concluded with two running touchdowns and averaged 4.5 yards per carry. Trexler Ivey found the endzone in a variety of ways against Tulsa, throwing for 277 yards and one score while also rushing for one.
Charlotte's defense surrendered 412 yards to Tulsa. This includes allowing 273 yards on the ground and 139 passing yards. Charlotte's defense ranks 92nd in points allowed per game, allowing 24.8 points per game. Teams have averaged 193.7 passing yards per game against them thus far (45th nationally). They rank 108th in college football by allowing 159.3 rushing yards per game.
MEMPHIS VS CHARLOTTE BETTING ODDS, TRENDS & ANALYSIS
Taking on Memphis on the road has resulted in a 4-1 record in the five most recent meetings.
Memphis is not only 2-1 against the spread in their past three games against Charlotte, but they are also 3-0 ATS in their previous three road games versus Charlotte.
The point spread hasn't moved much, with the current lines remaining stable since the game's inception. Memphis is currently favored by 12 (-112) points, while Charlotte is favored by +12 (-110 points). On the moneyline, the 49ers' payout has slipped from +350 to +353, where it now stands. The Tigers' moneyline payout stays unchanged at -475.
KEY BETTING TRENDS
Looking at Memphis' ten most recent away games, they have a 6-4 record against the spread.
Charlotte has gone 5-0 ATS in their previous five home games.
Looking back at the last ten games in which Charlotte was the underdog, the ATS record was 7-3.
Memphis' ATS record over the last five occasions they were favored was 1-3-1.
YouWager.lv you can wager on the different betting types, such as moneyline, spread, and total, and you can bet either on your favorite team or an undervalued underdog, always with the best and latest wagering lines. Open your account now and receive a 100% bonus on your first cryptocurrency deposit, just click below: