Baylor vs Kansas State Predictions, Odds Week 11 2023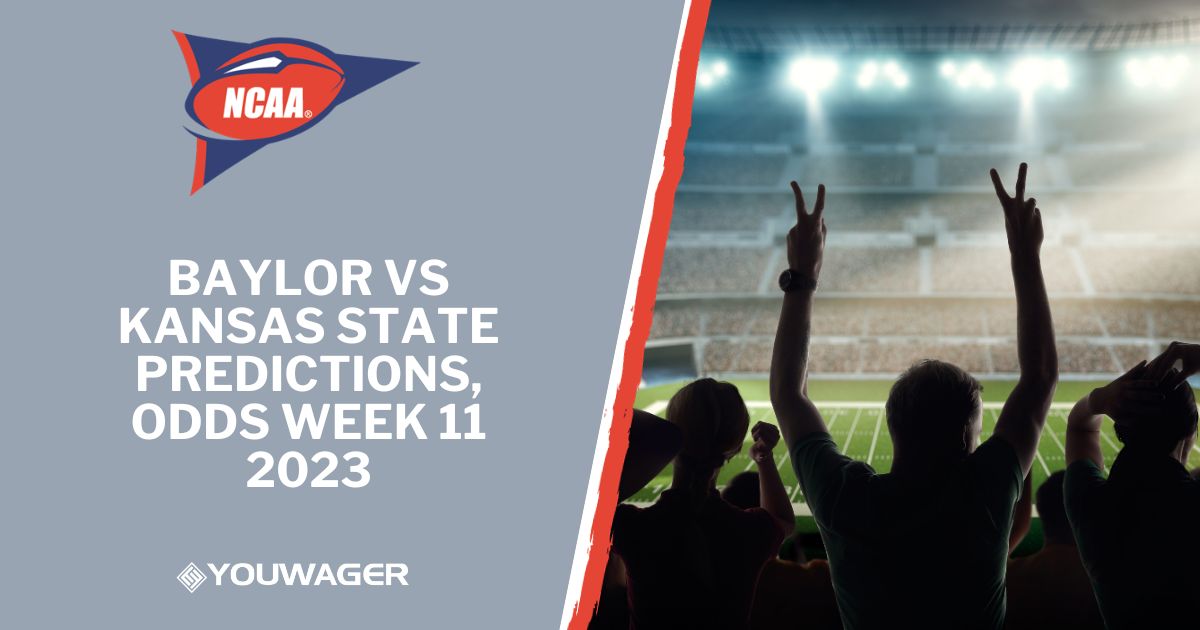 Read our preview for this college football week 11 game for Baylor vs Kansas State in Manhattan. In this NCAA showdown, see who we think will win and cover the spread.
Baylor averages 277.2 passing yards per game.
Against Kansas State, opposing quarterbacks had a passing rating of 75.1.
BAYLOR VS KANSAS STATE PREVIEW
The game between the Baylor Bears and the Kansas State Wildcats is scheduled to begin at 3:00 PM ET. The game will be played at Bill Snyder Family Stadium in Manhattan, Kansas, with ESPN+ providing televised coverage.Kansas State comes into this Big 12 clash as the 20.5-point favorite to win. Is this a guarantee that they will win? Continue reading for my thoughts on this clash.
BAYLOR VS. KANSAS STATE MATCHUP AT A GLANCE
Sport: College Football
Teams: Baylor Bears at Kansas State Wildcats
Where: Manhattan at Bill Snyder Family Stadium
Date: Saturday, November 11th
BAYLOR PREVIEW: CAN BAYLOR KEEP THINGS ROLLING?
Baylor enters this game with a 3-6 overall record. They were defeated by Houston by a score of 25-24 in their most recent encounter. Baylor's average score differential this season is -6.8, resulting in an ATS record of 3-4. The Bears have been favored once and underdog six times. The average over/under line for Baylor's games has been set at 53.1 points in nine games played. These games have resulted in an average aggregate score of 52.1 points, giving OU a 4-3 record.
The Bears completed 37 passes for 263 yards and two touchdowns against Houston. They averaged 4.4 yards per carry and scored one touchdown on the ground. In Baylor's loss to Houston, quarterback Blake Shapen threw for two touchdowns. He finished with a passer rating of 103.04 and completed 78.4% of his throws for 263 yards.
Baylor's defense allowed 366 yards of offense against Houston. They allowed 236 yards in the passing game and 130 yards on the ground. Baylor enters the game ranked 114th in points allowed, allowing 29.4 per game. Teams have averaged 207.7 passing yards against them (ranking 68th). They rank 149th in college football with allowing 188.8 yards per carry.
KANSAS STATE PREVIEW: CAN KANSAS STATE FOLLOW UP WITH ANOTHER WIN?
Kansas State's record has dipped to 6-3 after their recent game versus Texas. The Wildcats eventually lost the game by a score of 33-30. This season, Kansas State has been the favorite in six games and the underdog in one. Their current ATS record is 5-2. Over the course of nine games, Kansas State's average over/under line has been 54.1 points. These games have resulted in an average aggregate score of 54.3 points, giving OU a 4-3 record.
Offensively, the Wildcats were 2/14 on third down against Texas, totaling 360 yards. They got four touchdowns and 327 yards in the passing game. The Wildcats failed to score on any of their 29 rushing attempts, finishing with 33 yards. Will Howard threw for 327 yards and a passer rating of 107.94 versus Texas. He attempted 42 passes and completed them 61.9% of the time.
Texas' defense concluded the game with 478 total yards against the Wildcats. The team's run defense gave up 230 yards rushing while allowing 248 yards passing. Kansas State's defense ranks 60th in points allowed, allowing 17.8 points per game. Teams average 235.9 passing yards per game against them (ranking 110th nationally). They rank 46th in NCAA football in rushing defense, allowing 123.6 yards per carry.
BAYLOR VS KANSAS STATE BETTING ODDS, TRENDS & ANALYSIS
Kansas State won the most recent matchup between the two teams, 31-3 over Baylor. Kansas State gained 184 yards on the ground and 221 yards in the air. Baylor, on the other hand, finished the game with 306 yards of offense.
According to the point spread, Kansas State is now favored by 20.5 points. This figure is exactly where everything began. Baylor presently has a 10% implied victory probability and a moneyline payoff of +863 based on the current moneyline odds. The Wildcats, on the other hand, have an expected win percentage of 94% and a moneyline of -1663.
KEY BETTING TRENDS
Baylor's last three games against the spread have resulted in a 2-1 record.
Kansas State has gone 3-2 against the spread in their last five home games.
Looking back at the last five games in which Kansas State was the underdog, they were 4-1 ATS.
Baylor is 0-5 as a favorite in their previous five games.
YouWager.lv you can wager on the different betting types, such as moneyline, spread, and total, and you can bet either on your favorite team or an undervalued underdog, always with the best and latest wagering lines. Open your account now and receive a 100% bonus on your first cryptocurrency deposit, just click below: